Allow your receptionist's PC to capture photos on sign-in using a web-camera. You must be logged in as an Administrator of the computer system to access these settings.
Photo capture is a great way to give added security to Employees, Service Providers, and Visitors signing in to your location. Before your computer will take photos, you will need to allow your internet browser to access the web camera.
Pre-requisites
These must be done before you can allow access from your internet browser to your web camera.
Photo Capture has been enabled for the Location
The Sign In/Out Managers PC (receptionist or security guard) must have a web-camera installed.
If using Internet Explorer or Safari, make sure Adobe Flash Player is installed.
Set Up Web Camera
Go to Tools > Sign In/Out Manager
Click Visitor Sign In
Enter visitor details until you come to the photo capture screen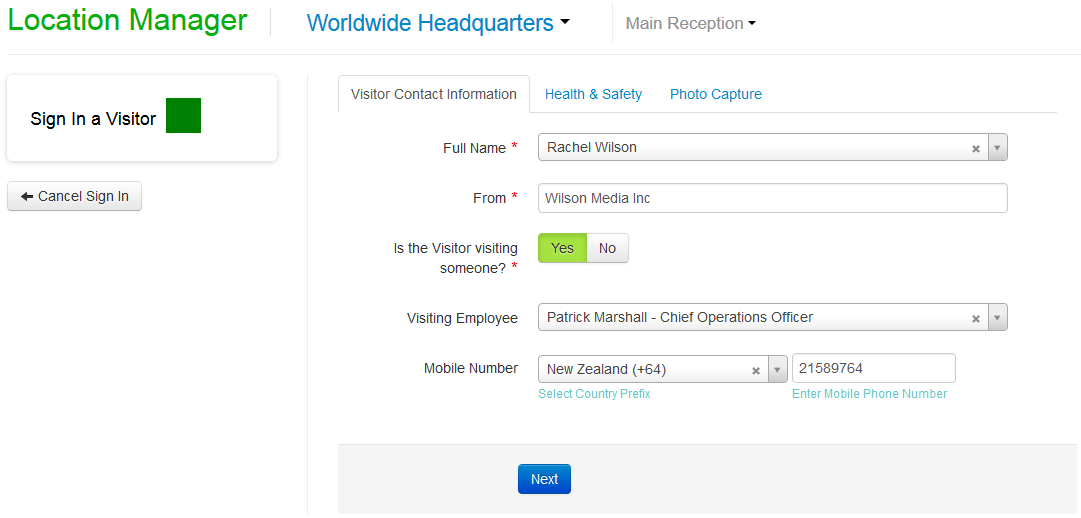 The next steps depend on the browser you are using, they should only need to be completed once. Your internet browser should remember the settings you are about to apply for all future photo capture events. If your history is cleared at any point you may need to re-apply these steps.
Using Chrome
Select the camera icon in the top right corner of the browser url address bar
Select 'Continue allowing…'
Choose your web camera from the dropdown menu
Select Done

Using Firefox
Select the camera icon in the top left corner of the browser url address bar
Click the dropdown menu next to 'Share Selected Device'
Select 'Always Share'
Click the screen outside of the camera settings

The camera icon will turn orange signaling that the browser is now able to access the web camera to capture photos.

Using Internet Explorer
The Adobe Flash Player Settings will appear. We will now select the web camera and set the Adobe Flash Player settings to remember these permissions so we do not need to repeat them.
Select the privacy icon (an eye inside a screen) at the bottom of the box

Select the Allow and Remember options
Select the camera icon to select your web camera

Select Close