In this article we show you how to reset or change your kiosk password. You must have the Administrator user role to access kiosk settings.
The kiosk login email is not necessarily a real email address, which means that we are not able to send a 'reset password' link to the kiosk email address.
Instead, the kiosk password is set up in the Kiosk Settings when creating the kiosk in WhosOnLocation.
So, when you want to change the password for your kiosk, you will need to do so from the back-end of WhosOnLocation.
Note: For security reasons WhosOnLocation will not store a record of your password.
To change your password, log in to WhosOnLocation as an Administrator, then:
1. Go to Tools > Locations
2. Click View next to the location your kiosk is set up in
3. Select Visitor Kiosks from the left-hand menu

4. Click View next to the kiosk you want to change the password for
5. Tick the checkbox for Change Password
6. Enter your chosen password in the Password field
7. Re-enter your password in the Confirm Password field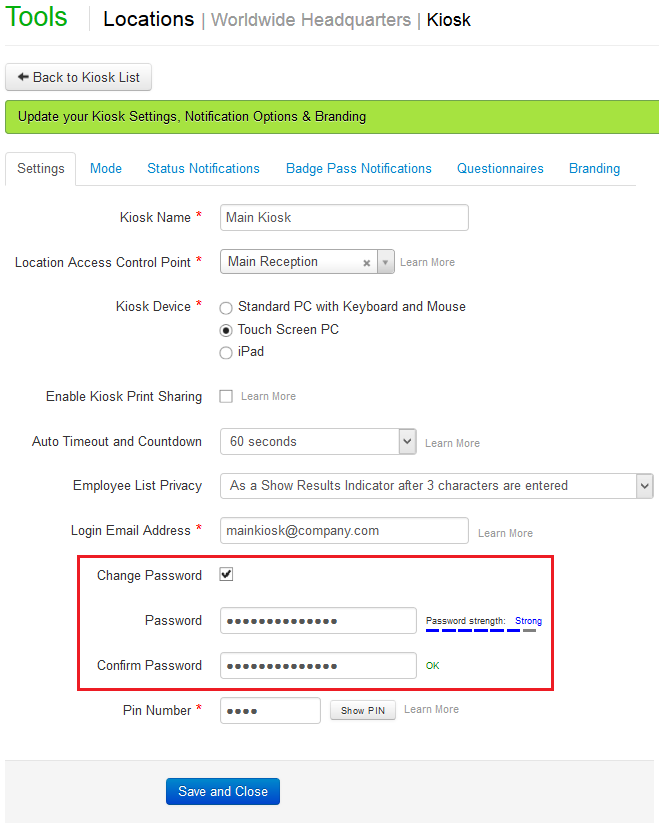 8. Click Save and Close
You will then be able to log in to your kiosk using the login email and password set up in these settings.