Learn how to set up and use deliveries via a sign in/out kiosk. You must have the Administrator user role to access these settings.
This feature is used to make the process of dropping off deliveries to the right people as efficient as possible. By enabling deliveries on your kiosk, delivery agents can select the package's recipient and give some details without having to sign in.
The recipient will receive a notification to let them know their delivery has arrived and the delivery agent will receive on-screen instructions.
Enable deliveries
To enable deliveries, select Deliveries in the Mode tab of the kiosk settings:
Go to Tools > Locations.
Click View next to your locations.
Select Sign In/Out Kiosks from the left-hand menu.
Click View next to your kiosk (for an existing kiosk).
Select the Mode tab.
Select the checkbox next to Deliveries.


To complete the kiosk set up for deliveries, check our Sign in/out kiosk deliveries article.
Using deliveries on a sign in/out kiosk
When a delivery agent approaches your kiosk, they can now choose the delivery option, making their interaction with your organization as efficient and reliable as possible.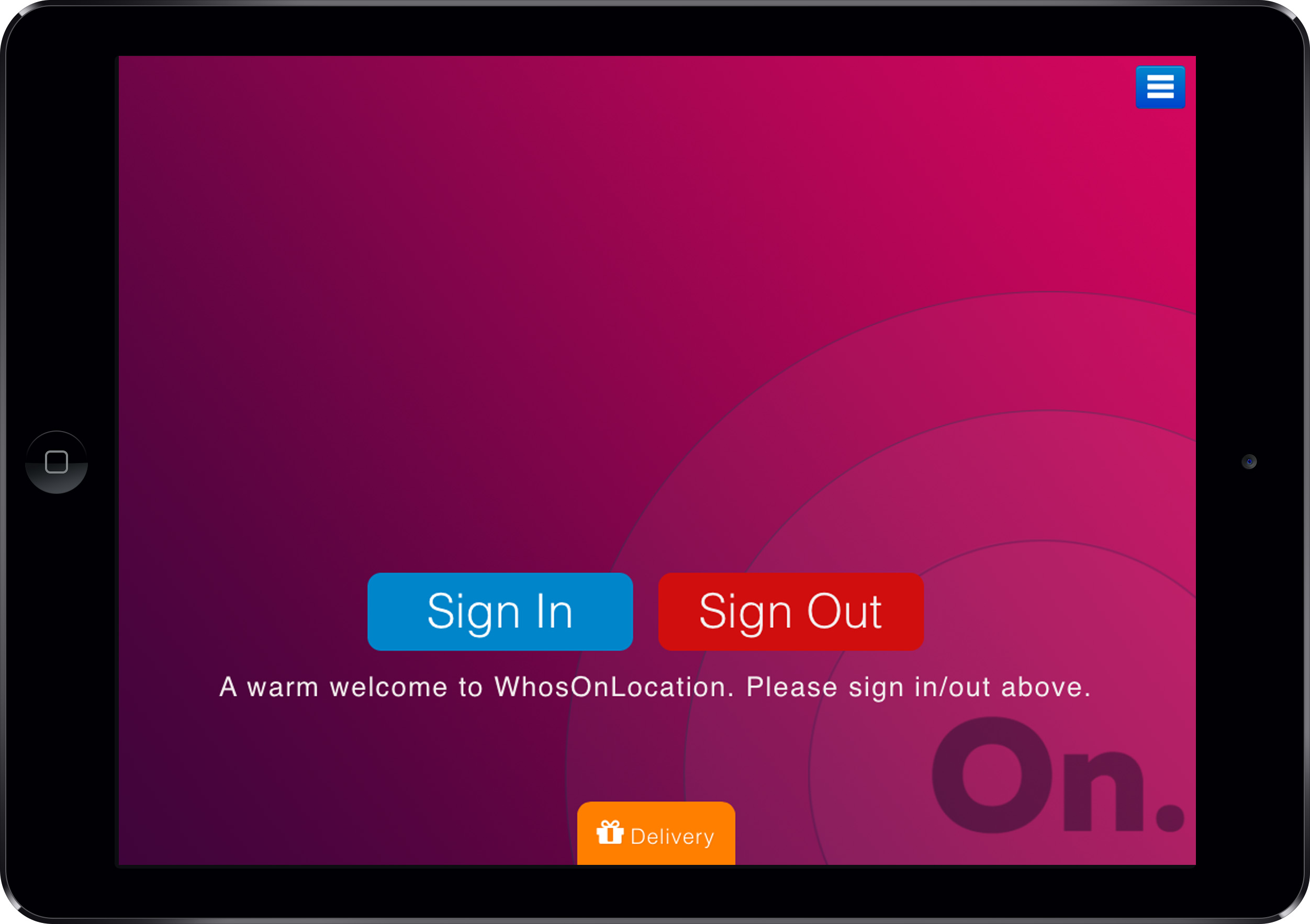 The following steps are for a touch-screen kiosk. Some instructions and screenshots may differ based on your kiosk setup.
Once they choose this option, they will go through the following steps:
Choose if the package is for a single person or multiple people.

Single is for one specific person, multiple is for a group of people. This changes the instructions given to the delivery agent.


(If Applicable) If Single is selected, enter the employee the delivery is for.


Select the Delivery Type.
The delivery agent can select more than one type if necessary.


Click Next.
(Optional) Enter the Sender.
(Optional) Enter the Tracking Number.
Select whether a signature is needed for the release of the delivery.


Click Continue.
The instructions set up for this type of delivery in the Kiosk settings will be displayed on the Kiosk for the delivery agent to acknowledge.


Click the Click to Acknowledge button.
A notification will be sent to the recipient(s) according to the settings and type of delivery.
Deliveries notification
An email and/or text will be received by one or more people about the delivery. All people set up as Multiple Person Delivery recipients will receive an email for all deliveries.
By setting up employees with the necessary email address and/or mobile number in WhosOnLocation as recipients, you can ensure that someone will always be notified about deliveries whether or not the intended recipient has information in WhosOnLocation.
Deliveries recipients will receive an email and/or text which says where the delivery agent is at your location, what the delivery is, and if it requires a signature.
If it is an email, the subject line will say who the delivery is for and it will include the instructions given to the delivery agent.