How to set reminders to send when a person's qualification is about to expire. You must have the Qualification Manager user role to change these settings.
It's important to ensure the people on your site are up-to-date with their qualifications. WhosOnLocation automatically tracks when a qualification needs to be renewed to maintain necessary Health and Safety requirements by tracking the expiry dates entered into the system.
You can set automatic notifications to send to people before their qualification expires.
To edit the Qualification Expiry Notification Settings:
1. Go to Tools > Qualifications Management
2. Select Qualification Expiry Notifications from the left-hand menu
Go through the following options by selecting the corresponding tabs and adjust your settings. There are three different options to set.
Notification Recipients
Choose who you want to receive an email notifying them that a Qualification is due to expire. You can choose to notify the Qualification Owner and/or Holder.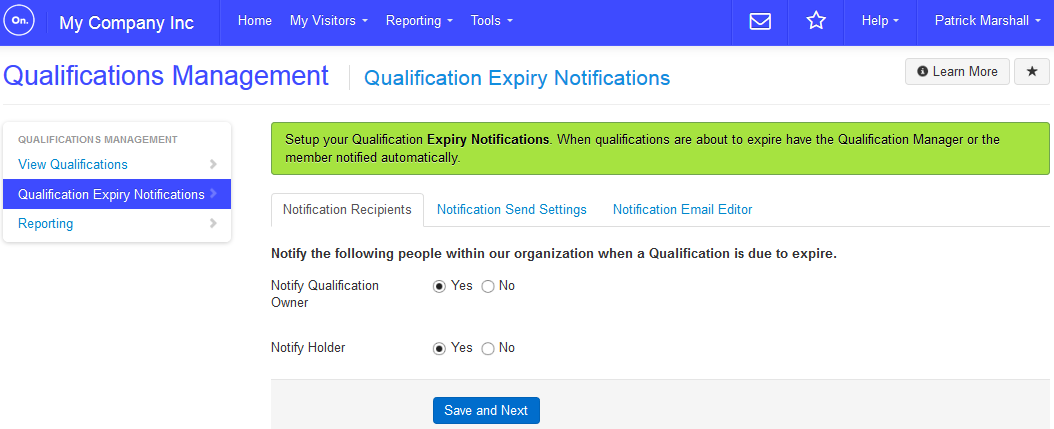 The Qualification Owner is the person in your organization assigned to manage that qualification, they are assigned when the qualification is set up.
Notification Send Settings
Notice 1 - The first email that will send to your chosen recipients, click on the dropdown menu to select how many days before expiry you want this to send.
Notice 2 - The final reminder that will send before a qualification expires, click the dropdown menu to select how many days before expiry you want this to send.
Notice 3 - An email that sends out one day after a qualification expires, you can select whether or not to send this.
Please Note: If you only want to send one reminder prior to expiry, set this using Notice 1.
Notification Email Editor
Separate emails are sent to the Holders and Qualification Owners of expiring qualifications, and a different email is sent depending on which notice is being sent. You can edit each of these in this section.