Scan WolPasses, tokens, and badge passes using the front camera on an iPad WolKiosk. You must have the Administrator user role assigned to access this setting.
If you are using scanning to sign in /out visitors, contractors, and/or employees and the WolKiosk app for iPad, then you may want to enable the iPad Camera Scan. This gives you the ability to scan WolPasses, tokens, and badge passes at the kiosk using the iPad's built-in camera.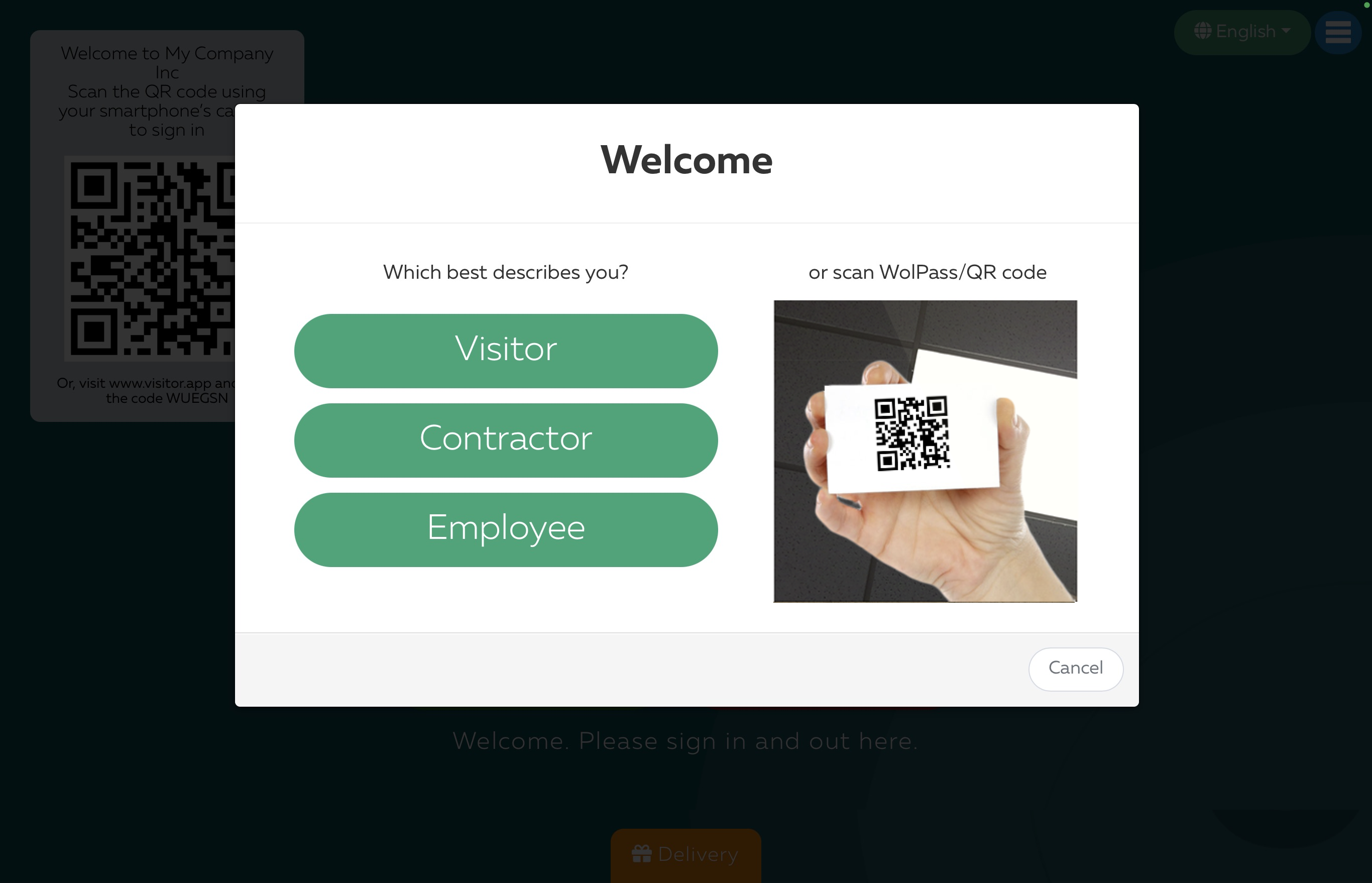 How it works
Without iPad Camera Scan enabled, a pre-registered visitor, contractor, or employee would approach the kiosk, touch Sign In, choose their person type, enter their name, and continue the sign-in process from there.
With iPad Camera Scan enabled:
The person approaches the kiosk.
They touch Sign In. They are presented with the option to either select their person type or scan their QR Code.
They hold their QR Code up to the camera.
The kiosk registers the code and finds the person in the system.
The sign in process will proceed from this step with either signing the person in or presenting them with more information depending on your settings.
The iPad Camera Scan is designed to work with QR Codes, we cannot guarantee the effectiveness of using this scanning method with barcodes. QR Codes are available for some Brother templates and label sizes only.
Upon sign out, the person can use the same method to sign out by touching Sign Out and scanning their QR Code.
Enable iPad camera scan
The setting is enabled in the Kiosk settings in your WhosOnLocation account.
Go to Locations, then select the location from the drop-down list.
Select Sign In/Out Kiosks.
Click View next to your kiosk (for a kiosk that is already set up).
If your kiosk device setting is set to iPad an option for Enable iPad Camera Scan will appear.
Select the Enable iPad Camera Scan checkbox.




Click Save and Close.
The feature will be enabled on your WolKiosk immediately after it refreshes. There is no need to enable any settings in the WolKiosk itself.
With this feature enabled, people will still have the option to sign in using your existing methods, this will be an extra option for those applicable people only.