How to set up a Signature Required question. You must have the Administrator user role assigned to access this feature.
When your visitors, service providers, or employees are signing into your location, you may require them to sign a Waiver or NDA, agree to conditions of entry, acknowledge they have read your health and safety process, etc. You can do this in WhosOnLocation using the Signature Required feature.
The Signature Required feature is part of the Custom Questions feature, therefore, to capture a person's signature, you must create a custom questionnaire and enable the Signature Required option.
Custom questions in WhosOnLocation can be anything from a multi-choice question to an embedded video which requires watching. Signature Required is available on the Waiver or Image Waiver type custom questions where you can enable the Signature Required option.
Please Note: Once a Custom Questionnaire has been activated and answered, you cannot edit any of the options without creating a new questionnaire, meaning that any previous submissions will need to be resubmitted. Please ensure that all settings and details are correct before activating your questionnaire.
The steps for setting up Signature Required are:
1. Create a Custom Questionnaire
2. Create a Waiver or Image Waiver Question with Signature Required Enabled
3. Enable the Custom Questionnaire
Creating a Custom Questionnaire
To capture a signature on sign in, you first need to create a Custom Questionnaire to set up a Signature Required Question.
1. Go to Tools > Locations
2. Click View next to your location
3. Select Questionnaire Manager from the left-hand menu
4. Select the Custom Questionnaires tab
5. Click Create a New Questionnaire
6. Enter the questionnaire details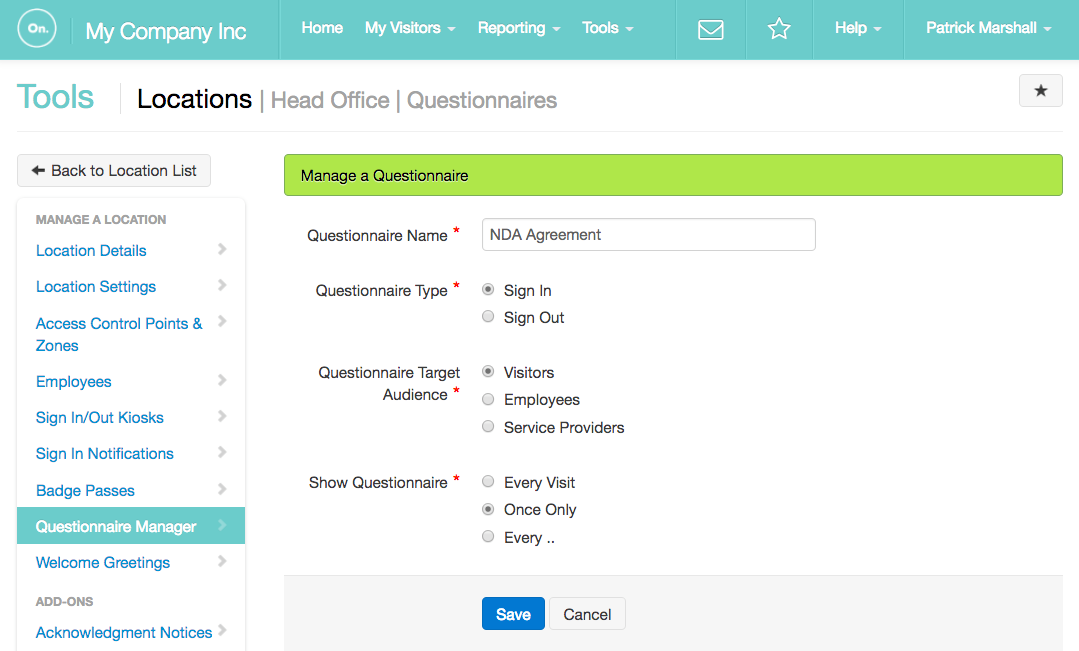 Questionnaire Name - The title of the questionnaire used to identify it
Questionnaire Type - You can set up a questionnaire to be asked on sign in or sign out
Questionnaire Target Audience - Your questionnaire can be for Visitors OR Service Providers OR Employees
Show Questionnaire - Select the frequency your questionnaire will be displayed
7. Click Save
The questionnaire will be created ready to add a signature required question. If you want to capture signatures for multiple people types, you will need to create a custom questionnaire for each person type.
Creating a Signature Required Question
There are two types of custom question which you can enable Signature Required for, Waiver and Image Waiver.
If you create a Waiver question you can enter a waiver/NDA/agreement etc. as text for the person signing in to agree to. There are text formatting options available or you can copy and paste your text from an outside source.
If you create an Image Waiver question, you can upload an image from your computer with information that the person signing in must agree to.
With your custom questionnaire created, from the Custom Questionnaires tab of Questionnaire Manager:
1. Click Manage next to your questionnaire
2. Click Create a new Question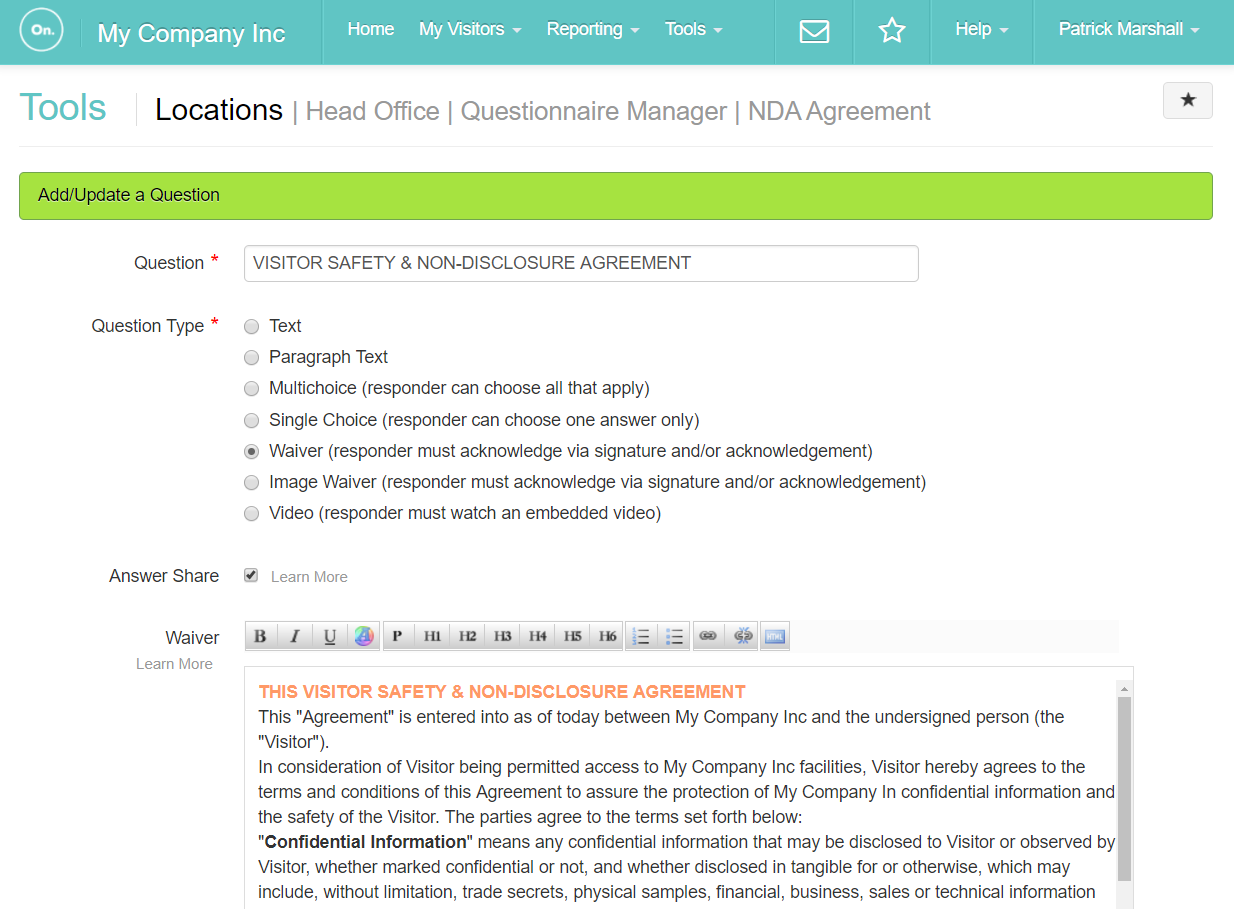 3. Enter the Question - This acts as the title of your 'waiver'
4. Select the Question Type - Either Waiver or Image Waiver
5. (Recommended) Enable Answer Share - This will be included as part of the visitor notification sent to the Host. It must be enabled for the host to get a copy of the signed 'waiver'. If you don't want to send a copy you can still enable and the host will be told that the guest has signed
Please Note: Answer Share is only available if you have visitor/service provider hosting enabled in the Questionnaire Manager
6. Enter the Waiver Information depending on the type of 'waiver'
Waiver - Enter the text to be displayed on the screen for the person signing in to accept/acknowledge/etc
Image Waiver - Upload the image from your computer to be displayed on the screen for the person signing in to accept/acknowledge/etc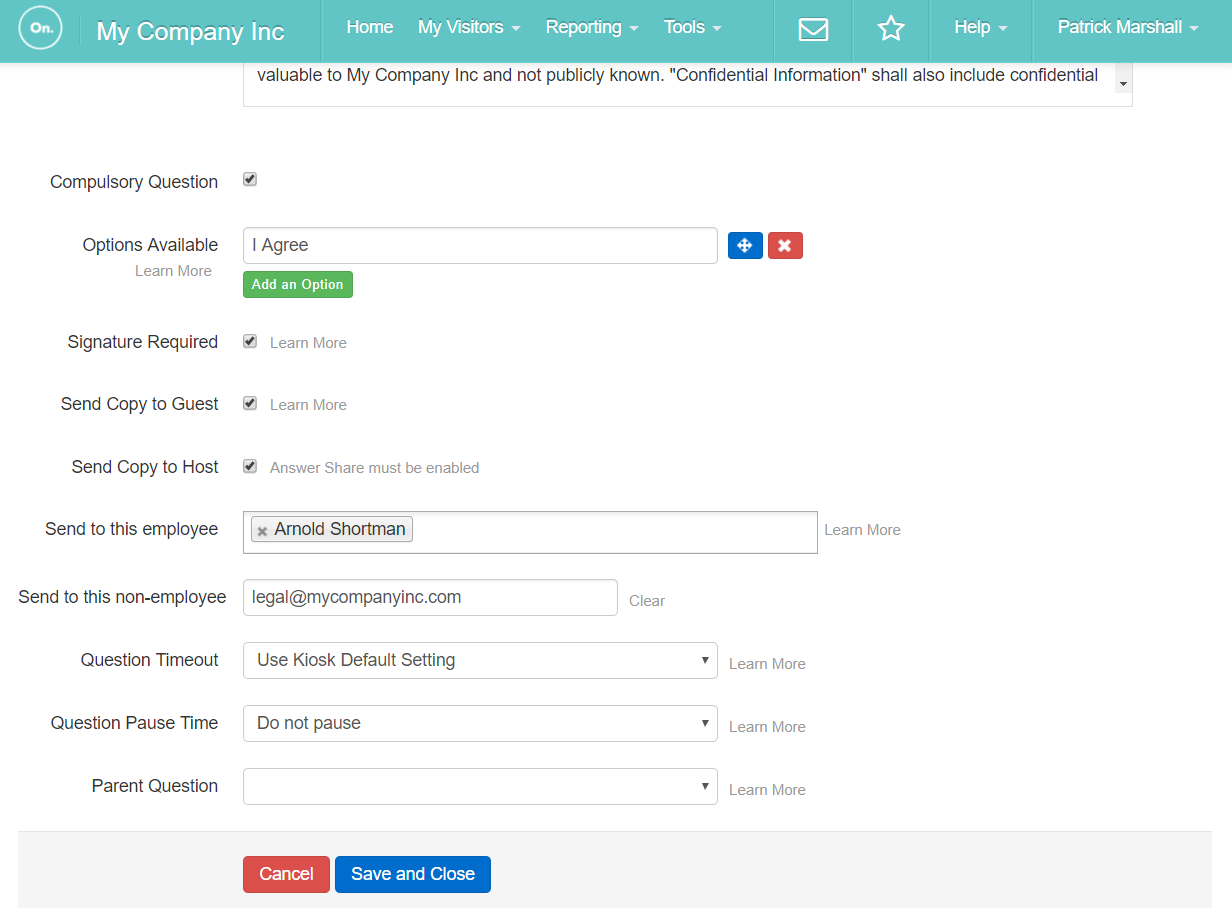 7. (Recommended) Select Compulsory Question - If you want to prevent the person signing in from skipping the question
8. Add the Options Available - These are the 'I Accept', 'I Acknowledge', etc. button. If the question is compulsory, you must set up at least one option
9. Select Signature Required
10. (Optional) Choose who you want to send a copy of the signed waiver to:
Send Copy to Guest - This will send a copy of the 'waiver' and their signature to the person signing in. This can be sent via email or text
Please Note: You must have either the Cellphone number or Email address question turned on for a Visitor to receive this copy. And you must have this information in WhosOnLocation for a Service Provider or Employee to receive this copy.
Send Copy to Host - This will send a link to the signed 'waiver' to the host of the Guest. This can only be enabled if Answer Share is enabled and will be included as part of the sign in notification email only
Send to this employee - Enter any employee (s) that are currently set up in your account that you want to receive a copy of the signed 'waiver'
Send to the non-employee - Enter a non-employee email address to receive a copy of the signed 'waiver', this could be a generic email address within your company to collect these or it could be a third-party that needs to verify these e.g. your company lawyers or any other email address
13. (Optional) Set the Parent Question - If you only want this waiver to appear if a previous question was answered a certain way
Please Note: Parent Questions are currently only available for answers to other custom questions in the same custom questionnaire.
11. (Optional) Set the Question Timeout - This will cancel the sign-in process after the selected amount of time with no activity on the screen for security and privacy reasons. This is mostly useful if the person signing in is distracted and leaves the kiosk with information on the screen
12. (Optional) Set the Question Pause Time - The amount of time that must pass before the person signing in can answer the question or agree the the waiver
14. Click Save and Close

The 'waiver' will be added to your custom questionnaire. You can add as many questions to your questionnaire as you like and re-order them so that they are set up for your needs.
When you're done, click Back to Questionnaire Manager to return to the list of Questionnaires.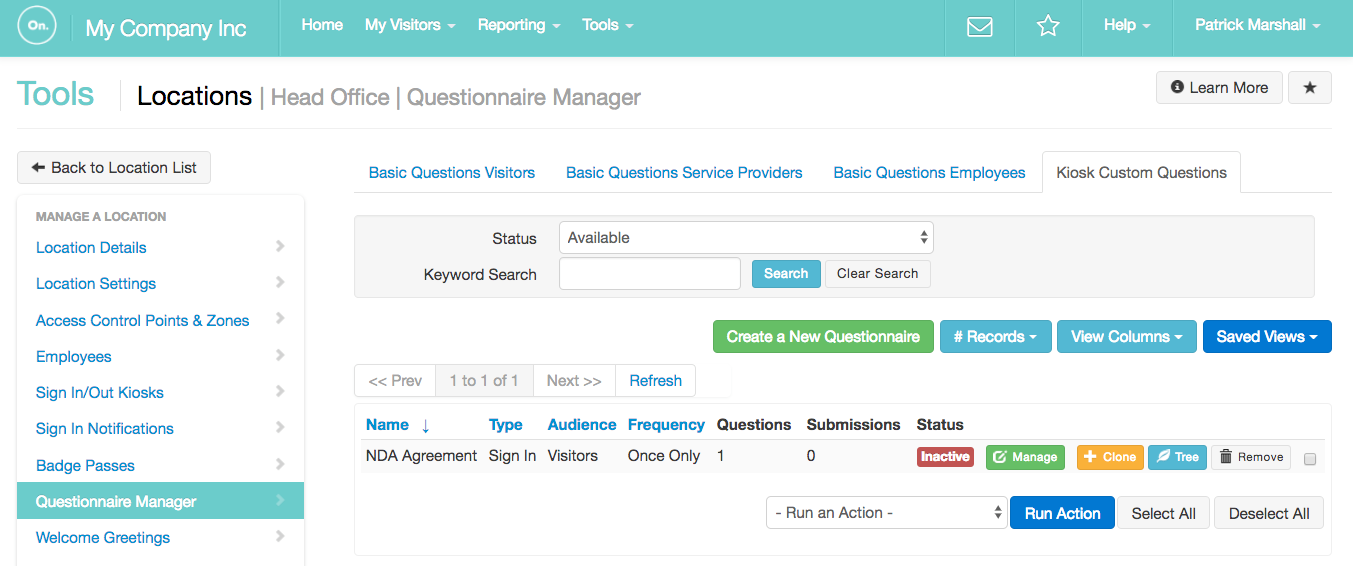 For more information on adding other questions to your custom questionnaire, please see our Kiosk Custom Questions Helpdesk article.
Activating the Custom Questionnaire
When your questionnaire is complete, you will need to activate it where you want it presented.
Once your questionnaire is enabled and has been answered, it cannot be changed without cloning the questionnaire to make a new one. Please ensure that your questionnaire is fully complete before activating it.
To activate a questionnaire for sign in/out:
Click the

current status.
Click

Activate.


Select where you want the questionnaire to appear.


Click

Save.
There are no restrictions around activating a questionnaire for sign in/out or on different kiosks, sign in/out manager, or WolMobile, you can activate it anywhere that you want it to appear.
You can also activate from the questionnaire list. Click on the status and follow the same steps as above.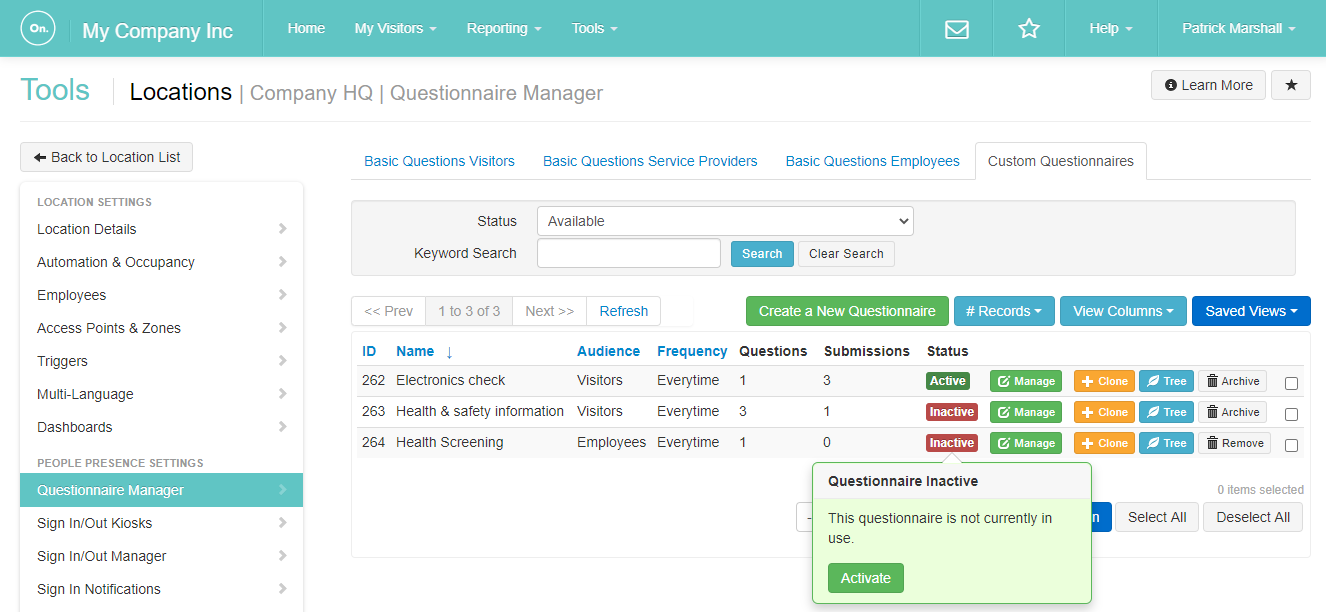 Any changes will be applied immediately.