In this section, we provide information about creating printable ID Cards and adding them to employee and service provider profiles.
In previous articles we explained how you can link an 'existing' Token, whether that be an ID Card with a barcode or QR Code, or RFID to an employee or service provider's profile. Thus allowing them to sign in and out of your locations with a quick scan of their Token.
But what if you want to print your own branded ID Card Tokens using your own ID Card Printer?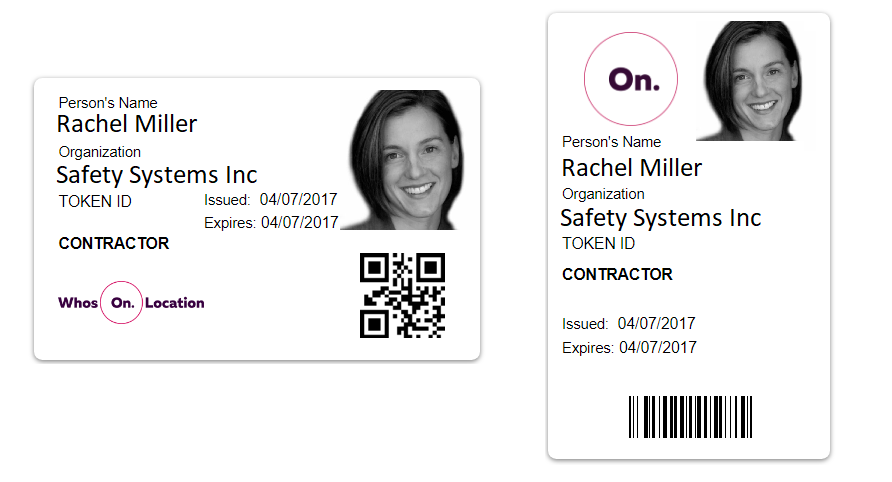 With WhosOnLocation you can. But before we begin you must understand that:
A Token is an ID Card or Fob and they can either be something that 'already' exists or something you can 'create and print' right from your WhosOnLocation account. This section is about the latter. Those you can print yourselves.
Any Token, regardless of type, is linked to an employee or service provider member
They can then use that Token to scan in and out of your locations, which creates a record of their presence.
An ID Card Token you wish to print using WhosOnLocation is still a Token but it has an ID Card Template linked to it.
So; to print your own ID Card Tokens you need to setup a Token Type, then create a ID Card Template that will link to that Token Type, then add the Token Type to the employees or service providers, then print them.
How do I do all of this?. There are several steps to follow and we guide you through:
What ID Card Sizes do we support?
ID Cards can be printed on CR80 cards, these have the dimensions of 2.13" x 3.38" (54mm x 86mm), the size of a standard credit card, and are the most commonly used ID cards worldwide. CR80 cards are compatible with a wide range of ID Card printers.
View the next article to get started.