How to connect your data source with SyncPortal. You must have the Account Owner or IT Support user role assigned to access these settings.
This section gives you the ability to connect your data sources to a Sync Profile. Each of the connectors are unique to a Sync Profile.
If you have multiple data sources, you can run each of these through the same Sync Profile using the same headers and rules, or you can run each data source through a separate Sync Profile.
Please Note: You do not need to run the same data through multiple Sync Profiles.
There are two methods you can use to connect your data PowerShell Active Directory export and the HTTP PUT method.
PowerShell Active Directory export
Active Directory (AD) is an employee directory service implemented by Microsoft for Windows domain networks. It is included in most Windows Server operating systems.
Your unique script will import selected users from your AD to your WhosOnLocation account, using the PowerShell Get-ADUser cmdlet, via secure upload to our server. The script is written in the PowerShell language, is fully auditable by the customer, and will work seamlessly with a web proxy if you use one.
You can download your unique script from your Sync Profile. This script will import data to the Sync Profile to be managed and monitored through your rules and logs.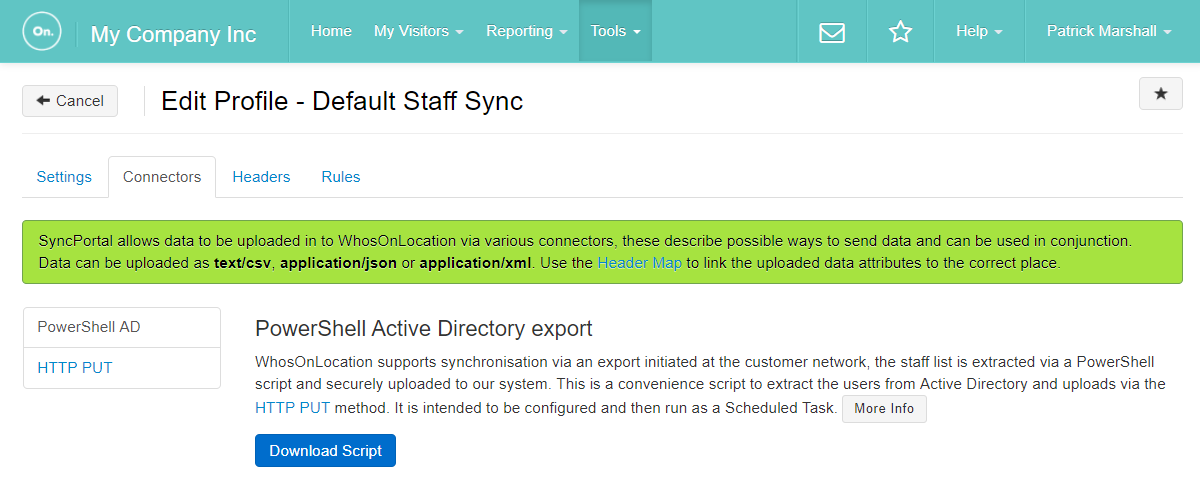 The Way It Works
The script is run periodically from one of your computers under an account which can query the directory. Your system administrator will set this up (see http://support.microsoft.com/kb/324283).
The script runs Get-ADUser and converts to CSV format.
An encrypted HTTPS connection is made to our systems.
The data is sent and merged with our database, new users are added, modified users are updated, and removed users are set to disabled.
Requirements
Windows PowerShell 4.0 or greater.
HTTP PUT
With HTTP PUT you can sync most employee databases with WhosOnLocation, using a third-party application.
Data can be imported to this profile as a PUT method to our secure HTTPS endpoint. Data can be uploaded as text/csv, application/json or application/xml and should be set in the Content-Type header.
This is an SSL-only API and is authenticated using basic authentication. The authenticate header takes the API key as the username and the password is not used.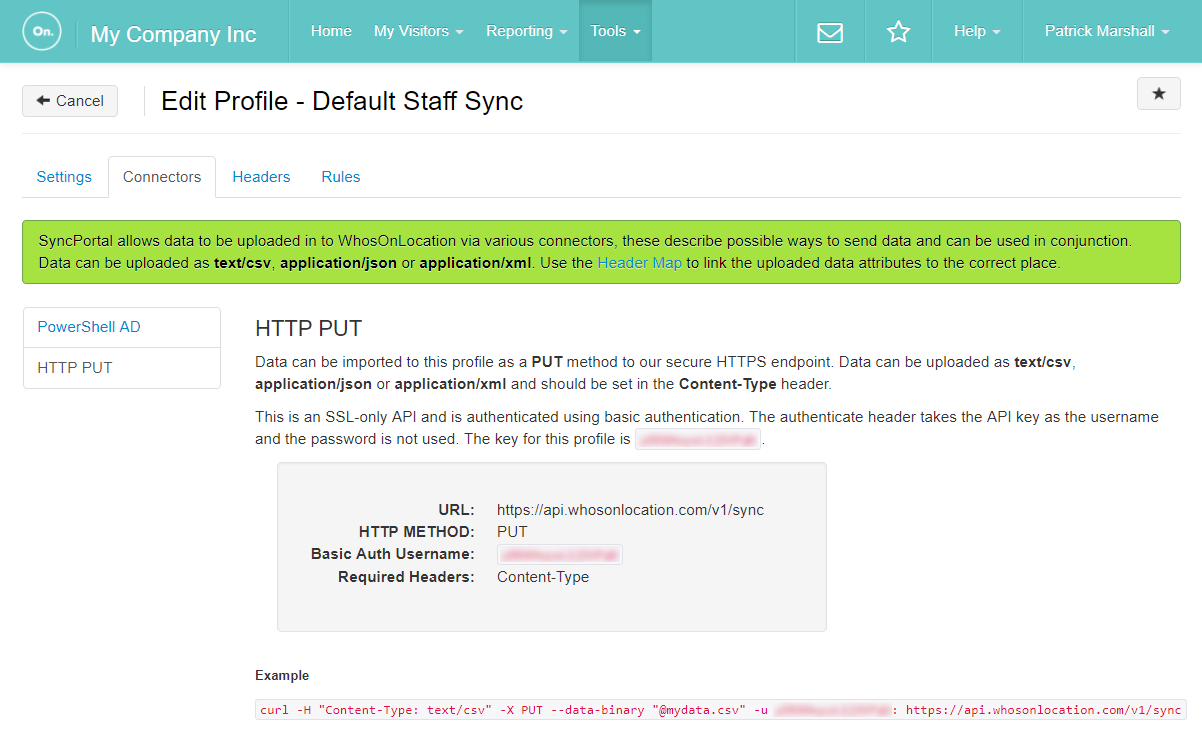 URL - Where the information is sent.
HTTP METHOD - Use PUT method to upload the data.
Basic Auth Username - API Key needs to be entered as the Username for the basic authentication header.
Required Headers - The Content-Type header needs to be set to the format of the uploaded data, we support text/csv, application/json or application/xml.