How to remove test visitor records from your reports. You must have the Reports User role assigned to access reporting.
During your 30 Day Free Trial period, or during any testing period, users often create multiple 'fake' or 'test' visitor transactions. After the trial period or after testing you may wish to remove those visitor records from your account. There is an option for purging these records in the People Presence Report.
Please Note: You can only purge visitor records, employee and service provider records cannot me removed.
How To Purge Records
To purge visitor records, you must have the Reports User role assigned. Any records that are purged cannot be restored.
Go to Reporting > People Presence.
Select View Report.
Choose the filters needed to select the records - Location, Data Source, Report Period, and any Filters.
Click Purge Records.



Select the records to purge using the checkboxes on the right.
Click the Run an Action menu.
Select Purge Records.
Click Run Action.
Click OK on the confirmation pop-up.
The records will be completely removed from your reports, unable to be restored.
View Purged Records
You must be the Account Owner to view purged records.
Go to Tools > Account.
Select Audit from the left-hand menu.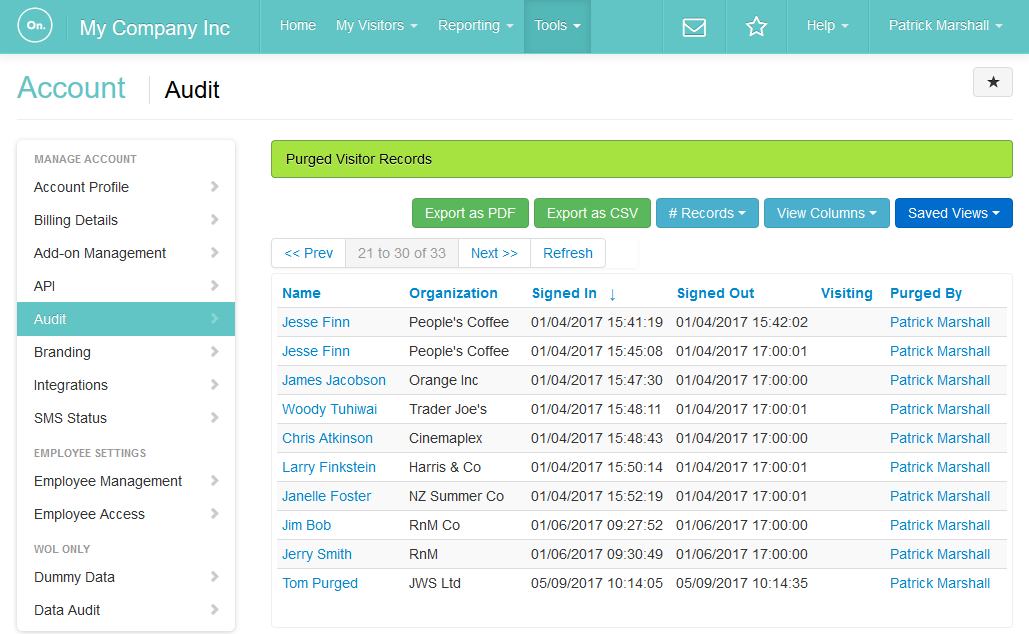 You can see all records that have been purged including information about their sign in/out records, who purged them, and when they were purged.
You can export this information as a CSV file or PDF. Only the following fields will be exported:
Name
From
Signed In Date & Time
Signed Out Date & Time
Visiting Host
Purged By
Date & Time Purged
Location for Visit