How to manually add a Service Provider Organization. You must have the Service Provider Manager user role assigned to add organizations.
There are two different ways you can add a Service Provider Organization, one at a time manually, or in bulk via CSV import. If you are only adding one or two organizations, it can be beneficial to do so manually. When adding an organization manually you can also add extra details which would need to be added separately from a CSV import.
Please Note: To add a service provider organization to WhosOnLocation, the only required information is the Organization Name and Trading As Name. We do recommend entering as much information as possible to keep detailed records.
How To Add a Service Provider Organization
To add a Service Provider organization:
1. Go to Tools > Service Provider Manager
You will land on the Organization List.
2. Click Add Organizations
3. Click Add an Organization Manually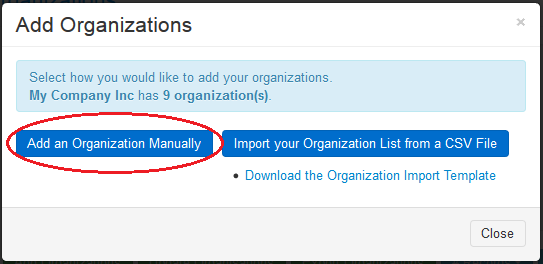 4. Enter the Profile Information
Service Provider Type – The legal entity type that this organization is registered as
Name – The legal name of the organization
Trading As – The trading name of the organization if different from the legal name. If the trading and legal names are the same the trading name will be automatically added.
Legal ID – The legal ID number of the organization e.g. GST, VAT, Business number, etc
Legal ID Type – The type of the legal ID number above
Phone Number – The contact phone number for the organization
Email Address – The main contact email of the organization
Physical Address – The main physical address at which the organization is located
Country – The country the organization is from
Status – The status of the organization in WhosOnLocation. You can choose between Pending, Active, Inactive, and On-Hold
Organization Owner – The person who manages the relationship with this service provider organization
5. Click Save & Manage Groups
6. Select any Categories and Groups you want the organization to belong to
7. Click Save
8. Select Location Permissions from the left-hand menu
9. Toggle any locations the organization can access to Yes
10. Click Save & Manage User Access Groups
11. Toggle any Internal User Access Groups the organization belongs in to Yes
12. Click Save & Manage Insurances
13. Add any Insurance Policies the organization has
14. Select Members from the left-hand menu
15. Add Service Provider Members for the organization
When adding members to an organization during the organization setup, you can only enter the members' profile information. Any other information will need to be added outside the organization setup. Have a look at Adding Service Provider Members Manually for more details.
You can edit the information for your organizations at any time by clicking on the View button next to the organization in the organization list or in bulk via CSV import.