How to update your default Policy Expiry Notifications Recipients. You must be a Service Provider Administrator to be able to access these settings.
Keeping the right people in your organization informed of insurance policy expiries is an important part of managing service providers and insuring your business runs smoothly. To facilitate this, you can set up a series of notifications to send to selected people in your organization and to your service providers.
Managing your Default Recipients
In the Insurance Settings, you can set up those individuals in your organization that will receive notifications by default. These can be edited for each policy that is added if required. You can also set up an email address that service providers should send their updated policies.
1. Go to Tools > Service Provider Manager
2. Select Insurance Settings from the left-hand menu
3. Select the Notification Recipients tab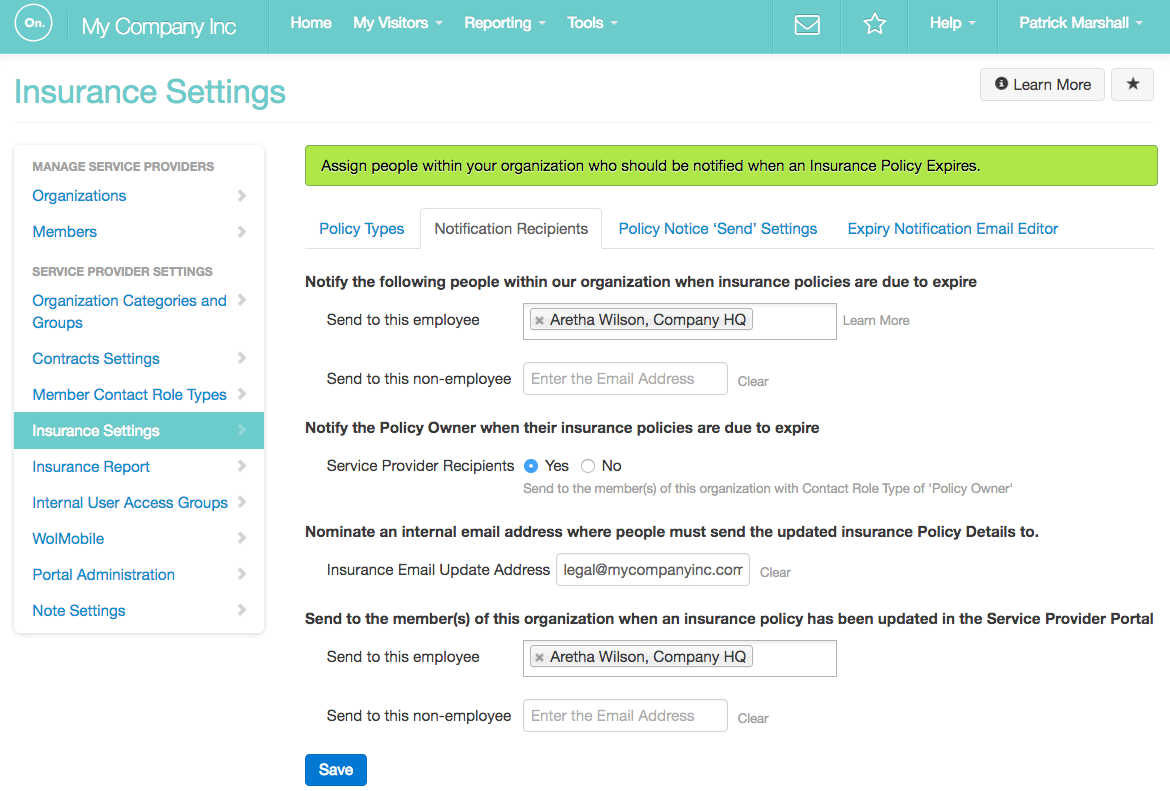 Prior to an insurance policy expiring your WhosOnLocation account can notify nominated people of the policy's pending expiry. There are three (3) Notifications.
The Policy Expiring Pending (Notice 1) – advising the recipient the Policy is about to expire.
The Reminder of Policy Expiring (Notice 2) – reminding the recipient the Policy is about to expire.
The Policy has Expired (Notice 3) – advising the recipient the Policy has expired.
There are two types of people that can be notified automatically of a pending policy expiry:
An internal recipient of the notice can be any employee, from any location, in your account. Typically someone like your Compliance Manager, Facilities Manager, Risk Manager, Health and Safety Manager or similar would be an internal recipient. You can have as many recipients as required.
Policy Owner: Under the settings for your 'Contact Role Types' there is a system Contact Role Type called 'Policy Owner'. Adding this to a member of an organization will let you set them as the recipient of policy expiry notifications. An organization can have as many Policy Owners as required.
Adding Internal Recipients

To notify people within your organization when insurance policies are due to expire:
In the Send to this employee field, enter the name(s) of employees in your organization that should receive a notification by default.
In the Send to this non-employee field, you can enter the email address of someone who should also receive a notification of policy expiry by default, but is not an employee set up in WhosOnLocation. This could be an internal generic email address, an employee that is not in WhosOnLocation, or a third-party that manages your contractors.
Adding Policy Owners as Recipients

To notify the Policy Owner when insurance policies are due to expire, set the Service Provider Recipients option to Yes.
To set the Policy Owner for an organization, you need to assign a Member of that organization the Policy Owner Contact Role Type.
For more information on how to add Contact Role Types to a member, please have a look at our Service Provider Members Helpdesk article under Organizations.
Adding a Reply Email Address

You can set up an email address that your service provider members can send their updated insurance policies to. This information can be added dynamically in the emails sent to your service providers so if it is ever changed it will automatically change in the email.