How to send your pre-registered visitors a WolPass. Any user with access to WhosOnLocation can send a WolPass to their own pre-registered visitors.
Before you can send a WolPass to pre-registered visitors, the WolPass add-on must be enabled by the Account Owner and the WolPass must be enabled for your location by a WolPass Manager.
For information on enabling the WolPass Add-on please have a look at our Helpdesk article, Introdution: WolPass.
Once enabled, any employee in that location can send a WolPass to their pre-registered visitors.
Or you can download the Sending Visitors Confirmation Email via WolPass article here.
How to Send a WolPass
From your list of pre-registered visitors (which can be accessed from the Home Screen or directly after pre-registering a visitor):
1. Click Send Email next to your visitor

Ensure the visitor's email address has been added correctly
2. Click Send

For a group visit, select the visitors using the right-hand checkbox and click Send Email to Selected
A confirmation box will appear
3. Click Yes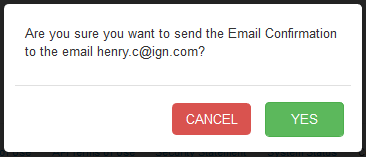 The date and time the WolPass was sent will appear

4. Click Close
Your list of pre-registered visitors will update to show that a WolPass has been sent.

If you have a group event it will show how many out of a total number of people have been sent a WolPass.

Sending an Updated WolPass
If you update a pre-registered visit event for any reason, e.g. changing the time or date, or your WolPass gets updated with new more relevant information, you will want to send an updated WolPass to your visitors.
Have a look at our Helpdesk article Pre-registering a Visitor for information on Editing a Visitor Event.
Once you're finished editing an event and click Save & Close, if a WolPass has been sent before the edit, the following pop-up will appear: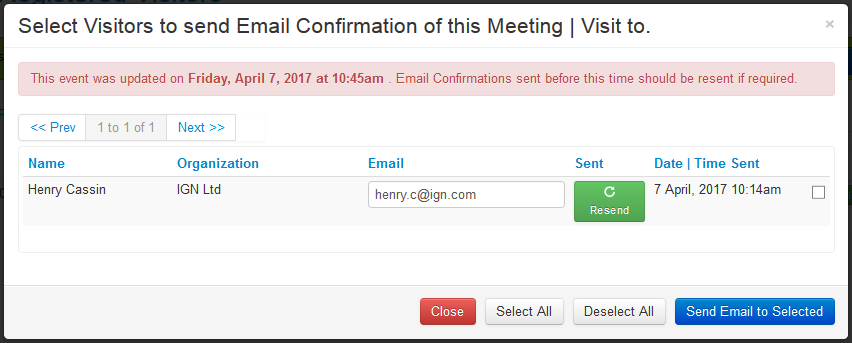 Please note the banner telling you when the event was edited and the Resend button. If the Resend button appears, it means that a WolPass has been sent to this visitor prior to the edits and a new WolPass needs to be sent to the visitor.
To send a new WolPass, simply click Resend, then Yes in the confirmation box.
If the WolPass itself gets edited, this will not automatically show like an edit to the visitor event. You will need to rely on the WolPass manager to inform all employees if a WolPass is updated and what changes were made.