How to view Induction Reports. You must have the Induction Manager user role to view these reports.
Once your induction courses are sent to your learners, you will want to track information about those courses.
Induction Reporting has information on who has completed what course and when, as well as who has been sent the course but yet to complete it.
You can use the search function to find information for specific courses, learners, and track course expiry dates.
Accessing Reports
To access Induction Reporting and see the report for an induction course:
1. Go to Tools > Induction Management
2. Select Induction Reporting from the left-hand menu
3. Select the Induction Course from the search field
4. Select whether you want to see learners who are inducted or not inducted

5. Add any other specifications in the search fields
6. Click Search
The report will generate with the filters selected in the search fields.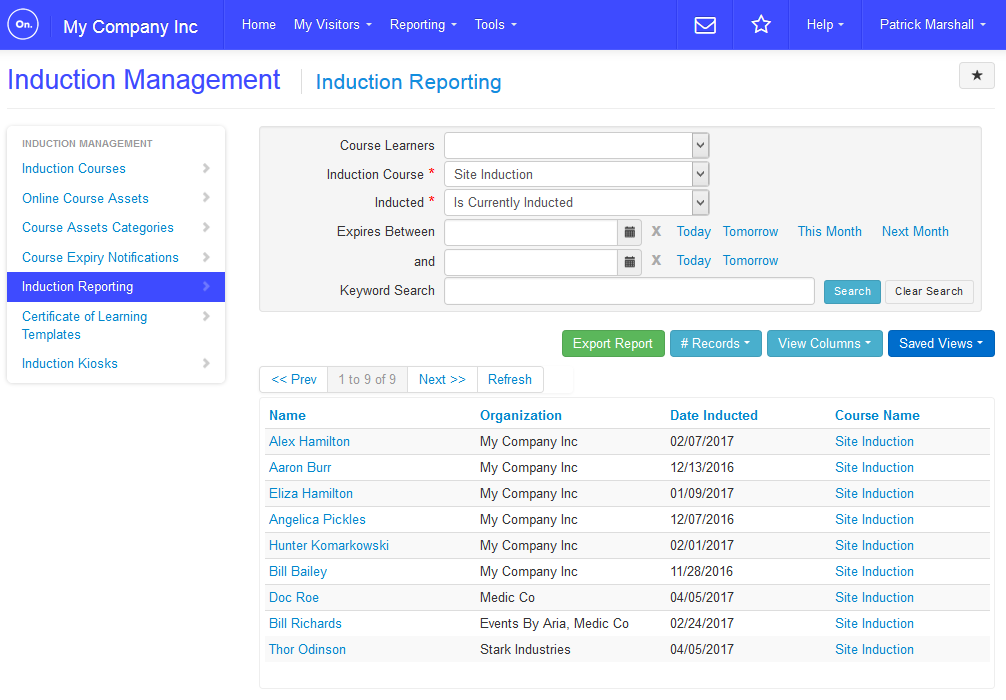 Report Fields
There are many fields you can add to your induction report. The default report includes the Name, Organization, Date Inducted, and Course Name. You can add more fields using the View Columns button.

Name - The name of the learner
Organization - The organization of the learner. If the learner is an employee it will show as the name of the WhosOnLocation account
Date Inducted - The date the learner passed the induction course
Expire/Renew - The date the induction course needs to be renewed by
Course Name - The name of the selected induction course
Type - The type of induction course
Status - The current status of the learner. For Service Providers, this can be Active, Pending, Inactive, or On-Hold, depending on their account
Course Renew - The period of time between renewals for this induction course
Course Learners - The type of learners for the course, Employees, Service Providers, or Both