Learn how to invite people to take your WOL eLearning or SCORM Cloud induction course. You must have the Induction Manager user role to send induction course invites.
How it works
There are two types of induction courses that you can invite your learners to complete online:
By inviting learners to take your induction courses directly from WhosOnLocation, we track who has been sent a course and who has passed a course in the system for you to review at any time.
The automated invite email contains the name of the course, a unique link to access the course, and the name and details of the contact person. You can't change the contents of this email.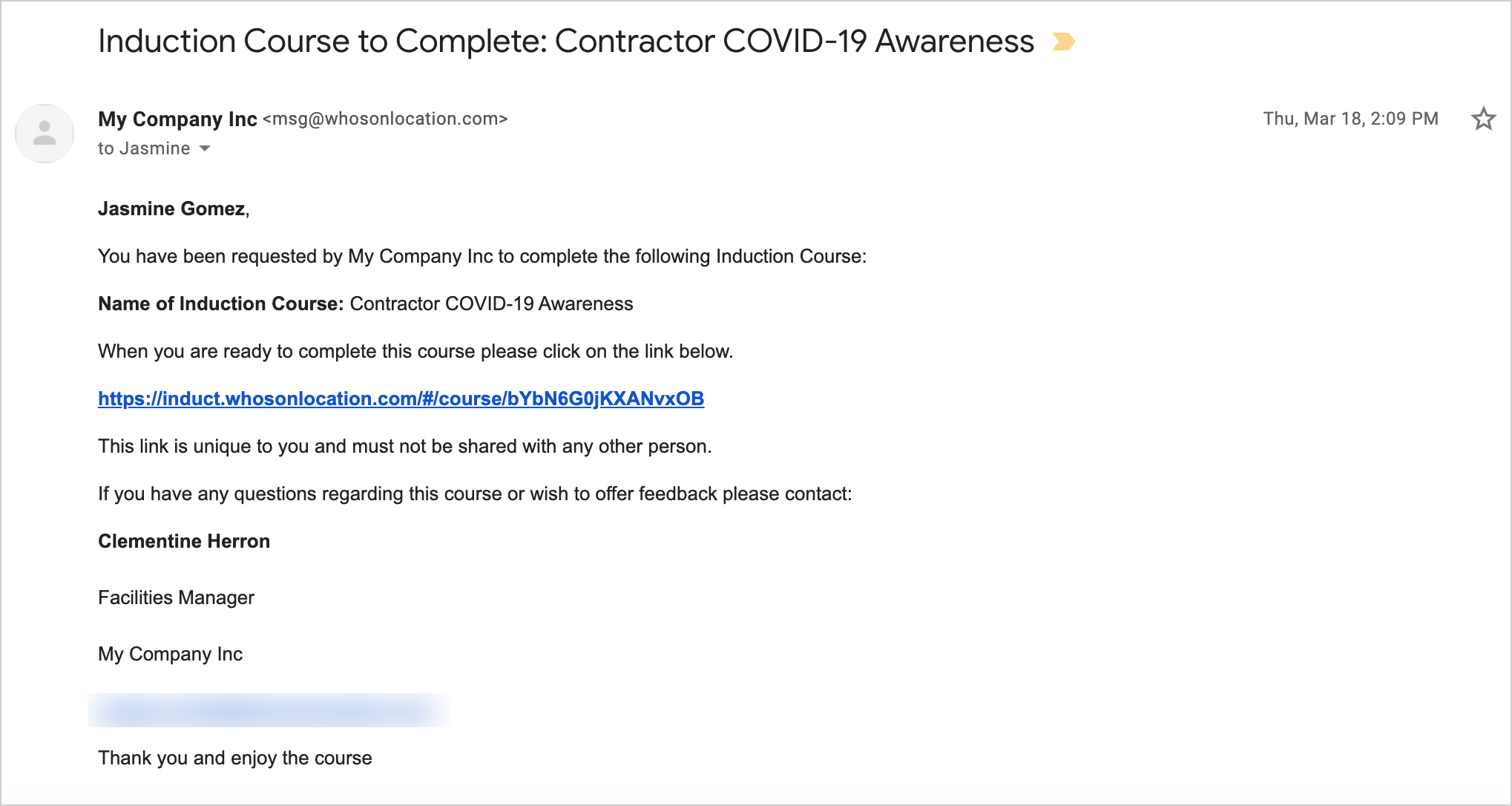 Before you send invitations to your learners to sit your induction course, there are a couple of things we recommend you do first.
Before sending
Preview course
Before inviting your learners (contractors and/or employees) to attend your induction course, you will want to preview the course to ensure it is setup correctly.
To preview your induction course on the computer you are currently using, click on the orange Preview button, and select On my computer. This will open your induction course in a new tab for you to experience the course in full.
To preview your induction course on another device, you can send the link via email or SMS by selecting On another device. Enter the email address or mobile/cell number you would like to send the link to and click Send.
Check learners' emails and/or cell phone details are correct
You are about to send a link to a learner (contractor or employee) to complete a specific course. To do this you need to have the learners primary email address, or alternative email address, or cell phone number recorded correctly in their profile.
When you are satisfied that your induction course is set up to your satisfaction, and your learners email and/or cell phone details are correct, it's time to invite your learners to take the course.
Send invite
Under the status column for your course, click Draft.


Click Publish.
Click Invite next to the course.


Select the type of learners you want to invite, then click Search.
Select the checkboxes next to the learners you want to invite.
Click Run an Action, then select how you want to send the invitation – email or SMS.
Click Run Action.


Next step
: Your learners will receive an email inviting them to complete the course. We'll track their progress in WhosOnLocation.