How to configure the Kiosk Settings for a Sign In/Out Kiosk. You must have the Administrator user role assigned to access these settings.
Some of the key aspects of the Kiosk settings include the access point, Kiosk device, and login details. The access point informs whether it is a standard or inter-zone Kiosk, the Kiosk device informs how the Kiosk is displayed on your device, and the login details are how you log in to access your Kiosk.
Kiosk Settings is the first tab you configure when creating a Kiosk. To access Kiosk Settings for existing Kiosks:
Go to Tools > Locations.
Click View next to your location.
Select Sign In/Out Kiosks from the left-hand menu.
Click View next to your Kiosk.
You will land on the Kiosk Settings tab.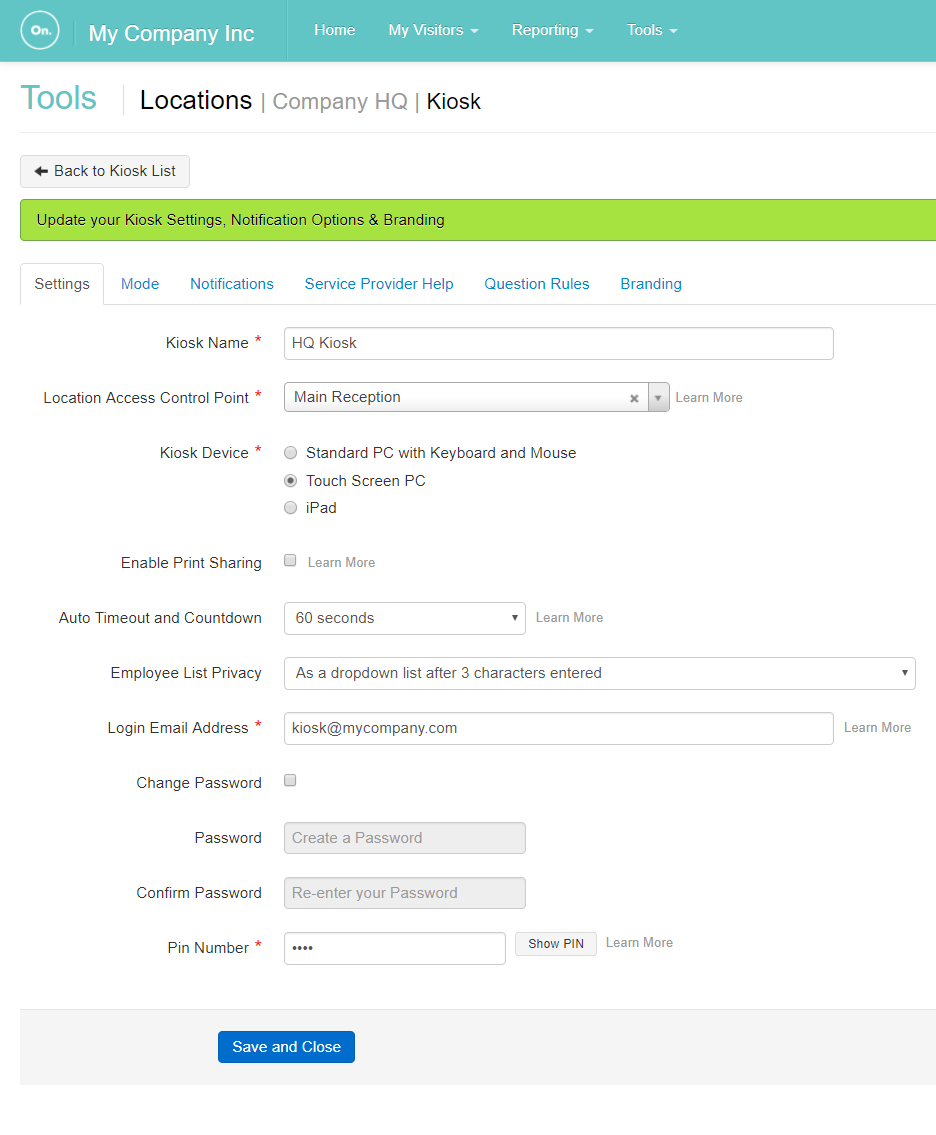 Kiosk Name
Each Kiosk should have a unique name that can be used to easily identify it. If you have multiple Kiosks in your location, you will need to be able to tell them apart by name.

Location Access Control Point
The Location Access Control Point (LACP) is the point in your location that the Kiosk is situated, e.g. Main Reception, Warehouse Entrance, etc. The LACP can either be standard or inter-zone only, which is set in the LACP settings, the type of LACP determines the type of Kiosk and the settings available to configure.
The LACP is also used for reporting in the People Presence Report so you know where a person signed in/out and through which Kiosk; and is sent as part of the Sign In Notification so that a guest's host knows where they have come on-site.

Quick Tip! Use a different LACP for every Kiosk to accurately identify the Kiosk used on sign in/out in the People Presence Report.
Kiosk Device
Select the type of device the Kiosk is to be activated on, each device type has unique settings associated with it.
Standard PC with Keyboard and Mouse – This is a regular PC, not touch screen, so no on-board keyboard will be displayed when it is selected. Because standard PCs have more screen space available without having an on-screen keyboard, you have the option to display multiple questions on one page or for every question to have its own page.

Display for Basic Questions – Separate screen will have every question on a different screen. All in one screen will have all the questions in each section of the basic questions, e.g. all contact info questions, on one page.
Display for Custom Questions – Separate screen will have every question on a separate page/ All in one screen will have all questions from each custom questionnaire displayed on one page, if some questions are displayed conditionally, they will appear after their parent question is answered.
Touch Screen PC – This is a windows-based device using a touch screen and required an on-screen keyboard to use. These are usually tablets but can sometimes be full touch screen monitors.
Keyboard layout - Select your preferred layouts to use for your on-screen keyboard and the default keyboard. Layouts match the most commonly used keyboard for the languages listed, e.g. the French layout is for the standard keyboard in France.
iPad – This is an iPad Kiosk using the WolKiosk app. There are a couple of additional options when using an iPad that are exclusive to the WolKiosk app, iPad Printing Mode and iPad Camera Scan.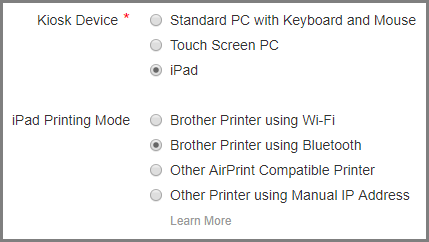 iPad Printing Mode – iPad Kiosks require either a wireless or Bluetooth connection with a Brother printer for printing. There are four possible printing methods:
Brother Printer using Wi-Fi – Requires a Brother QL series printer with AirPrint capabilities. To use this, connect your Brother printer to the same Wi-Fi network as your iPad and select the printer from the Kiosk Settings.
Brother Printer using Wi-Fi –Requires a Brother QL-820NWB printer. To use this, enable Bluetooth on your printer and iPad, then pair the printer from the Kiosk Settings.
Other Airprint Compatible Printer – Allows you to use a non-Brother printer that uses AirPrint to connect to an iPad for printing. While we don't specifically support the use of non-Brother printers with WolKiosk at this stage, this method allows for new printers that are released with AirPrint to be used without any delay which may come from requiring further development.
Other Printer using Manual IP Address – Allows you to set up a printer on the same Wi-Fi network as your iPad and connect by entering the IP Address directly. This makes finding the printer simpler because you tell your Kiosk exactly where the printer is instead of having the app search for it on your network. This method is especially useful if you have a restricted network meaning you cannot connect easily using the normal AirPrint method. Click here for more information on Manual Printing via IP Address.


Please Note: Manual IP Address printing still requires an AirPrint capable printer.


Click here for more details on setting up printing on WolKiosk.
iPad Camera Scan – uses the front-facing camera of the iPad as a scanner. This is only for QR Code scanning, because the front-facing camera has limitations around what it can scan, and barcodes will only work if they are very large and at the perfect distance from the camera.
Enable Print Sharing
Print Sharing allows you to print from other Kiosks or a receptionist PC to this Kiosk. It is used only for printing from other devices to the printer attached to this Kiosk. If you do not have other devices that need to print to this Kiosk, you do not need to enable it.
Click here for more information on Print Sharing.
Auto Timeout and Countdown
How long the Kiosk must be idol before the sign in/out event is cancelled and the Kiosk is returned to the Home Screen. A Kiosk is only idol if the mouse has not moved or no buttons have been pushed, when one of these occurs it resets the countdown. You must have a time set for security reasons.

Employee List Privacy
How your employee host list is displayed; there are two ways to display this list, as a dropdown or a results indicator.

A dropdown list will begin generating all possible results as soon as the set character threshold is met. You can set this to 1 or 3 characters. The list will continue to refine as the visitor or service provider types in their host's name until it is selected from the options displayed.
A Results Indicator list will show when a result has been found after the set character threshold is met. You can set this to 3 characters or an exact match. If there is only one possible result, e.g. for an exact match, it will display that result for selection. If there are multiple results, the visitor or service provider can click the results indicator to see a list of all matches to pick from. If they continue to type it will narrow down the list until the indicator is selected.
Please Note: The dropdown list option is not available for iPad Kiosk Devices.
Login Email Address
The email address used to log into the Kiosk. This does not need to be a real or functioning email, it only needs to be in the email format, e.g. example@mail.com, and it needs to be unique. It does not need to be a real email address because it will never receive emails as the password is reset from the Kiosk settings, it is simply used as a unique identifier for the Kiosk.

Password
The Password used to log into the Kiosk. This is subject to the password strength rules set in your account settings. Enter this twice to confirm.

PIN
The four-digit PIN is used on the Kiosk to access the Kiosk settings, manually print passes, reset the print count, and log out of the Kiosk.