In this article you will learn how to activate Status Notifications when adding a kiosk. You must have the Administrator user role to access the kiosk settings and functions.
This feature will send you, or any other nominated people, an email and/or text alerting them to the fact a kiosk has lost its mojo; that is, it has lost connectivity to the internet and the WhosOnLocation service. In addition, they can also receive a notification when connectivity is restored; either by your intervention or as a result of the kiosk regaining connectivity automatically.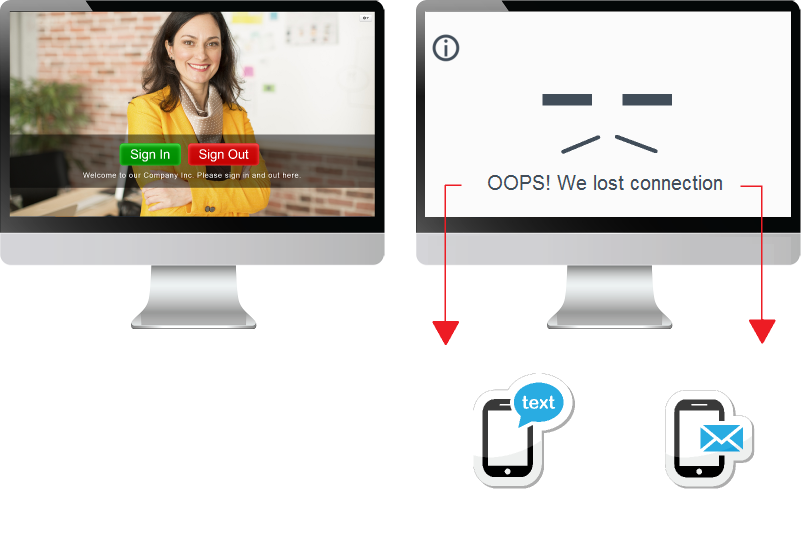 Select the Notifications tab, then select the Status Notifications sub-tab.
There are two options:
Send Offline Notifications:



Offline Time-out

: Select the number of minutes a Kiosk must be offline for before the status notification is sent. If a Kiosk is offline for the number of minutes selected, we can notify up to 3 employees and one non-employee via email or SMS.



Send to this Employee

: Select an employee from the list. You can choose any employee that is based at the location or any employee that has global roaming rights to the location. You can add up to 3 employees.



Send to this Non-Employee

: You can enter the email address and/or mobile | cell number of someone not setup in your employee list.



Send Online Notifications: When a Kiosk comes online we can notify up to 3 employees and one non-employee via email or SMS. Simply activate this option and follow the same steps as that for Offline Notifications.
FAQs for Status Notifications
If I set the Offline Time-out to 5 minutes and the kiosk goes offline; but then connectivity is restored automatically within the 5 minute period. Is the Status Notification sent to nominated recipients cancelled so that it does not go? Yes.