Find out how to link your kiosk PC to the printer using Google Chrome.
Before you start
Before you link your kiosk PC to your printer using Google Chrome, make sure you have completed the following:
Added a sign in/out kiosk with a unique username, password and PIN number.
Configure page settings
To link the kiosk PC to the printer, you need to configure the page settings then create a silent printing shortcut:
Open Google Chrome, then go to Menu > Print...
Select More Settings.
Set the Destination to your printer.
Set Pages to All.
Set Copies to 1.
Set Layout to Landscape.
Set Paper size to match your labels.
Set margins to Custom and use the following settings:
Top - 0.1"
Left - 0.19"
Right - 0.1"
Bottom - 0.1"
Set the Scale to 97.
Disable Headers and footers.
Disable Background graphics.
Click Cancel to exit the print preview.


All of the print setup settings will be saved for your browser. Next you need to enable the silent printing configuration.
Create silent printing shortcut
To enable silent printing mode, you need to create a desktop shortcut for chrome and edit the target in the properties.
Right-click the Google Chrome icon on your desktop or in your file explorer.
Select Create shortcut. If prompted to create on desktop select Yes.


(Optional) Rename the shortcut for easier recognition.
Right-click the shortcut.
Select Properties.
In the Target field, after what is currently there, enter --kiosk-printing "login.whosonlocation.com". Ensuring that you have a space between each string.


Click Apply.
When opening this version of Chrome, labels will be printed automatically. Make sure no other Chrome windows are open before using this shortcut or the silent printing won't work.
Kiosk mode - optional
You can open Chrome in kiosk mode. Kiosk mode opens the browser in a locked Full screen, meaning the public cannot access the address bar or browser setting.
To do this you'll need to change the target of the shortcut.
Add --kiosk after --kiosk-printing in the shortcut target in step 6 above.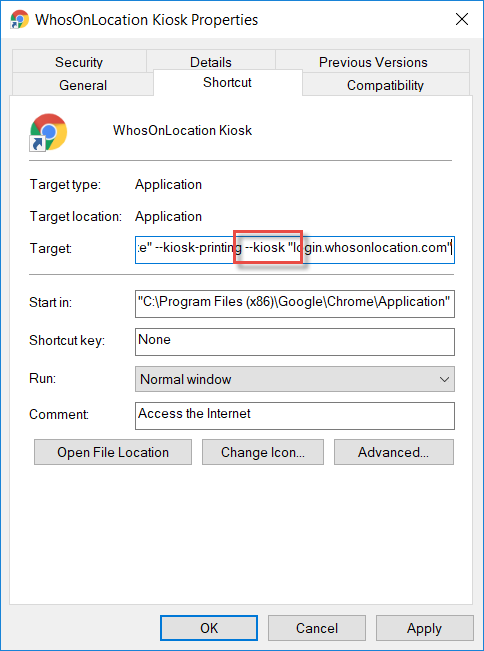 You can only exit kiosk mode by using the keyboard to close the browser or by restarting the computer.