Learn how to configure the OnLocation Mobile general settings for your location. Allow employees and contractors to sign in or out, choose how to report on location data, or make 'Follow Me' mandatory. You need the Administrator user role to access these settings.
About the general settings
In the General Settings tab, configure which user types (employees and contractors) can use OnLocation Mobile to sign themselves in and out of the location. Choose if you'd like to report on users' geolocation data and enforce a rule that continues to track the user throughout a location after they have signed in to it.
Location tracking
OnLocation Mobile utilizes the location services available to the user's smartphone at any given time. Location services use a combination of cellular, WiFi, and GPS to determine the user's location. If they are not within a clear line of sight to GPS satellites, their device can identify their location using crowd-sourced WiFi and cell tower locations. MRI OnLocation takes no responsibility for the accuracy of an OnLocation Mobile user or GPS device.
Learn more about how location tracking in OnLocation Mobile works.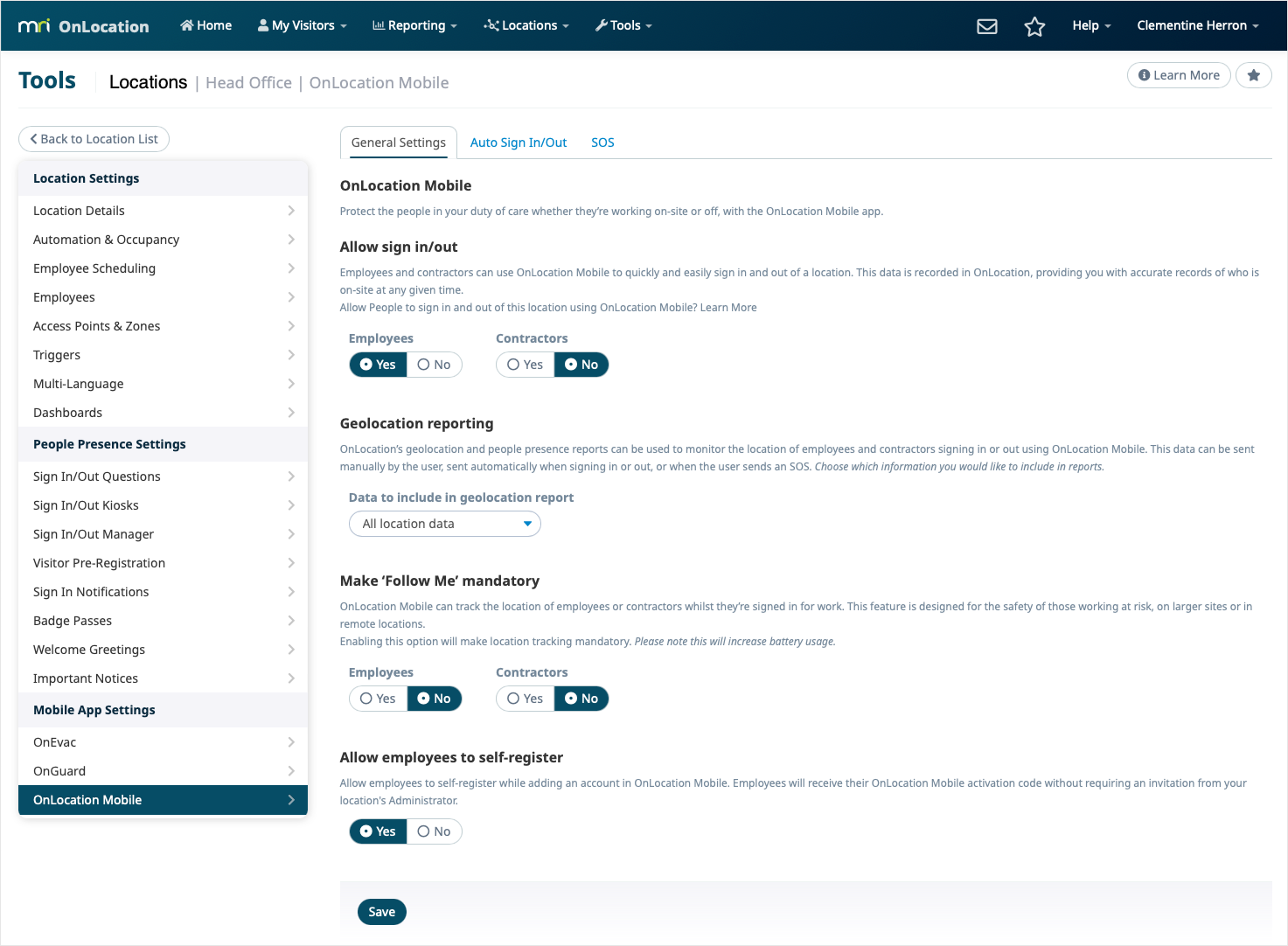 Allow sign in/out
Employees and contractors can use OnLocation Mobile to quickly and easily sign in and out of a location. This data is recorded in OnLocation, providing you with accurate records of who is on-site at any given time. If sign in/out is not enabled, you can't set up auto sign in/out.
If you want users to sign in to this location using OnLocation Mobile, set the Allow Sign In/Out status to Yes.
Go to Locations, then select the location from the drop-down list.
Select OnLocation Mobile.
In the General Settings tab, under Employees, select Yes or No.
Under Contractors, select Yes or No.
Click Save.
Geolocation reporting
Choose what geolocation data you'd like to include in your People Presence report, Geolocation report, and dashboards:
All location data – reports include all location data that is sent either automatically or manually by the user
SOS only – location data is only reported when a user sends an SOS
No location data – no location data in OnLocation reports
To update your geolocation reporting settings:
Under Data to include in geolocation report, choose your reporting setting: All location data, SOS only, No location data.
Click Save.
Make Follow Me mandatory
Follow me is a feature of OnLocation Mobile that tracks the location of employees and/or contractors while they're signed in for work. It's designed to monitor the safety of those working at risk, on larger sites, or in remote locations.
Enabling this option will make location tracking mandatory for your OnLocation Mobile users while they are signed in. Using 'Follow Me' will increase battery usage, and users will not be able to disable it.
Select All location data in your geolocation reporting to access the Follow Me settings.
To set the Make 'Follow Me' Mandatory status:
Under Employees, select Yes or No.
Under Contractors, select Yes or No.
Click Save.
If 'Follow Me' is not mandatory, OnLocation Mobile can still send updates of where the app user is while on-site, but the user will have to enable this on their mobile device manually.
Allow employees to self-register
Allow employees to self-register while adding an account in OnLocation Mobile. Employees will receive their activation code without requiring an invitation from an administrator.
To choose the employee self-registration settings:
Select Yes or No.
Click Save.
Next step
: If you've allowed your employees or contractors to sign in or out,
set up auto sign in
so OnLocation Mobile users will be automatically signed in when they arrive on-site.