In a prevous article we showed you how to Create a Pandemic Questionnaire to identify at risk visitors using a kiosk to sign in. However; instead of asking a series of questions to determine if the visitor poses a risk:

What if you simply wanted to get your visitor to acknowledge a brief statement, and have their acknowledgement recorded for audit at a later date?

What if the visitor is signed in by your reception, security, or concierge team (Sign in/Out Managers), not a kiosk. How would the visitor be aware of the need to acknolwedge a visitor policy or rule?.
In this article we show you how to use the 'acknowledgement' option in the Important Notices Add-on to create a 'Pandemic Visitor Policy' statement that the visitor must 'acknowledge'. If the visitor signs in on a kiosk, they self-acknowledge when the kiosk presents the statement. If the visitor is signed in by a receptionist, the receptionist reads the statement to the visitor, and asks them for their acknowledgement.
Acknowledgement Required example:
As part of your visit today we require you to acknowledge our Visitor Screening Statement: "You will apply hand-sanitzer prior to meeting with your host. You will wear your Visitor Badge at all times. If you are felling unwell during your visit you will report to reception immediately."
.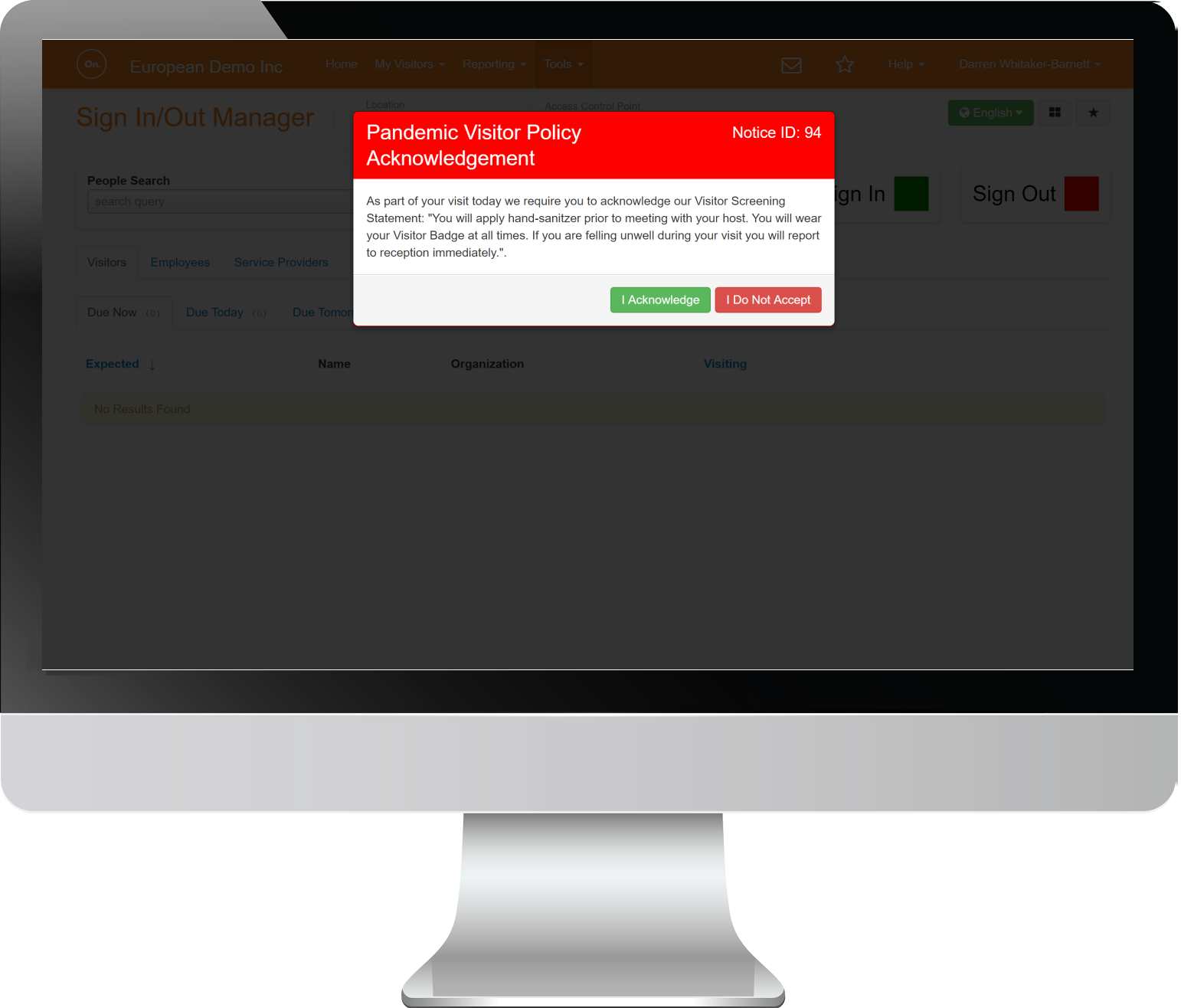 This article assumes you have enabled the Important Notices Add-on, a free feature available with all subscriptions. If you have not enabled Important Notices you can learn more here.
When creating an Acknowledgement Notice it will be presented to both the visitor signing into your location using a kiosk, and to receptionists who are signing that visitor in. The latter needing to communicate the notice to the visitor as part of the sign in process.
1: Create a new Acknowledgement Notice
Quick step by step to create an Acknowledgement Notice for visitors.
Go to Tools > Locations.
Click View next to your location.
Select Important Notices from the left-hand menu.
Select the green Create a new Notice button located at the top of the screen.
Select Acknowledgement as your Notice Type
Enter a Notice Name (for example "Pandemic Visitor Policy Acknowledgement").
Select 'Sign In' as your Display Notice on.
Set the Publish Date for when your Notice needs to be live. It will go live at midnight on the date selected, or immediately if you select today's date.
Set the Archive Date this being the day the Notice is removed from your sign in process
We recommend you set the Frequency to "Each time the person signs in/out during the Published Period". This means the Notice must be acknowledged every time the visitor sign in during the published period. As opposed to the "Once Only During Published Period" which means a returning visitor need not acknolwedge the Notice on returning visits during the published period.
Enter your Notice Message
Select Visitors as your Audience
Select Medium or Large as your Font Size
Change the default Acknowledge Button to read "I Acknowledge'
Set Response Required when Acknowledged to No
Change the default Do Not Acknowledge Button to read "I Do Not Accept'
Select the orange Preview Notice button to preview your Notice.
Make any necessary edits
Select Save.
Acknowledgements of your Pandemic Visitor Policy Acknowledgement Notice are captured and visible under Acknowledgement Notice Reports accessible in the Reporting option in the upper toolbar. Learn more about Acknowledgement Notice Reports here.
In the next article:
We show you how to create a
Red Flags Alert
for those visitors that
do not

'Acknowledge'
your '
Pandemic
Visitor Policy Acknowledgement
'
Notice.