For our April 2020 product update, we are happy to announce a new status for employees, working remotely, a new banned status for Service Provider member profiles and new date fields in service provider profiles for giving sign in permission, and a new access denied trigger event.
Working remotely
Your employees may no longer be working from your central facility, but they are still in your duty of care, and it's more important than ever to protect their safety and wellbeing.
Using WhosOnLocation you can have your employees sign in when working remotely (from home, visiting remote sites, working in the community or from the road) allowing you to:
See when an employee is signed in to work remotely
Communicate remote worker specific messages and acknowledgement notices
All while managing your duty of care.
Please Note: Working remotely is only available to employees, not Service Providers.
Click here for more details.
Service Provider member permission updates
There have been two new updates to how you can manage Service Provider member permissions: a banned status and permitted dates.
Banned status
The profile status of service providers indicates whether they are active and allowed to sign in or not. We have introduced a banned status to be used for those individuals who may pose a higher risk.
Banned service providers are not able to sign in at any location in your account and if they try to, a record is made in your People Presence report. You can also perform actions, like sending notifications, if a banned Service Provider tries to sign in using Triggers.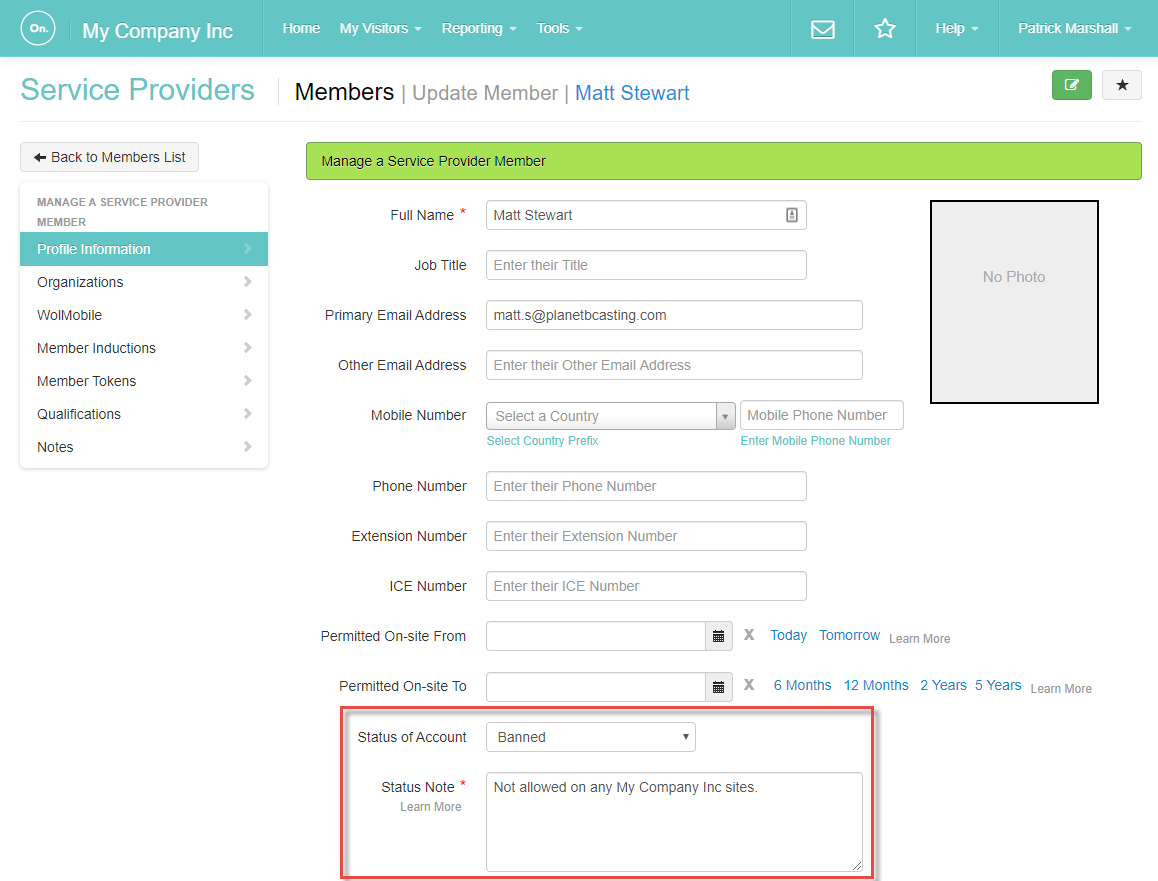 Click here for more details.
Status note
Along with the banned status we have also introduced a status note field to be used when a status is changed. This allows you to enter a reason for the status change, e.g. why they have been banned, which is added to the logs.
Please Note: The banned status is only available for Service Provider members, not organizations.
Permitted dates
We have added new date fields in the Service Provider member profile so that you can set a range for the period a member can sign into your locations.
This date range is completely optional and would only be used if you want to set a limit on when a member is allowed on-site. If left blank, then no limit will be applied, and they will be able to sign in/out according to the rest of your configuration.
Access denied trigger event
You can now set up a trigger to notify people is someone is denied access to sign in due to default system settings, e.g. they are banned.
When setting up a trigger, select the trigger event of Access Denied for a person type.
You can then select a trigger rule to specify the reason for denial, the current options are:
ID Card/Token has expired
Status is Banned
From/To Dates Not Valid
Denied by a Trigger
Lastly, you can set up a trigger action to send a notification to specified people.
Click here for more details on setting up a trigger.