In this release, we've given the WhosOnLocation web application a new look, updated how we refer to service providers, added custom fields to the API and Sign In/Out Manager, and Thai is now available in our kiosks.
Updated design for WhosOnLocation
The WhosOnLocation web application has a new look. Next time you log in, you'll see:
For Administrators only – a new Locations menu that surfaces all of the key links to your location settings, people presence settings, and mobile apps.
New coloring for the header. Your account owner can customize the color

in the account settings.

Updated font, buttons, colors, and tab styles.
The layout of the application has not changed, you'll still find all of your favorite features under the Tools menu.
Service provider update
We've updated the language used to refer to service providers. If you use the Contractor Management add-on, you'll now see the term contractor throughout the web application, mobile apps, Help Center, and website. We've made this change as contractor is a more commonly searched for term.
There has been no change to where the features are located within the application, it is just a terminology change.
The contractor features have been renamed as follows:
Service Provider Manager is now Contractor Manager
Service Provider Management add-on is now Contractor Management add-on
Service Provider Portal is now Contractor Portal
Service Provider organization is now Contractor organization
Service Provider member is now Contractor member
The renaming of these features does not impact our contractor endpoints in the API. There have been no changes to the names of these endpoints.
Sign In/Out Manager – View Columns menu
If your organization uses custom fields in your employee and/or contractor profiles, you can now use the View Columns menu to see these fields in Sign In/Out Manager.
Click View Columns, then click the arrows on the right to expand the sections. Select the checkboxes to view these fields in Sign In/Out Manager.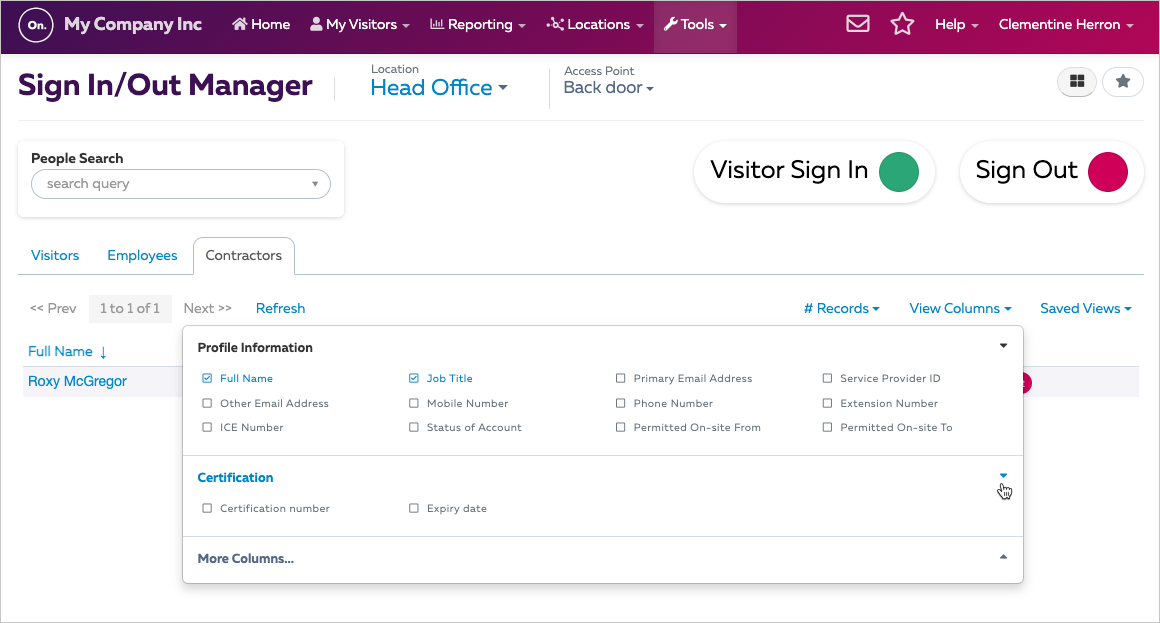 Multi-language support
We've added Turkish to our multi-language kiosks.
If you have enabled the multi-language add-on, you can add any of the available languages so your guests and employees can choose to use their preferred language while signing in or out.
Custom fields API
We've released new API endpoints for custom fields.
You can now use the API to access your custom fields and tabs for employees and contractors. Use these read-only endpoints to extract the information from WhosOnlocation and use it in third-party software.
You can retrieve a list of:
Custom fields and tabs used in contractor member profiles
Custom fields and tabs used in contractor organization profiles
Custom fields and tabs used in employee profiles
Learn more about our API schema.
New WhosOnLocation website
Check out whosonlocation.com to see our brand new website. Some key changes:
We've moved the Login button to the top right of the screen.
Some pages are no longer in the top navigation, check the footer.