A report used to view the answers given to custom questionnaires as set up in the questionnaire manager in each location by administrators. You must be a Report User to access the Customer Questionnaire Reports.
This report is used to keep track of the answers people have given for custom questions. You can view custom questions from any location and you can only view results from one custom questionnaire at a time.
Select your Questionnaire
1. Select the status of your questionnaire
Active - Custom Questionnaires which are currently available and assigned to a Kiosk
Inactive - Custom Questionnaires which are currently available and not assigned to a Kiosk
Archived - Custom Questionnaires which have been archived and are no longer able to be assigned to a Kiosk.
2. Select your questionnaire, only questionnaires with the selected status will appear.
3. If you are searching for responses from a particular person, enter this in the Keyword Search
4. Click Search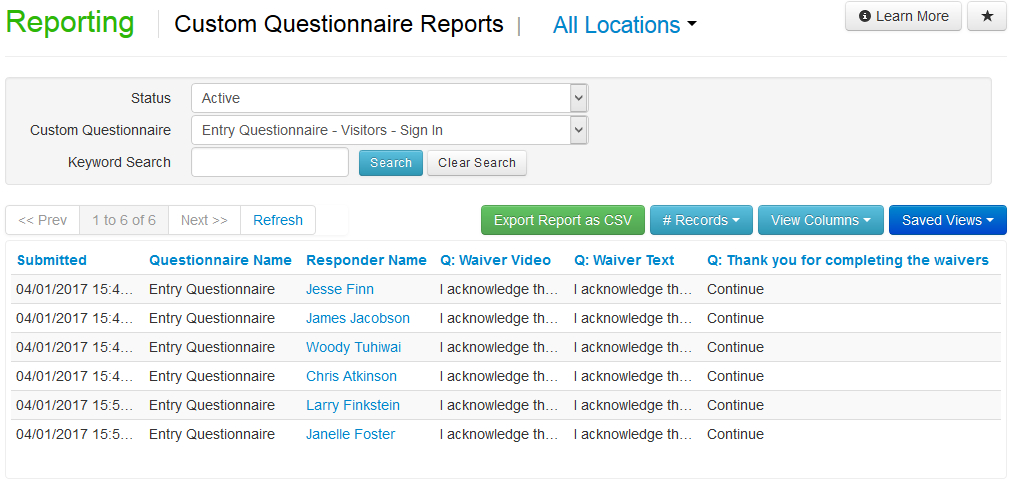 Report Fields
There are some fields which are standard across the reports for all custom questionnaires.
Submitted - The date and time the custom questionnaire was answered
Questionnaire Name - The name given to the questionnaire when it is set up
Questionnaire Type - When the questionnaire appears, either sign-in or sign-out
Questionnaire Audience - The type of people that are asked to take the questionnaire, visitors, employees, or service providers
Questionnaire Frequency - How often the questionnaire needs to be taken, can be set to any frequency
Responder Name - The name of the person who took the questionnaire
All other fields are the questions of the questionnaire and the details provided are the answers. Any blank fields are questions which were not asked due to the question tree.
Exporting
You can export the report you are currently viewing to a CSV file using the green Export Report as CSV button.
The CSV file will show all possible fields for that report including columns that are not currently being viewed.