In this article we explain how to enable Calendar Integrations for your WhosOnLocation account. You must be an Account Owner or an IT Support user role in order to enable Integrations.
Enable Calendar Invites
1: Go to Tools > Account > Integrations
2: Here you will see a list of available integrations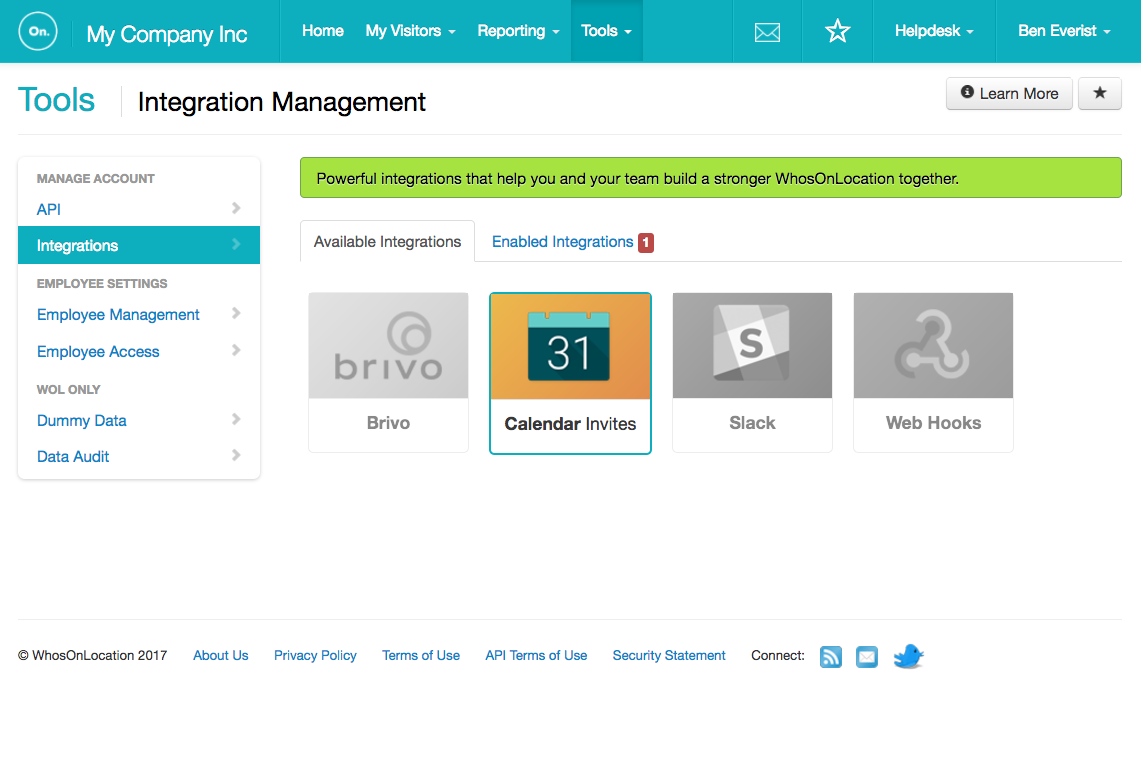 3: Select Calendar Invites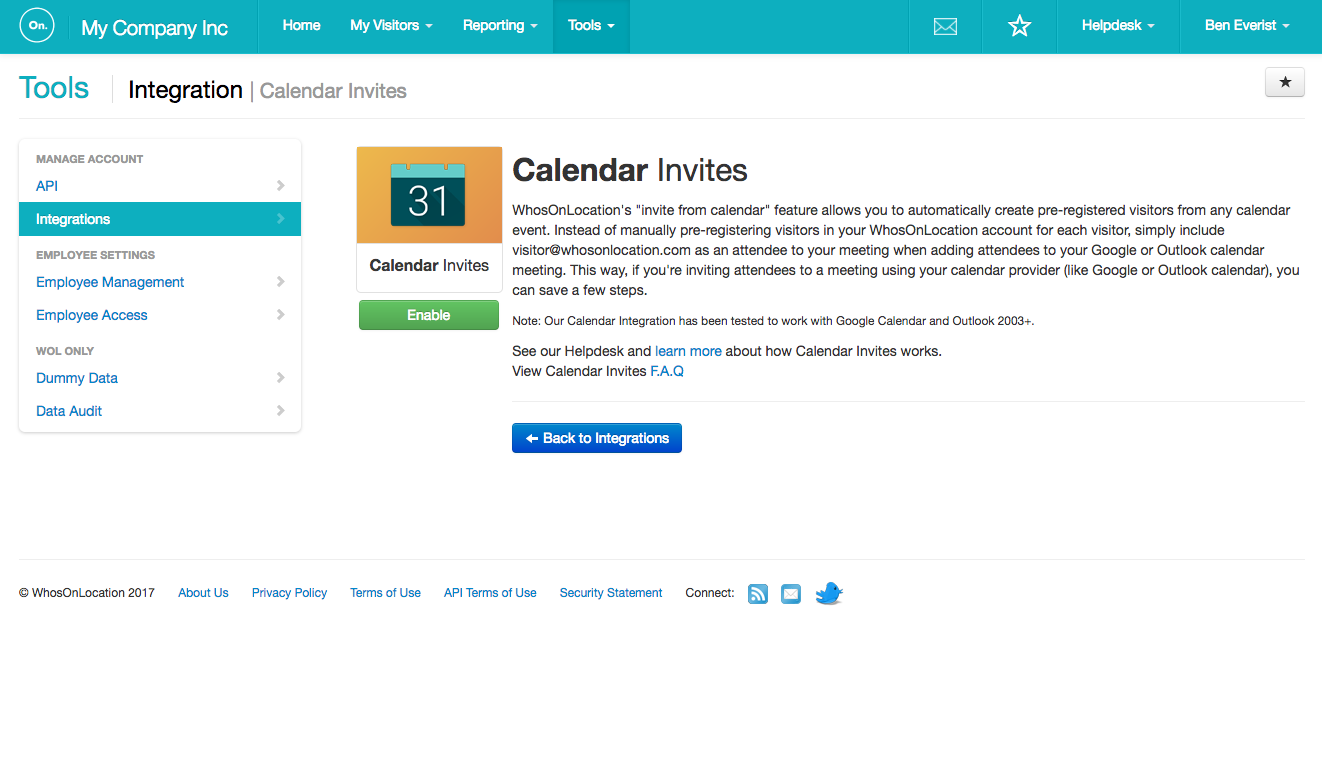 4: Select Enable, then select the green 'Yes' button
5: You are then taken to the Calendar Integration Settings screen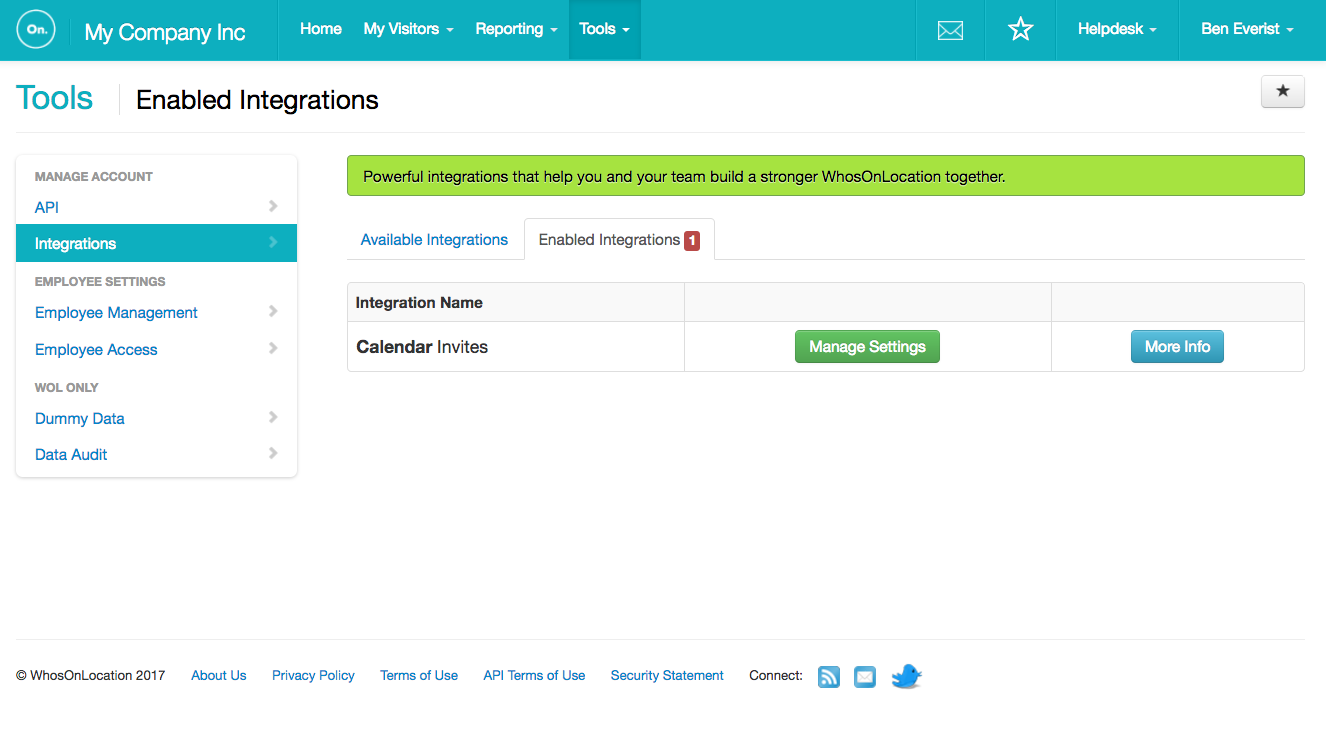 6: Select the green 'Manage Settings' button
7: Choose your
Send To 
preference, and add any
Email exclusions
and
Save
. Your users simply include
visitor@whosonlocation.com
as an attendee and we do the rest.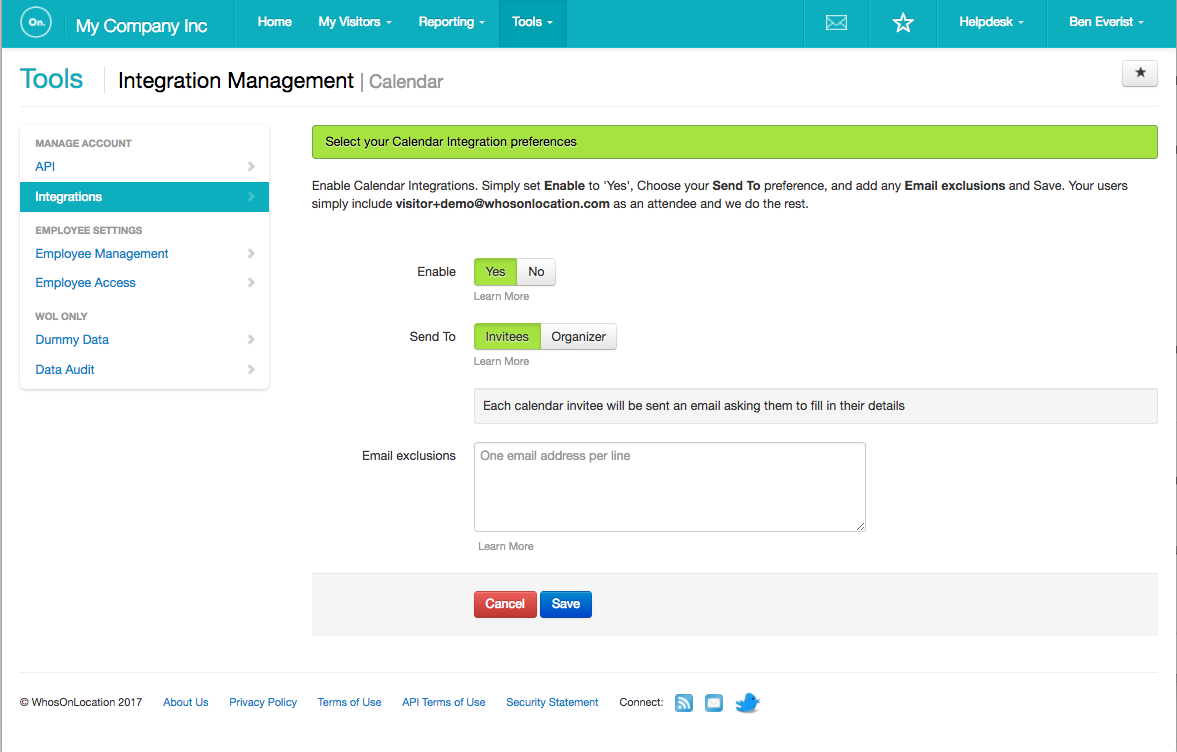 Definitions
Enable: means the Integration is enabled and available for your users to use. They can immediately include visitor@whosonlocation.com to any calendar event to automatically have WhosOnLocation create a pre-registered visitor event for their attendees.
Send to: When your employee creates a Calendar event in their Calendar client (Google Calendar, Outlook etc.) and includes visitor@whosonlocation.com as an attendee; your WhosOnLocation account will automatically create the pre-registration event for attendees. However; your WhosOnLocation account requires the attendee's full name, and name of the organization they represent (this is mandatory). Furthermore; you may require additional visitor information like phone number etc. So how does this 'mandatory' and 'additional' informational get populated for each attendee visitor?
There are two options available to you:
Send to Invitees: Your WhosOnLocation account will send your attendee's an email asking them to confirm their visitor profile information. The email includes a unique link for their profile.
Send to Organizer: Your WhosOnLocation account will send the host that created the Calendar event an email asking them to complete the missing information. They do so by logging into their WhosOnLocation account and updating.
Email Exclusions: When your employees are adding attendees to their Calendar event they may include a meeting room or other resource. These resources often have linked email addresses. List (on a separate line) the email address of the meeting room or resource. By doing this we won't add the meeting room or resource as a pre-registered visitor when your employee includes them in their attendee list.
Suggestions for your IT Team
Whitelist visitor@whosonlocation.com
Add visitor@whosonlocation.com to your organizations email Contact List. When your employees are adding attendees to a Calendar meeting instead of having to remember to invite visitor@whosonlocation.com you might set this email address up with a short contact name: e.g. Visitor, Guest, etc.
Can I use another email address other than visitor@whosonlocation.com (e.g. guest@mycompany.com)?
Ask your IT department to create a unique email address for this purpose. So let's say you want to use guest@mycompany.com or meeting@mycompany.com then ask them to do this and then ask them to apply the following forwarding rule so that emails to your preferred email address (say guest@mycompany.com) are automatically forwarded to visitor@whosonlocation.com.
Then, add the alias email address to your email exceptions in the Calendar Invites settings:
Go to Tools > Account > Integrations > Calendar Invites > Settings. Add the email alias (meeting@mycompany.com, guest@mycompany.com, etc) to the Email exclusions section and click Save.