Learn how to manage your organization's insurance policies using the Service Provider Portal. You must have been invited by an organization to log into their portal.
Manage your insurance policies
It's important to maintain accurate and up-to-date records about your organization's insurance policies to ensure that you are covered in the worst case scenarios. It is also important to let those businesses that you are contracting to know that you have these insurance policies in place, either for peace of mind or, in some cases, to gain access to their workplaces.
Some businesses require certain insurance policies to be up-to-date before your employees will be allowed to sign into their workplaces. This is fully up to each business to decide and, if you're not sure about their policy, you will need to discuss their policy with them.
You can view, add, edit, or delete any of your organization's relevant insurance policies from the Insurances section of the Service Provider Portal.
All changes made in the Service Provider Portal will reflect in your customer's account and records. Please only make changes where you are authorized to do so.
Add a new policy
To add a new insurance policy, select Insurances in the left-hand menu, then click the Add Insurance Policy button and fill in these details:
Policy Type - Choose your policy type from the dropdown list. The options are controlled by the business you contract to and if you do not see your policy type in the list you will want to ask them to add it
Name of Insurer (Underwriter) - The organization providing your insurance
Policy Reference (Number) - The reference of your current policy
Value - The total coverage value of the policy
Policy Start Date - The date the policy was issued
Policy Expires - The expiry date of the policy
Status of Policy - Choose between Active, Pending, and Expired

Active for policies that are currently active
Pending for policies that are not yet approved or relevant
Expired for historic policies that you want to keep a record of
When you're finished, click Save and you will return to the Insurances list.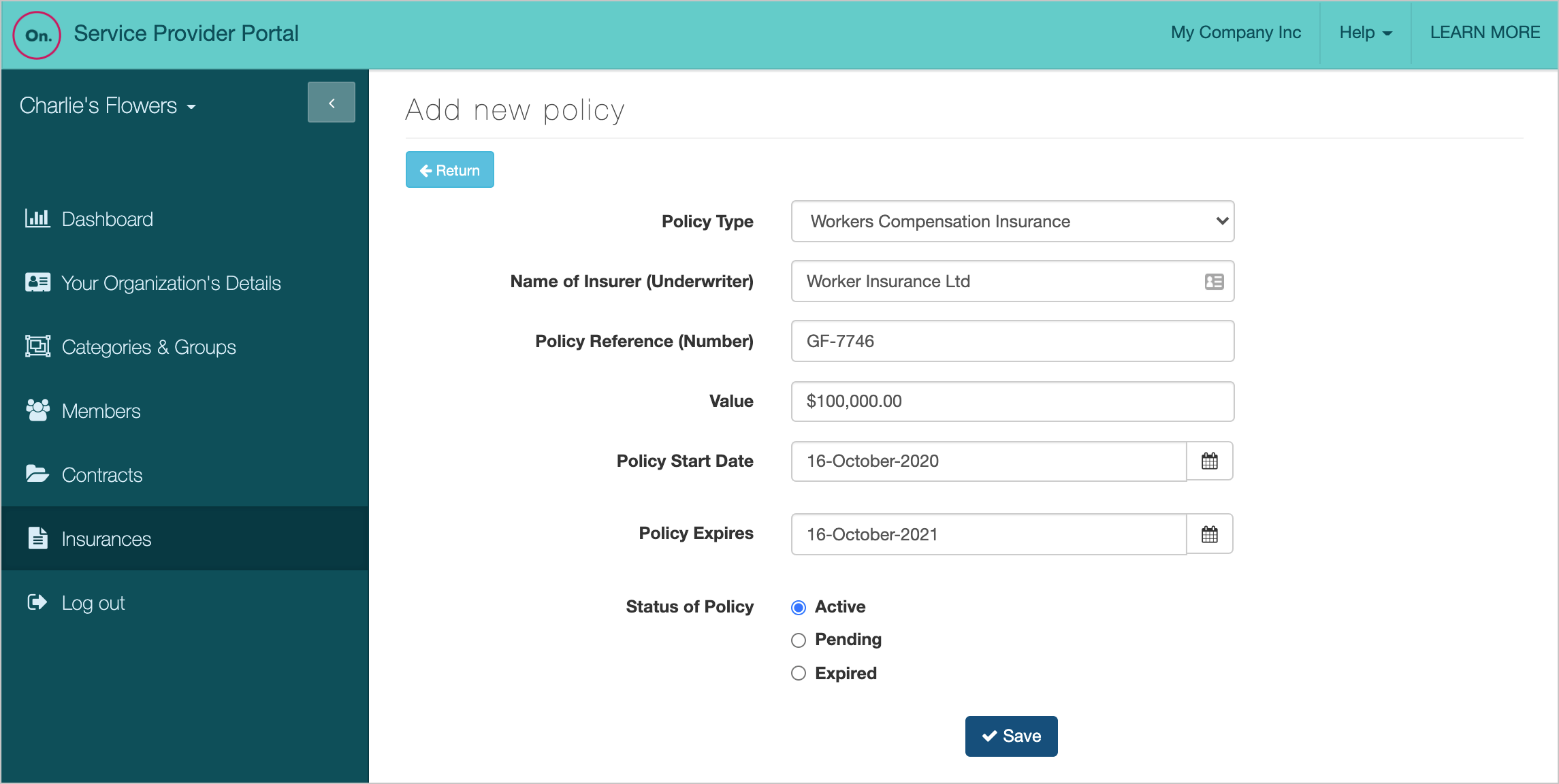 Edit a policy
To edit the details of these insurances, click Edit next to the insurance policy, make the required changes, and click Save.
Add supporting documents
If you need to add supporting documents, you can upload pdf, doc, docx, jpg, jpeg, png, or gif file types.
To add supporting documents to your insurances:
Click the documents button next to the insurance policy.
Click Add Document.
Select a file from your computer and click Open.
The file will be automatically uploaded to the Service Provider Portal and WhosOnLocation and linked to the insurance policy.
You can view uploaded documents from this page by clicking the View button next to a document.
You can delete a document by clicking the Remove button.
Click Return to go back to the Insurances list.
Delete a policy
To delete an insurance policy, click Remove next to the policy, then click OK in the confirmation pop-up.