How to set up notifications to send when Portal Users make changes in your Service Provider Portal. You must have the Service Provider Administrator user role assigned to access these settings.
Giving your contractors and vendors access to your Service Provider Portal is a great way to keep your service providers' records up-to-date in a fast and accurate way.
It is also important to know when your Portal Users make changes using the Service Provider Portal so that they can be reviewed, accepted, and/or completed by people in your own organization. WhosOnLocation makes this easy by giving you the ability to receive notifications when changes are made and choose what changes trigger those notifications.
Any notifications that you set up for changes will send as soon as the change has been saved in the portal. This means that if multiple changes are being made and saved across different sections of the portal, recipients will receive multiple notifications.
Please Note: We only send email notifications for Service Provider Portal changes, there is no option for text notifications.
How To Set Up Notificatons
1. Go to Tools > Service Provider Manager
2. Select Portal Administration from the left-hand menu
3. Select the Notifications tab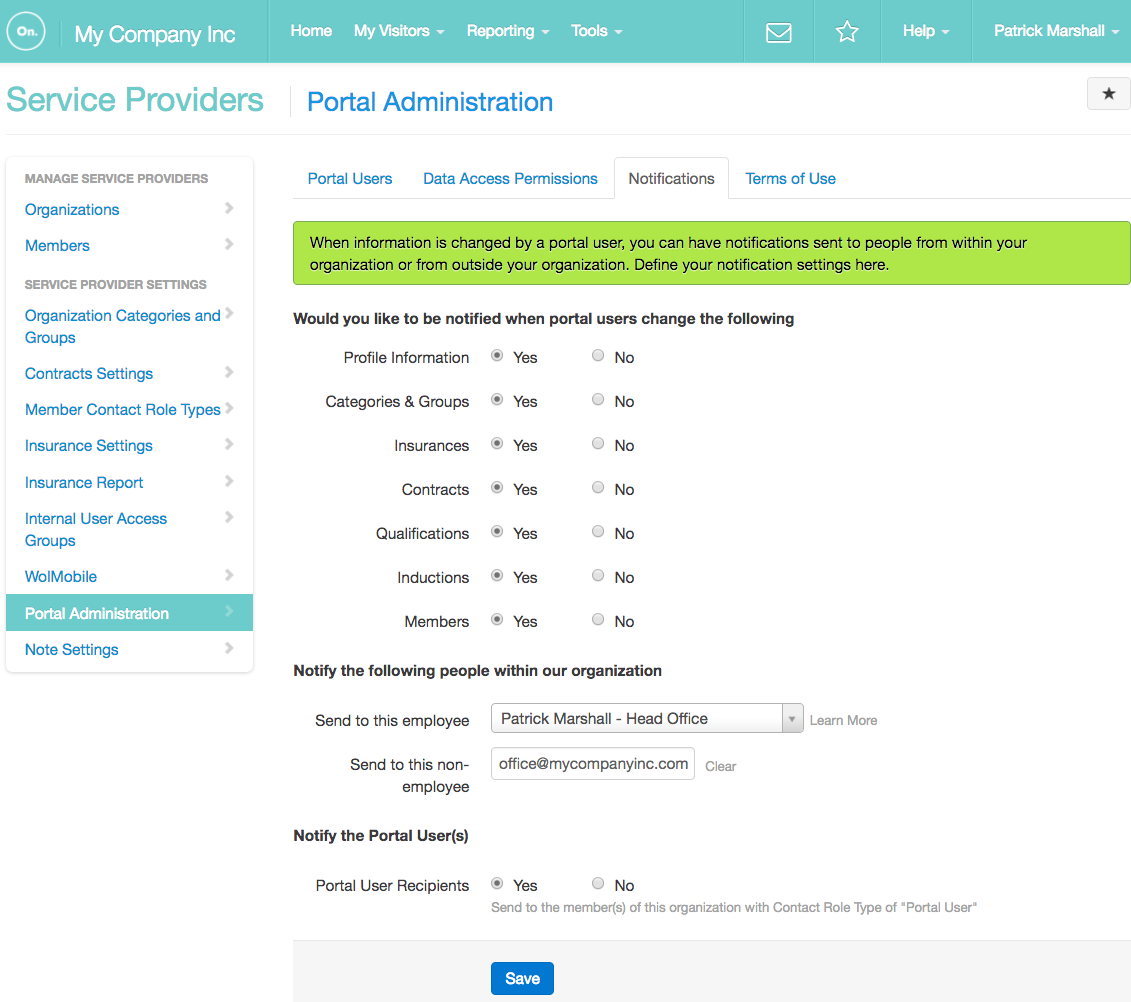 4. Choose the areas of the portal you want changes to trigger a notification for by clicking Yes for those options
Please Note: See below for details on what changes for each option will trigger a notification.
5. Add Employees in your organization that should receive these notifications
6. (Optional) Add a Non-Employee email address to receive the notifications
7. Choose to send notifications to the Portal Users in the organization changes are made for by selecting Yes for the Portal User Recipients options
8. Click Save
Changes That Trigger Notifications
In each of the areas of the portal, most changes will trigger a notification, there are some exceptions to this due to other notifications that will send instead. Notifications will only send once a page with changes has been saved; if the page is not saved, a notification will not send; and if multiple changes are made on one page, only one notification will send with all of the changes.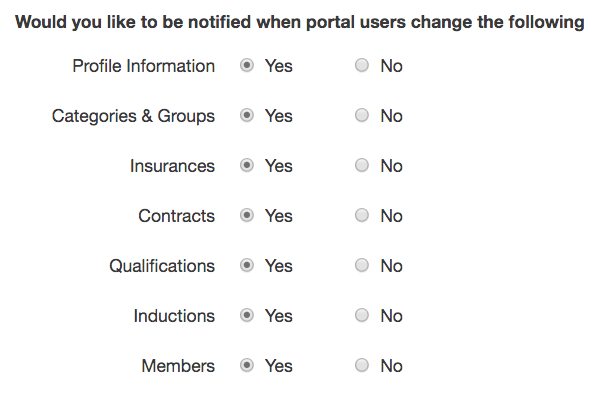 Profile Information - Any information that is changed in the Your Organization's Details section
Categories & Groups - If changes are made to the categories & groups the organization belongs to
Insurances - If a new policy is added, a document is added or removed, an existing policy is edited, or an existing policy is removed
Contracts - If a new contract is added, a document is added or removed, an existing contract is edited, or an existing contract is removed
Qualifications - If a new qualification is added to a member's profile, a document is added or removed, an existing qualification is edited, or an existing qualification is removed
Inductions - Only when an induction course is added manually or removed. If an online induction is passed or failed by a service provider, the Induction Owner will receive a notification regardless
Members - If an existing member's contact details are edited, if their contact role types are changed, if they are removed, or if a new member is added
Notification Recipients
There are three different fields that you can set up recipients for Portal Change Notifications: Send to this employee, send to this non-employee, and Portal User Recipients.

Within your organization
You have the option to send notifications to an employee in your account as you want as long as they have their email address entered in the system.
To add an employee, click in the Send to this employee field and begin typing to narrow down the employee list. When you see the employee you want to add, select their name to add them to recipient list.
You also have the option to add a non-employee email address to receive notifications. This is useful if you have employees that are not set up in your account who should receive these notifications, or if you need to notify a third-party to these changes.
Portal Users
If this option is enabled, notifications will be sent to all portal users of the organization that a change occurs in. Meaning that if you have multiple portal users for one organization they will all receive a notification when one of them makes a change in their account. This is useful if you have multiple people in one organization that manage information so that changes aren't made twice, it also gives the members a record of changes that have been made by them.
Please Note: We will only send notifications to Portal Users in the same organization as a change has been made. Notifications will not go to all Portal Users in WhosOnLocation.
Notification Emails
Notification emails will differ depending on the change that was made in the portal. The subject will have the Organization Name and what change was made. The body of the email will tell you who made the change, when they made it, and, the details of what was added, changed, or deleted.
This is an example in Gmail of a notification which is sent when a new member has been added: