How to edit the settings for the Sign In/Out Manager for your location. You must have the Administrator user role assigned to access these settings.
The Sign In/Out Manager is an area of WhosOnLocation used to sign people in and out of your location. There are settings that are unique to your location that are used through the Sign In/Out Manager which you can configure in your location setup.
To get to the Sign In/Out Manager Settings:
Go to Tools > Locations
Click View next to your location
Select Sign In/Out Manager from the left-hand menu
You can then navigate between the settings through the tabs at the top of the page.
Returning Visitor Auto-Complete
Found under the Settings tab, the Returning Visitor Auto-Complete setting allows you to set how frequently a visitor must return to your location if they are remembered by the Sign In/Out Manager auto-complete.
If a visitor returns within the set number of days, The Sign In/Out Manager will remember their name and prompt an auto-complete option for the person signing them in. If selected, the details which were recorded on their last visit will automatically be entered. These can then be edited or saved by the person signing them in.

Options for this setting range from disabled to 365 days. If you do not want to remember any information about visitors when they are signing in, set the option to disabled.
Please Note: This setting has no affect on the recording of information for reporting purposes. Information in WhosOnLocation will always be recorded for reporting indefinitely unless purged by an Administrator.
Panic Alarm
The Panic Alarm is used by Sign In/Out Managers to send an email and/or text to specified people if they need assistance, are under duress, or have an emergency situation.

For instructions on how to configure the options for Panic Alarm, please see this Helpdesk article - Enabling Panic Alarm for Sign In/Out Managers
Deliveries
The Deliveries feature is used to record incoming deliveries for employees at your location and notify them that they have received a delivery.
There are options for deliveries to individuals and multiple people and options for text and email notifications.

For instructions on how to configure the options for Deliveries settings, please see this Helpdesk article - Deliveries via the Sign In/Out Manager
Multi-Tenant
The Multi-Tenant feature allows you to co-ordinate with other accounts to either manage their Sign In/Out Manager function or have them manage yours. This is used for multi-tenanted buildings where the concierge/reception/security are managing visitors for multiple organizations.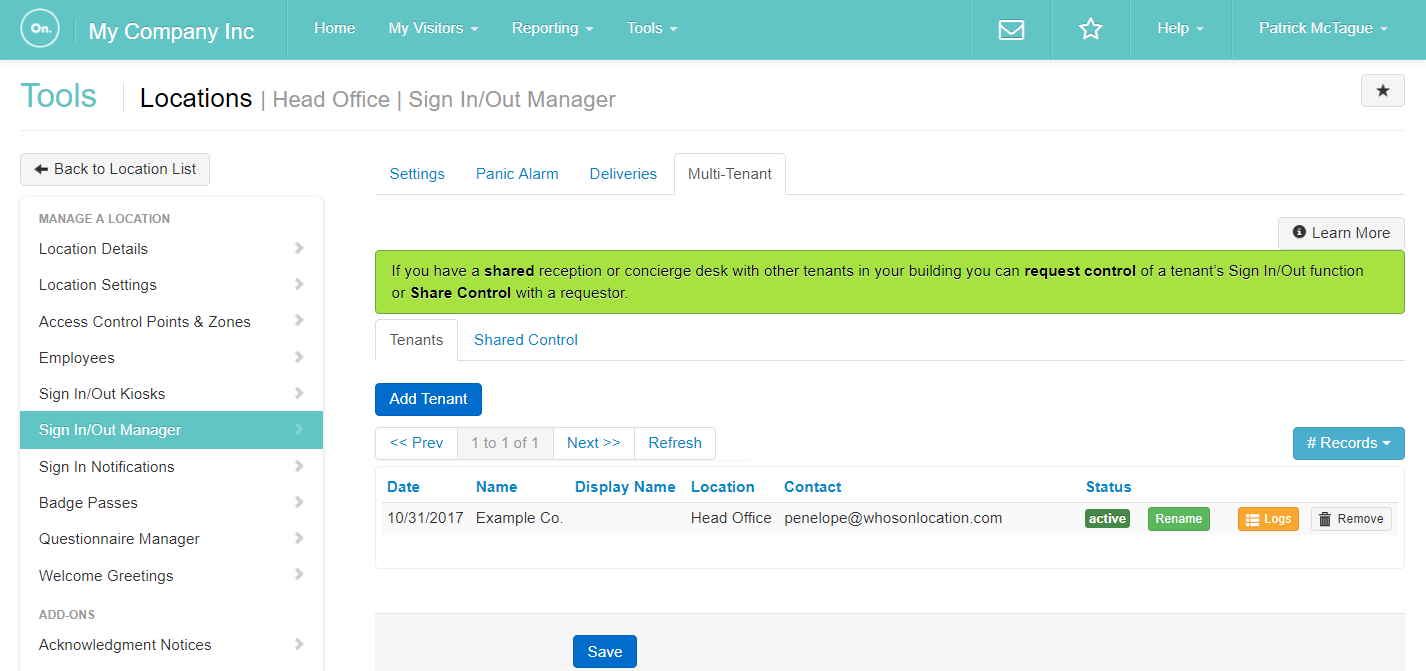 For full details and guides on how to set this up and how it works, please see this Helpdesk article and the subsequent in the series - About Multi-Tenant Sign In/Out Manager