How to request access to another account's Sign In/Out Manager. You must have the Administrator user role to access these settings.
When you are the account in charge of the reception, security, etc, of a location with multiple organizations, you need to be able to manage the visitors for all of those organizations. You can do so if all of the tenants of the building set up WhosOnLocation accounts by using the Multi-Tenant Sign In/Out Manager feature.
To use this feature as the controller of the shared reception area, you need to request access to the other tenant's Sign In/Out Managers. Once access is granted, your Sign In/Out Manager Users can be given rights to that account and will be able to manage all people coming on- and off-site
How to Request Access
Go to Tools > Locations
Click View next to the location for your Shared Reception
Select Sign In/Out Manager from the left-hand menu
Select the Multi-Tenant tab

You will land on the Tenants sub-tab, this will show all accounts that you have access pending or granted to.
Click Add Tenant


Enter the email addresses of people at each location you are requesting access to


Please Note: This does not need to be the Account Owner nor have a current account. If they do not have a WhosOnLocation account, they will be taken to create one before granting access.

Click Send Request
Your request emails will be sent and the accounts will be listed under this Tenant tab. You can send more requests at any time by repeating the steps above.
Request Email
The request email is sent to your contact with dynamic information about your organization, the location, and what the request is for. It has instructions on how to allow access to their existing account or directs them to set up a new account and then giving access.
Here is an example of the email sent: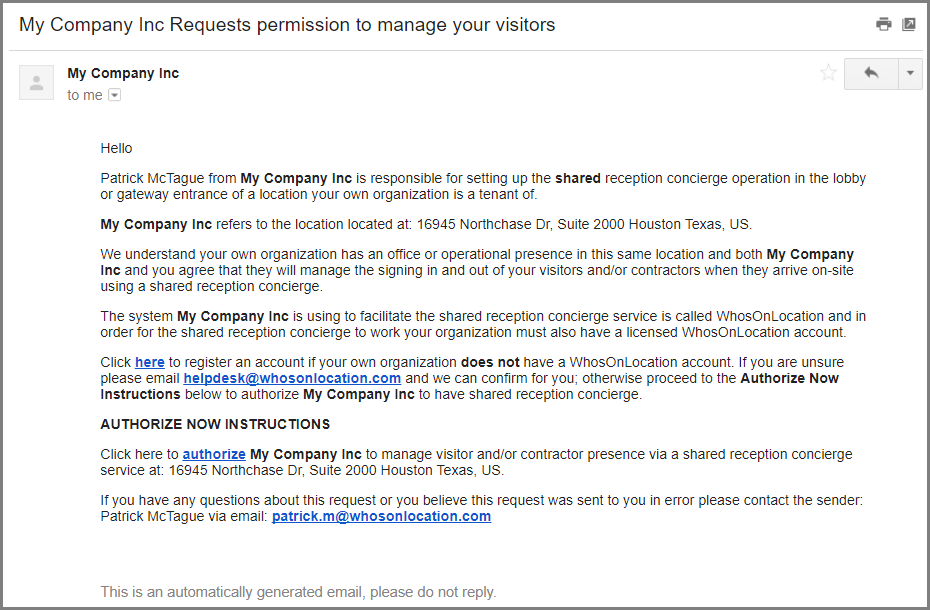 Once the tenant has authorized access, their location will go from Pending to Active in your Tenants list and you will be able to access their Sign In/Out Manager from yours with the correct roles assigned.
Tenants List
Once you have sent requests to tenants in the building, they will appear under the Tenants sub-tab in the Tenants List.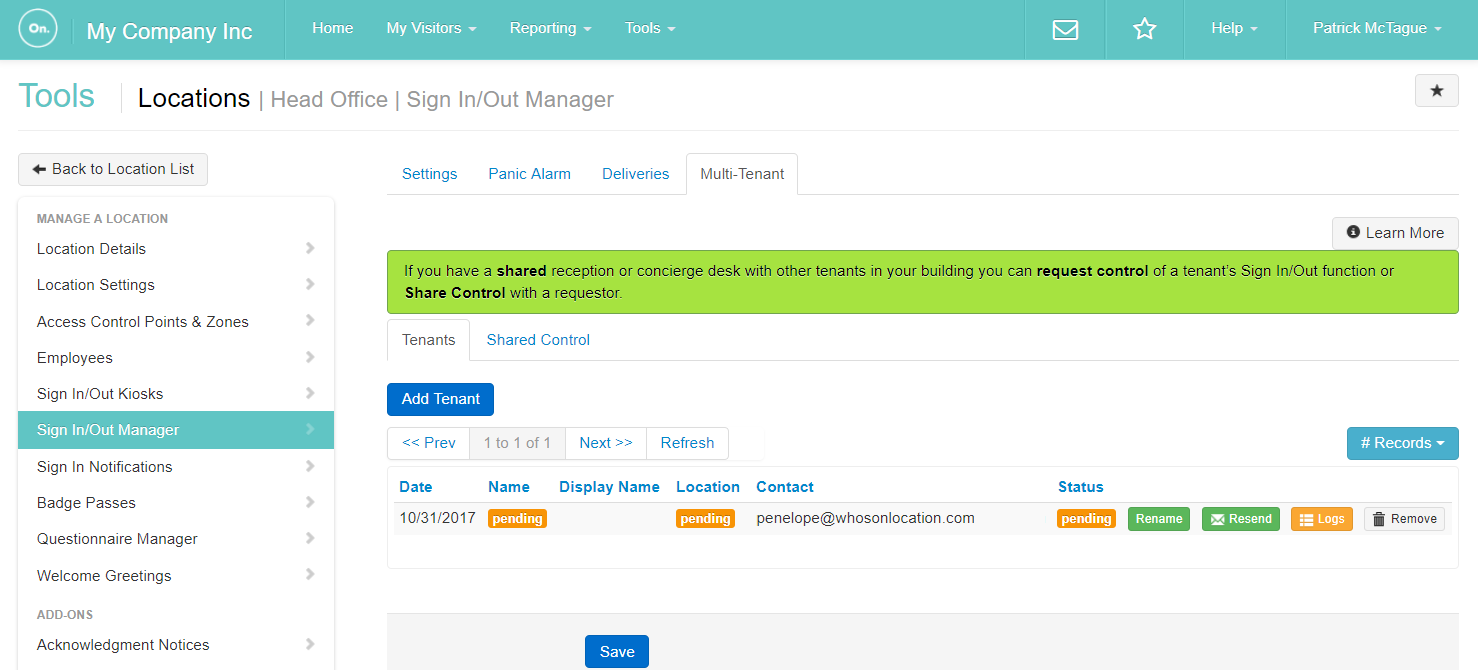 From here you can see any pending requests to whom you can resend the request email. You can see any accepted requests and the location and organization they belong to. For both pending and accepted requests, you can remove the request and you can rename the display name for that account's location.
Removing
If you remove a pending request, the link to grant access will be deactivated and the tenant will no longer be able to grant access to their account.
If you remove an accepted request (when permission to access has already been granted), the access to that account will be removed and you will no longer be able to manage their Sign In/Out Manager.
In either case, if you want to access their account again, you will need to send a new request.
To remove a request, click Remove next to that tenant, and Remove on the confirmation message.
Renaming
The display name for any tenant will default to their organization and location names. In some circumstances this will work absolutely fine because this is a good identifier for the tenant. In other cases you may find that you need the display name to include the level or room they are in, their location name, or any other identifier. In these circumstances, you can change the display name for the tenant to the most appropriate identifying name. This name will only be seen in the display list for the locations your Multi-Tenant Sign In/Out Manager Users can manage people for.
To rename a tenant, click Rename next to that tenant, enter the name, and click Save.
Using Multi-Tenant Sign In/Out Manager
Once your request has been granted by the tenant, you will be able to access their account's Sign In/Out Manager by assigning the correct User Roles.
Please have a look at this Helpdesk article on How To Use Multi-Tenant Sign In/Out Manager Access for more details.