How to view and edit a location's details in WhosOnLocaion. You must have the Administrator user role assigned to access a location's details.
Locations are defined as a physical location where you carry out your tasks and responsibilities. Locations are normally described as workplaces like Head Office, Warehouse, School premises, Manufacturing Plants, etc… but can be non-workplaces.

Your WhosOnLocation account can support unlimited locations, each with its own unique country, date format, time zone, visitor policies and other settings to meet the requirements of that location. When you add a location then your subscription will adjust to reflect the location you added.
Managing Your Location Details
1. Go to Tools > Locations
2. Click View for your location
You are presented with the Location Details for the location.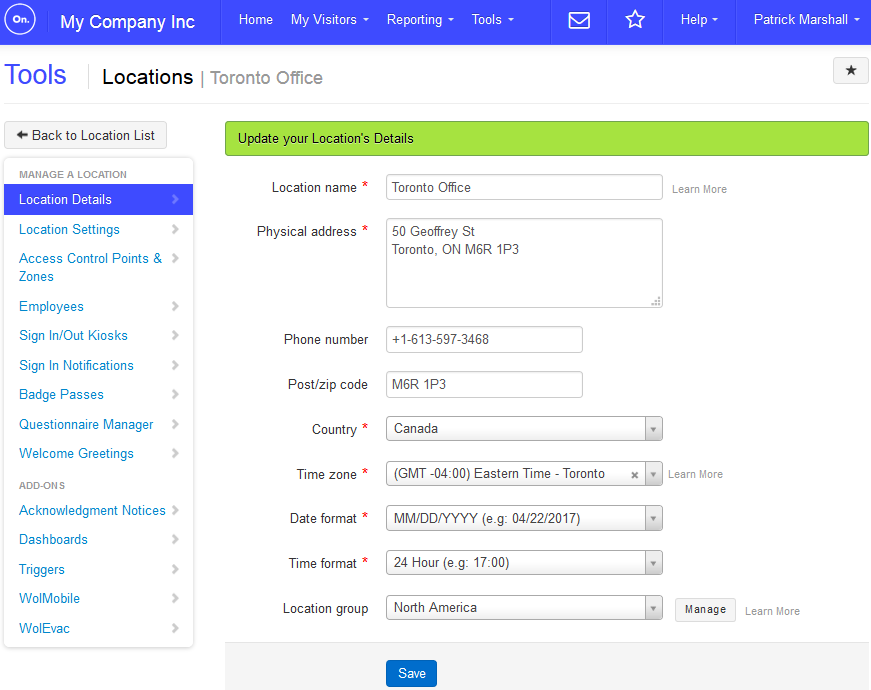 Location Name - The name that your organization uses when referring to the location, e.g. Head Office, Corporate Office, Main Campus, Call Centre, etc.
Physical Address - The real address where this location can be found
Phone Number - The main contact number for the location
Post/Zip Code - Known in various countries as a post code, postcode, or ZIP code is a series of letters and/or digits appended to a postal address for the purpose of sorting mail.
Country - The country the location is in
Time Zone - The time zone that your location is in. The time is recorded for a lot of activities in WhosOnLocation so setting the correct time zone is essential for accurate record keeping.
Date Format - The date format that your location uses. The date is recorded for a lot of activities in WhosOnLocation so setting the correct date format is essential for accurate record keeping. WhosOnLocation supports both mm/dd/yyyy and dd/mm/yyyy formats.
Time Format - The time format you want to use for your reporting. WhosOnLocation supports 24 hour and AM/PM time formats.
Location Group: If you add multiple locations you can assign them to 'location groups'. You can run reports on people presence by location and/or by location group if you use them. Assigning locations to groups makes it easier to find a location when you have 20+ locations. You can edit, add, and delete the default groups in the location group drop-down list.

To Add, Remove, or Rename your Location Groups select the Manage button.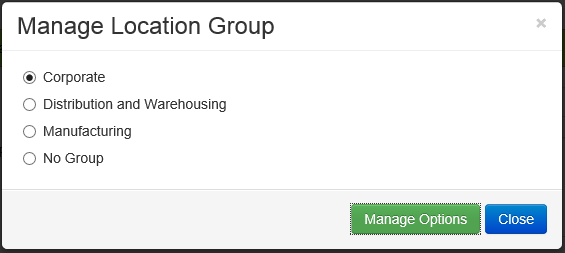 To Edit your Groups select the green Manage Options button.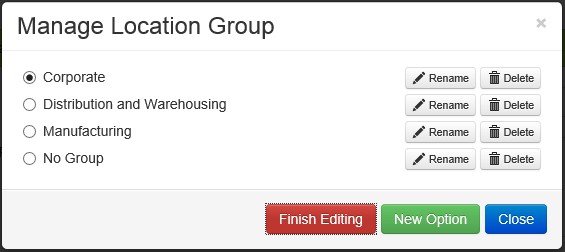 You can Rename or Delete any Group. Use the green New Option button to add a new Group.

Once finished select the red Finish Editing and then Close.