How to create a template for the badge passes your visitors or service providers will receive when they sign in to your location. You must have the Administrator user role to manage badge passes.
Badge passes allow you to quickly identify visitors, employees, and service providers, see important information about them, and give added security to your site.
You can set up as many badge passes for visitors, employees, and service providers as required for different Kiosks. You can only print one badge pass template per Kiosk for visitors and service providers, but you can have multiple for employees giving you flexibility around those employees that need badge passes.
Please Note: To set up a service provider badge pass, you must first activate the Service Provider Management Add-on.
Both the video and article below outline the steps for setting up a badge pass template.
Setting Up A Badge Pass Template
There are several distinct steps to setting up your badge pass templates, create a template, set your labels and advanced settings, choose the template and options, and name, test, and save.
Create a Template
To set up a badge pass template, sign into WhosOnLocation as an Administrator, then:
Go to Tools > Locations.
Click View button next to your location.
Select Badge Passes from the left-hand menu.

From here you can manage your badge passes and set up new badge passes.


Click Create a New Badge Pass.
Select the type of badge pass.
The first template you will see is a default template, all details on the badge pass can be turned on and off using the toggles on the right side. Not all of these options are available for every template, and not every template is available for all badge pass sizes, so please ensure you select the correct printer and badge pass size before choosing your template and options.
Choose Label Type and Advanced Settings
From the left-hand settings section:
Choose your printer.
Choose the badge pass size you have for your printer.
Choose your Enable Advanced Printing option – This is required if printing this label from an Internet Explorer web browser but not for Firefox or iPad.
Choose your Default Sign In/Out Manager Label option – This is required if you want this badge pass to be printed from Sign In/Out Manager.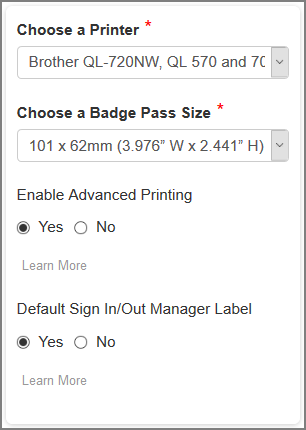 Please note: You can only have one default badge pass for visitors and one for service providers.
Choose Template and Options
Click View Templates to choose the templates available with the chosen badge pass size.



You can see an example of each template with options available. Use the With Visitor Photo toggle to see what the passes look like with visitor photos or logos or both when applicable.
Choose your template my clicking on the image and clicking Select.
Upload a logo if you want this to appear on your badge pass by clicking the Upload Logo box.
Choose the options you want to appear on your badge pass using the toggles.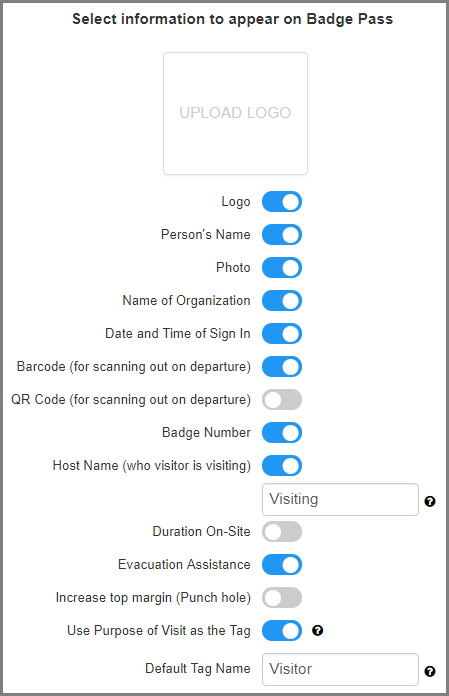 Logo– Your company logo uploaded by you. This must be a JPG or PNG file type.
Person's Name– The Name of the person entered on sign in.
Photo– Photo captured on sign in by Kiosk or receptionist webcam.
Please Note: Some templates will only allow either logo or photo to appear on a badge pass, in these instances this will be switched automatically when one is selected.
Name of Organization– Where the visitor or service provider is from.
Title – The title of the employee. Available for employee badge passes only.
Please Note: When creating an employee badge pass, you can only use Organization or Title, not both.
Department – The employee's department in WhosOnLocation. Available for Employees only.
Date and Time of Sign In – Recorded by the Kiosk or Sign In/Out Manager.
Barcode – Used for automatically signing out the person by scanning upon departure. Note – you must have a scanner set up on your Kiosk for this to work.
QR Code – A more accurate and faster read barcode. This is only available for select templates: Brother 101x62mm templates with the barcode along the bottom of the label.
Badge Number – The number of the badge pass. This is recorded in the system and can be checked using the People Presence Report.
Host Name – The employee that the visitor or service provider selected as their host. You can edit the field name that appears on the badge when this is enabled. Available for visitor and service provider badge passes only.
Duration On-Site – Will appear when pre-printing a label for pre-registered visitors only. The date and time are taken from their pre-registration.
Evacuation Assistance – Appears as a cross icon if the person needs help in the event of an evacuation.
Use Purpose of Visit as the Tag – Only appears if the purpose of visit question is enabled in Questionnaire Manager. Will replace the Default Tag Name with the purpose of visit. Available for visitors and service providers only.
Increase top margin – Leaves room for a punch hole to be made in at the top of the label in case it is to be attached to a lanyard or similar.
Default Tag Name – This will be displayed on the badge pass unless a purpose of visit tag is used.
Name, Test, and Save
When you have customized your badge pass template with the correct options:
Enter the Badge Pass Name. This will be used to identify the badge pass when activating in your kiosk and when in the Badge Passes menu.
Click Test Print Label to ensure the badge pass is set up to your requirements.


Please Note: You will need to have your printer connected to the computer you are using to print a test label.

Click Save.
If you have any questions about Badge Pass Templates please refer to the Badge Pass Template FAQ's