Tell us your ideas for improving OnLocation. Suggestions are shared with other OnLocation users, who can vote on and comment on your idea. Our product team will use these insights to help shape what new features and enhancements we develop.
This article covers:
---
Access UserVoice
To access UserVoice:
Either click UserVoice, or in OnLocation, go to Help.
Select Vote for new ideas.


UserVoice will open in a new tab or window.
---
Sign up for a UserVoice account
You must create a UserVoice account to vote or suggest an idea. To do this:
Click Sign In.


Click Create an account.
Enter your email address, then click Verify Email.
Open your email inbox and click Confirm email for MRI Software UserVoice.
In UserVoice, enter your name, email address, and password.
Click Sign in.
Once you've signed up for an account, you can:
Post an idea
Choose your notification preferences, including getting notified of any status updates or comments
Manage your data and profile
If you have any issues signing up, check the UserVoice Help Center:
---
Browse and vote for ideas
Start typing your idea into the Enter your idea field. Similar ideas that other users have posted will display.
If your idea exists, add a vote or comment. Voting is a great way for OnLocation to track how important suggestions are to other users.
To vote for an idea, click Vote to the left of the suggestion. You can also rank the importance of the suggestion:
Low importance
Would be nice
We'd love this!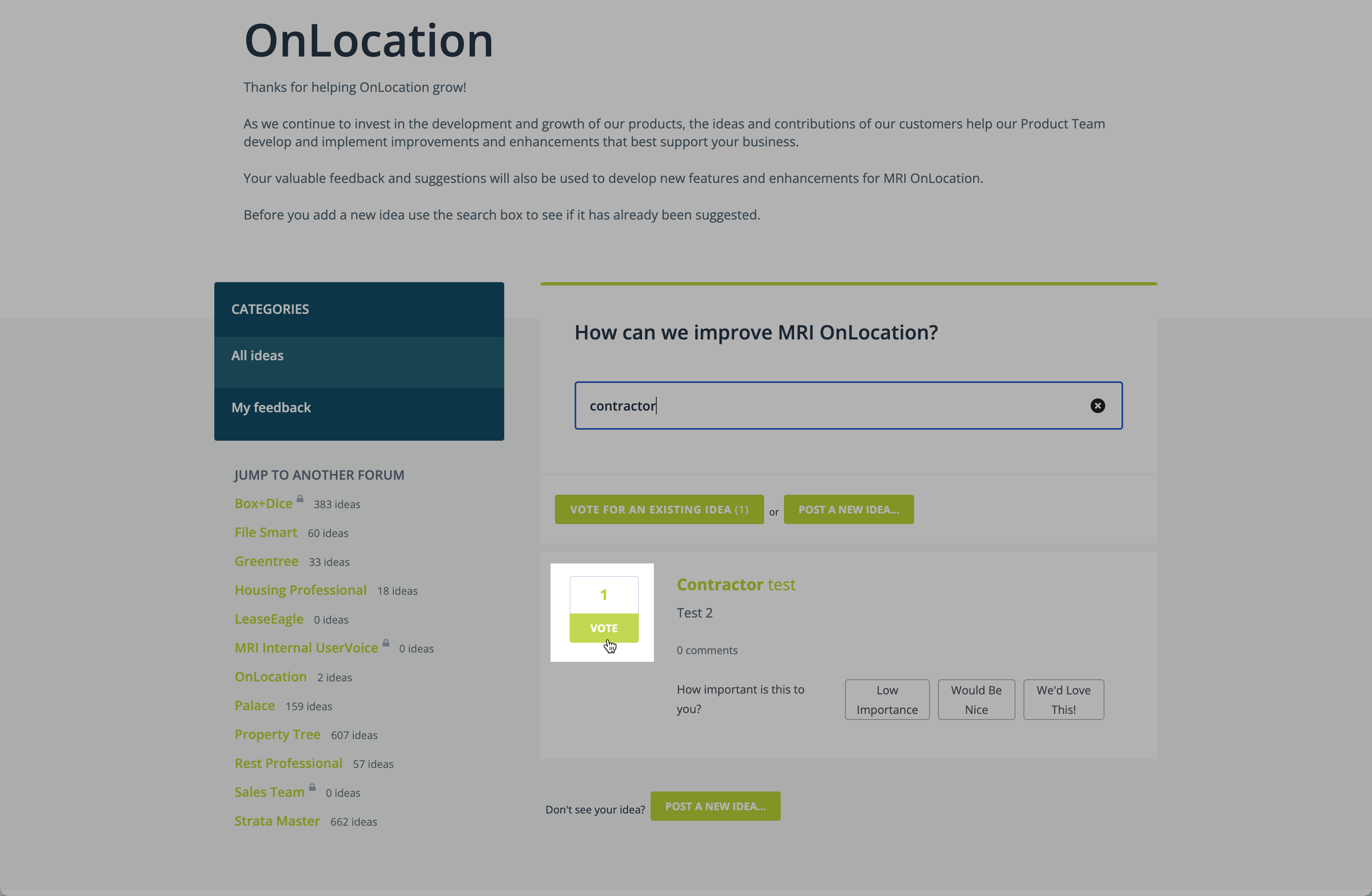 ---
Post a new idea
If you search but don't find an idea match, click Post a new idea...
The idea you entered becomes the title of your suggestion. Select a category, add a description and click Post idea.

If you've signed up for notifications, you'll be notified when a new comment is added and when the idea's status changes. Idea statuses include:
Ready for votes – Users can now vote or comment on the suggestion
Gathering requirements – OnLocation is preparing the requirements to implement this idea
In development – The product team is currently working on this suggestion
Released – This idea has been released. Check Product Updates for more information.
Existing feature – This functionality is already available in OnLocation. Check the comments.