Enable photo capture for each kiosk set up in a location. You must be have the Administrator user role to access Kiosk settings.
Setting up photo capture for your kiosks is useful for increased security, and necessary if you want a photo printed on a badge pass. You must enable this option at the location level, and for each individual kiosk. 
Prerequisite
Before you can enable photo capture successfully on your kiosk there are a few things you will need to do. Please ensure these are completed before continuing this setup.
You have setup the kiosk
The Kiosk PC must have a web-camera installed
You have enabled Photo Capture for the location
Add Photo Capture to a Kiosk
1. Go to Tools > Locations
2. Select the green View button of the location where the kiosk is located.
3. Select Visitor Kiosks from the left-hand menu.
4. Select the green View button of the kiosk you want to manage.
5. Select the Mode tab.
6. Select the Person Type you are activating photo capture for, this can be more than one.
7. Select the Photo Capture option for each person type you want it activated for.
8. Select Save and Close.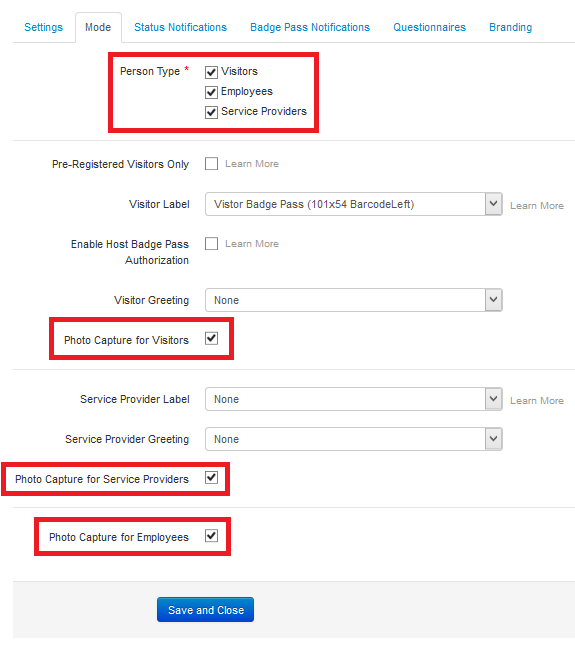 Photos will now be automatically taken by your kiosk for any selected person type.