Enable photo capture for each Kiosk set up in a location. You must be have the Administrator user role to access Kiosk settings.
Setting up photo capture for your Kiosks is useful for increased security, and necessary if you want a photo printed on a badge pass. You can enable this option for the entire location in the Questionnaire Manager.
If you have Kiosk Question Rules set up, you will need to ensure you enable Photo Capture for each Kiosk using rules.
Kiosk Without Custom Rules
If you are using the location defaults for your Kiosk, and not custom rules, you can enable photo capture for the Kiosk in the Questionnaire Manager.
Have a look at the Heldpesk article Enable Photo Capture for a Location for instructions.
Kiosk With Custom Rules
If you have custom rules set up for a Kiosk, you will need to enable Photo Capture in these rules.
Go to Tools > Locations.
Click View next to your location.
Select Sign In/Out Kiosks from the left-hand menu.
Click View next to your Kiosk.
Select the Question Rules tab.
Click View next to the rule to enable photo capture.


Please Note: If you don't have any rules set up, have a look at Sign In/Out Kiosk Question Rules for information on how to add these.

Select the Basic Questions Visitors, Service Providers, or Employees tab depending on who you want to activate photo capture for.
Select the Photo Capture sub-tab.
Select Activate.

(Optional) Select Answer Share if you want the visitor or service provider's photo to be included in the Arrival Notification to their host.
Select your Photo Capture Frequency.

This sets how often the photo will be taken for returning persons, a photo will be kept on file for future use for as long as the Photo Retention Policy states.
Click Save and Close.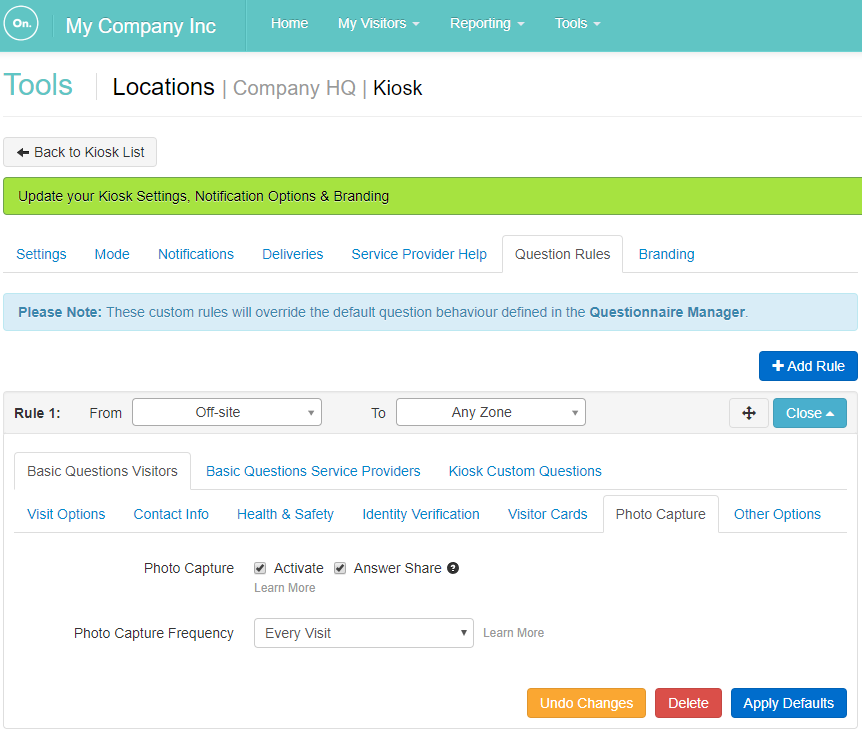 Photo capture will be activated and required for any selected person type. To print the photo onto badge passes, enable the Photo option on your Badge Pass Template.