In this article we show you how to grant a user Induction Management User Role rights. The act of granting user roles rights can only be done by a WhosOnLocation Account Administrator.
Granting User Role Rights
1. Go to Tools > User Roles
2. Search for the employee you wish to assign the Induction Management role to
3. Select the green Manage Roles button beside their name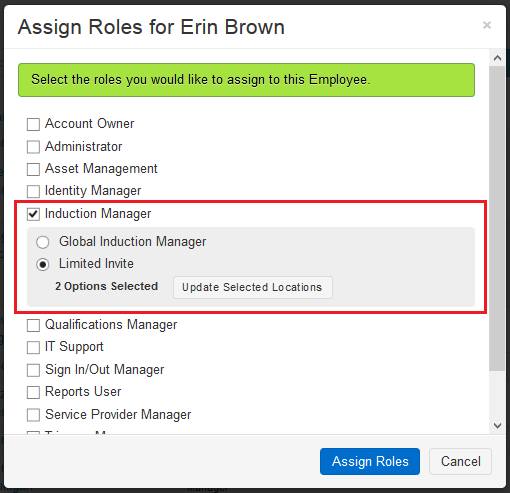 4. Select Induction Management
5. Choose the level of access
Global Induction Manager - can create, manage, and invite users to all courses in the account
Limited Invite - Can only invite users with access to selected locations. Cannot create or edit courses.
Please Note: If Limited Invite is selected, you will need to select the locations the user has access to by clicking Update Selected Locations.
6. Click Assign Roles
The user will now be able to access the Induction Management feature to the level of access granted.
The user also needs to have the Service Provider Manager user role to invite Service Providers to take induction courses.
How does the User sign in to WhosOnLocation to start managing Inductions?
It is easy to determine if the user that you granted Induction Management User Role rights to has logged into WhosOnLocation before.
Beside their name is their 'Login Permission'…and it will either be:
New: Employee has not yet been sent activation email
Incomplete: Employee is missing email address and cannot be sent activation email
Pending: Employee has been sent an activation email but has not yet logged in
Active: Employee has activated their account and has successfully logged in
If the user's Login Permission is New:
1. Select the tick-box beside their name
2. Scroll to Footer of screen
3. Select the Send Login Permission Email from the Run an Action dropdown list
4. Select the blue Run Action button
This will send the user an email asking them to create a password and activate their account login.
If the user's Login Permission is Incomplete:
1. Go to Tools > Locations > View (for their home location)
2. Select Employees from the left-hand menu
3. Select the green View button beside their name
4. Add their email address and select Save and Close
5. Then return to Tools > User Roles and follow the above steps for 'New' above.