Customize the automation and occupancy settings for your location. Options include auto sign in/out, record removal, maximum occupancy, operating hours, and your location's email signature. You need the Administrator user role to access these settings.
The automation and occupancy settings are used to manage a range of settings specific to your location. They include auto sign in/out options, automatic record removal, the maximum occupancy setting, standard operating hours, location curfew hours, and location email signature.
To access these settings:
Go to Locations, then select the location from the drop-down list.
Select Automation & Occupancy.
Select a tab:

Automation Rules

Occupancy Settings

Email Signature
Automation Rules tab
This tab contains the automatic sign in/out and record erase options.
Automatic sign in and out options
Maintaining an accurate record of who is on-site each day is integral to a high level of accuracy in your evacuation management and historical visitor records. While it is best practice for everyone to sign out when they leave each day, there will always be times where people forget.
To help keep your records accurate, this feature lets you automatically sign people out at the end of the day, as well as an option for automatically signing employees in.
To set the auto sign in/out options, click the field next to an option, and set the time.
If the employee is not already signed in at the selected time, they will be signed in. And any person on-site at their selected auto sign out time will be signed out.
These are basic settings used for a simple set up. If you require more advanced settings, you can manage these using the triggers add-on.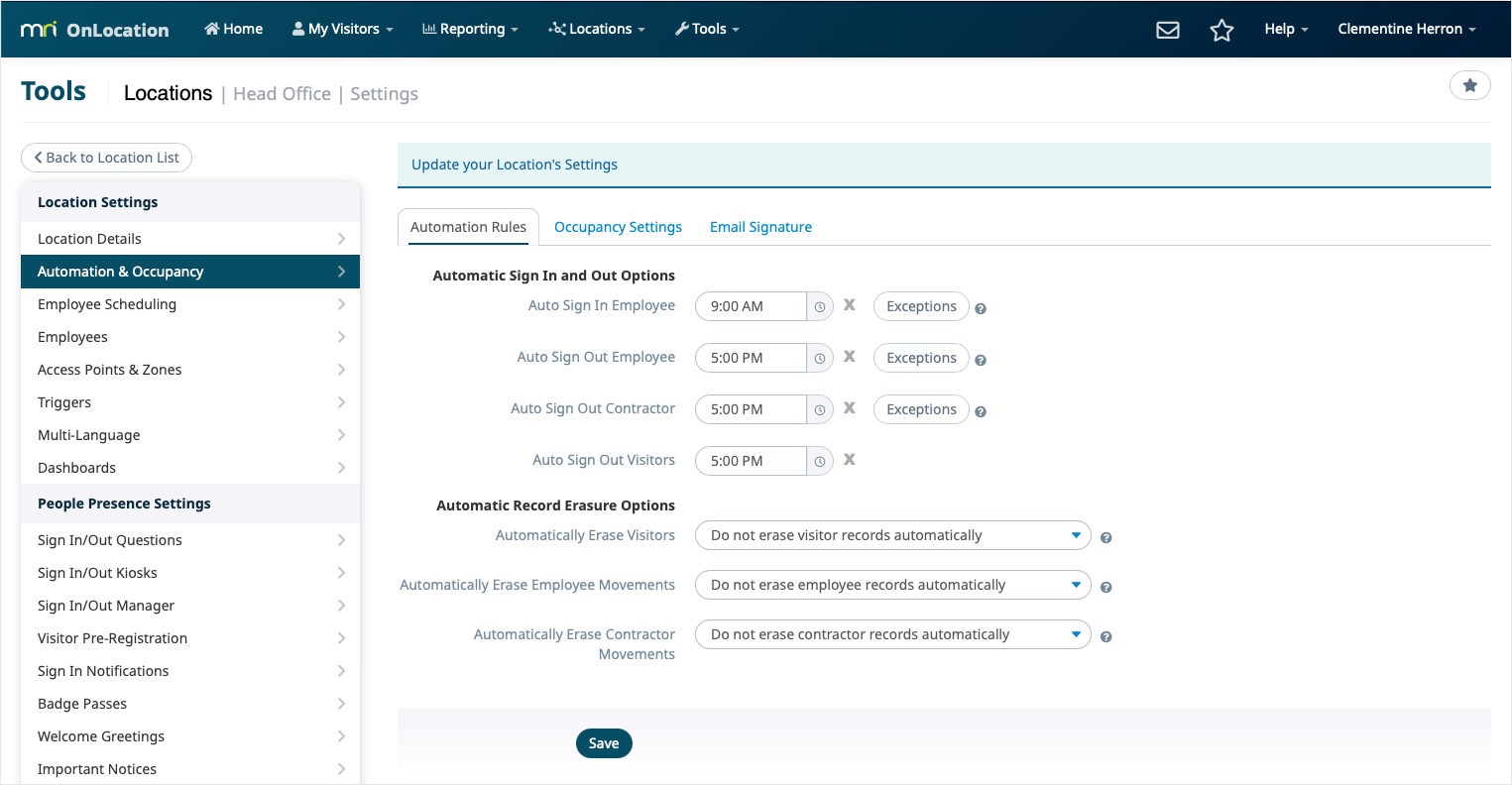 Because there are always exceptions to every rule, we provide the ability to exclude employees and contractors from these auto sign in/out times. Click Exceptions next to a setting to set these up.
It's not possible to exclude visitors using these settings because we have no record of them until they sign in.
For the employee settings, you can exclude selected departments and/or selected individuals, and you can choose the days of the week you want to exclude from the rule. All options selected will be included in the exception.

For the contractor setting, you can only exclude days of the week.

Automatic record erase options
You can set up a location to automatically erase visitor, employee, or contractor records after a set length of time. This will not completely delete the record, it will erase any personal information about the person but keep a record that someone signed in or out at that time in your reports. This keeps your records accurate while protecting your employees' and guests' personal information.
If you are using this feature, we recommend only holding onto records for as long as necessary.
MRI OnLocation will hold a record of the erased information in our audit logs for up to 30 days after the record is erased.
To set it up:
Under Automatic Record Erasure Options, click the dropdown next to the visitor, employee, or contractor field.
Select a time period. You can choose between 7, 30, 60, 90, and 365 days.


Click Confirm.
Click Save.
Occupancy Settings tab
Set options for your location's maximum capacity, operating hours, and curfew hours. These options are all used in combination with the triggers add-on to manage your location's restrictions.
Settings include:
Maximum Occupancy for this Location – The total number of people that are allowed on-site at this location at any one time.
Standard Operating Hours – The time that the location is usually open or operating (From/To). You can set exceptions for days of the week where the location is non-operational (closed).
Location Curfew Time – The time that no-one should be on-site After or Before. You can set full days to be included in the curfew using the inclusions, e.g. if no-one should be on-site during the weekend select Sat and Sun in the inclusions, and the curfew will be in place for the entire day.
We provide two distinct settings for operating times and curfew times so that you can distinguish between when most people should be on-site and when nobody should be on-site, giving you the ability to set a window of time when some people may be working late or early.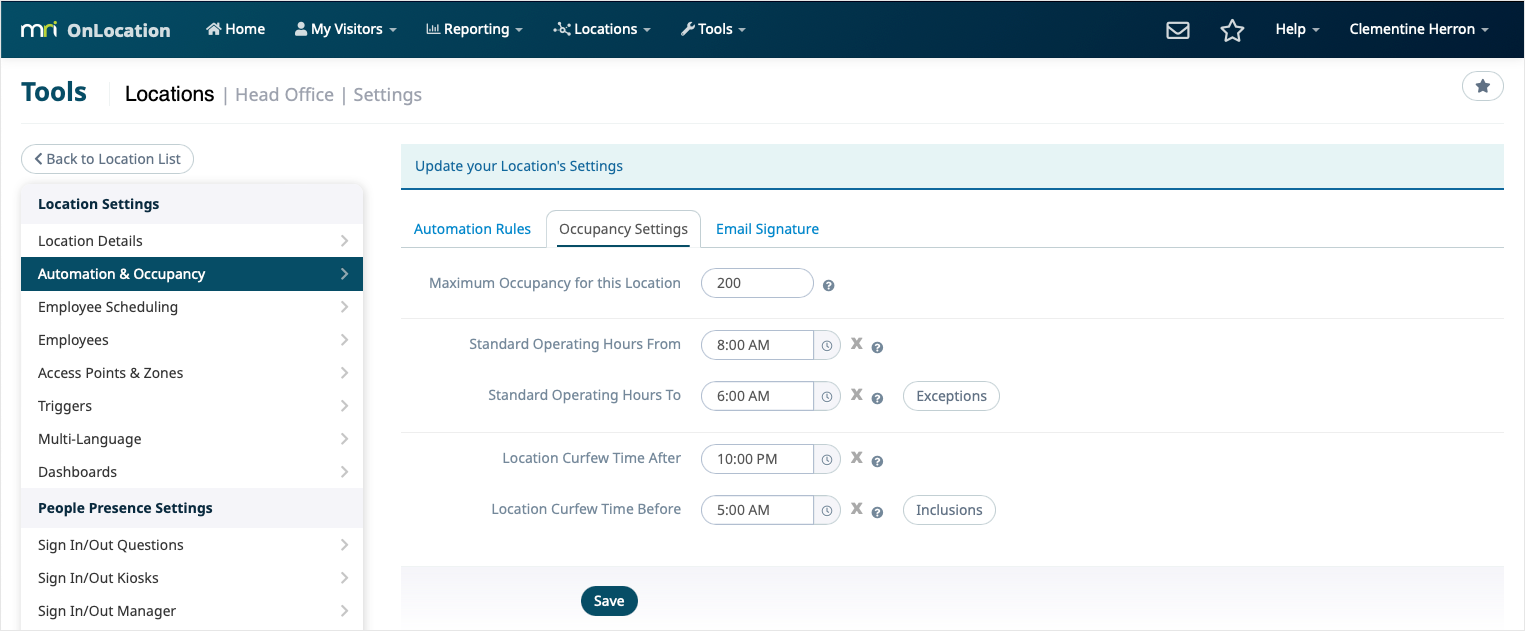 Email Signature tab
Set the email signature which will be used for all location-specific emails. These emails include visitor notifications, triggers, kiosk notifications, and more. Email signatures contain text only, you cannot upload an image.
The default location signature is the same as the account level email signature set by the Account Owner, this can be modified to suit your specific location.
Enter the text for the signature, then use the tools above the input field to modify the text formatting.
Click Preview Email to see your signature in an example email, then click Save.