How to manage employee access permissions. User Role required to access these settings: Account Owner or IT Support.
Granting an employee access to pre-register or sign a visitor in from a list of pre-registered guests can streamline your visitor registration, and arrival on-site. Due to your company procedures you may also want to remove permission to sign in visitors from employees. The employee permissions section lets you remove this permission. This will ensure that visitors are signed in either at the Kiosk or by a Sign In/Out Manager.
To access the Employee Permissions settings:
Go to Tools > Account.
Select Employee Access from the left-hand menu.
Select the Employee Permissions tab.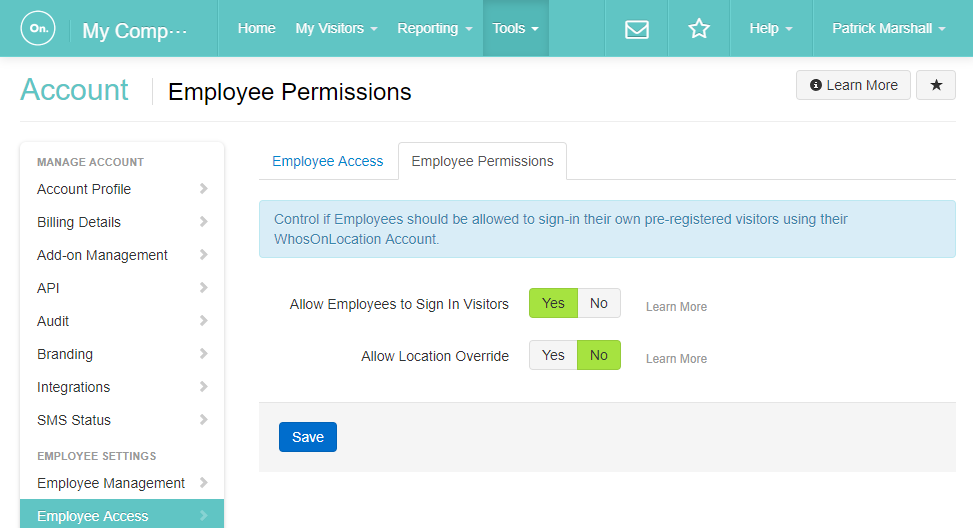 Please Note: This will not affect a Sign In/Out Manager's ability to sign in visitors.
Allow Employees to Sign In Visitors
The default setting for allowing employees to sign in visitors within your WhosOnLocation is set to Yes. Toggle this to remove this permission.
Allow Location Override
You may want to let employees from a particular location sign in their visitors but not other locations. To activate this feature, set 'Allow Location Override' to Yes.
By enabling Yes this will enable the Permissions tab in the Employee list that allows the location Administrator to toggle between Yes and No.
Location Specific Employee Permissions
When location override has been enabled for employee permissions by an Account Owner, a location Administrator for a location can set whether employees can sign in their pre-registered visitors.
Go to Tools > Locations.
Click View next to your location.
Select Employees from the left-hand menu.
Select the Permissions tab.
Toggle the Allow Employees to Sign In Visitors option to your preference.
Click Save.