This article explains what a visitor, contractor, or employee experiences when using a touchless kiosk or a QR code poster to sign in or out.
A fully touchless kiosk experience displays a QR code and instructions for a user to follow on the kiosk or poster. This removes the need for the user to touch a screen, reducing the transfer of infection and allowing you to maintain a hygienic sign in/out process.
You cannot scan a token or WolPass to sign in using the touchless kiosk, you must scan the QR code displayed on-screen.
Find out how to:
How the touchless sign in experience works
Enable touchless sign in – either set your kiosk to touchless mode or add a new kiosk and select scannable poster as the device type.
Scan the code – Visitors, contractors, and employees can use their smartphone camera to scan the QR code.
Answer the questions – The QR code opens a web browser where the guest can enter their details and answer any custom questions.
Signed in – In the case of a visitor, the host will receive an automated arrival notification.
Once signed in, the user sees a webpage where they can sign out. This page is active for 24 hours. The browser can be closed until they are ready to leave, they then re-open the browser and tap Sign Out.
If using photo capture a user may be required to give their browser permission to access the camera.
Sign in questions
The touchless sign in questions (including custom questions) that are asked on a standard kiosk are also asked on the user's smartphone. Below are some examples of how it could look on the user's smartphone. The home screen is customizable in the kiosk layout settings.
Kiosk home page
This screen shows the Sign In and Sign Out buttons.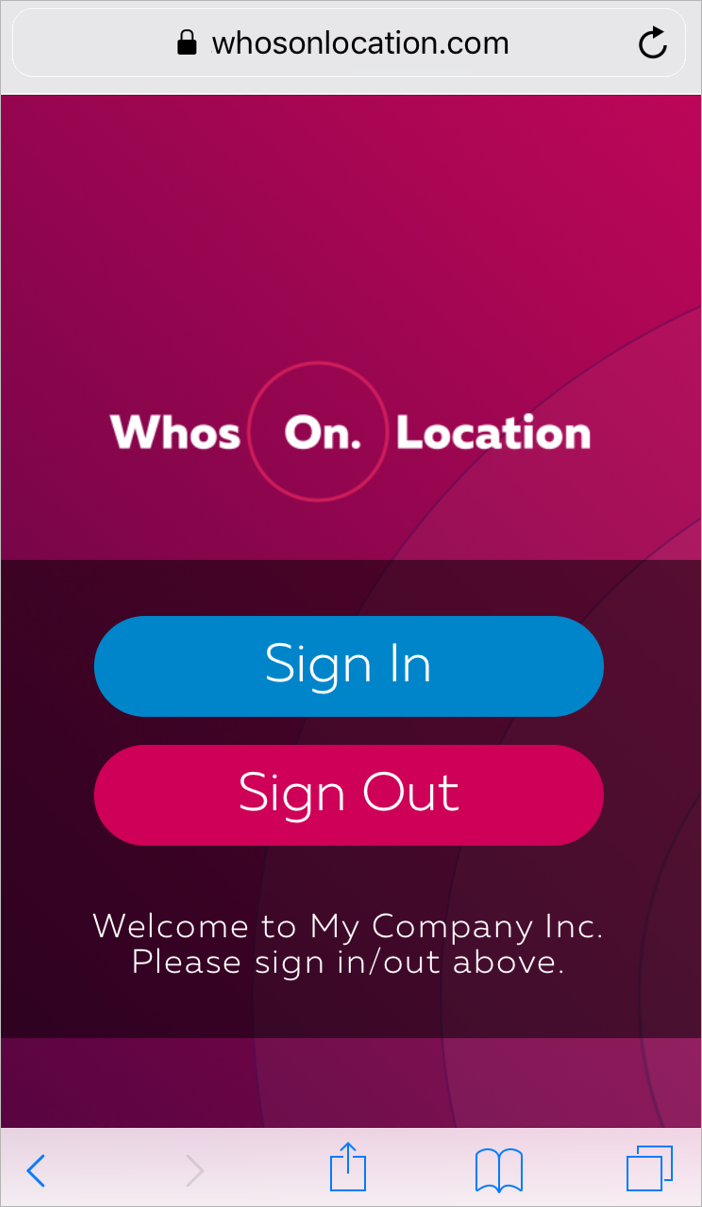 Name
On this screen, the visitor is asked to 'Enter your first and last name and tap Next.'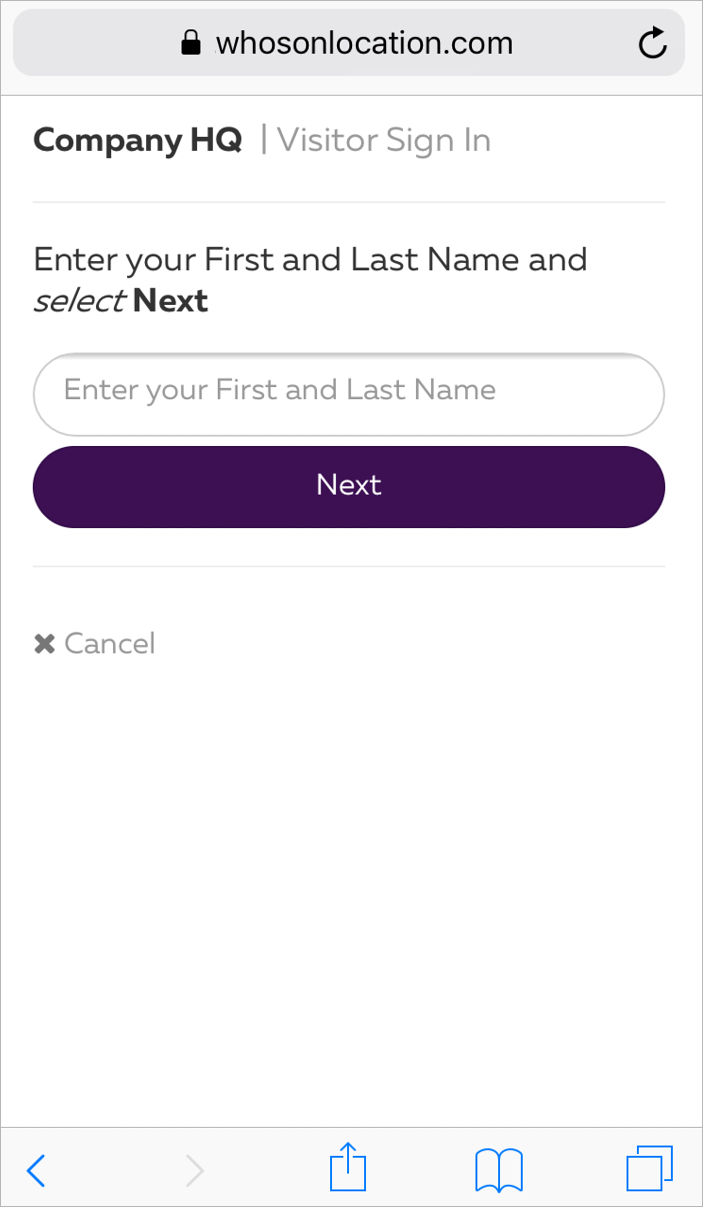 Mobile number
This screen asks the visitor to add their phone number and tap Next.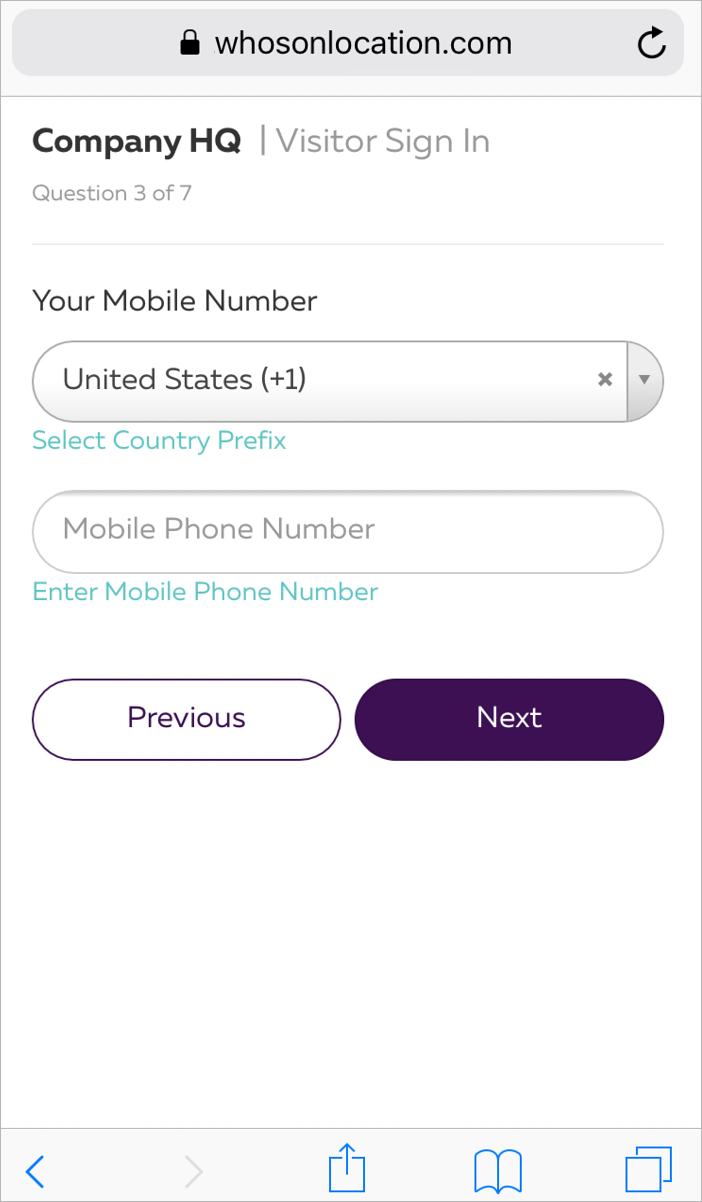 Photo capture
Tap Snap Photo to take a photo or tap Skip.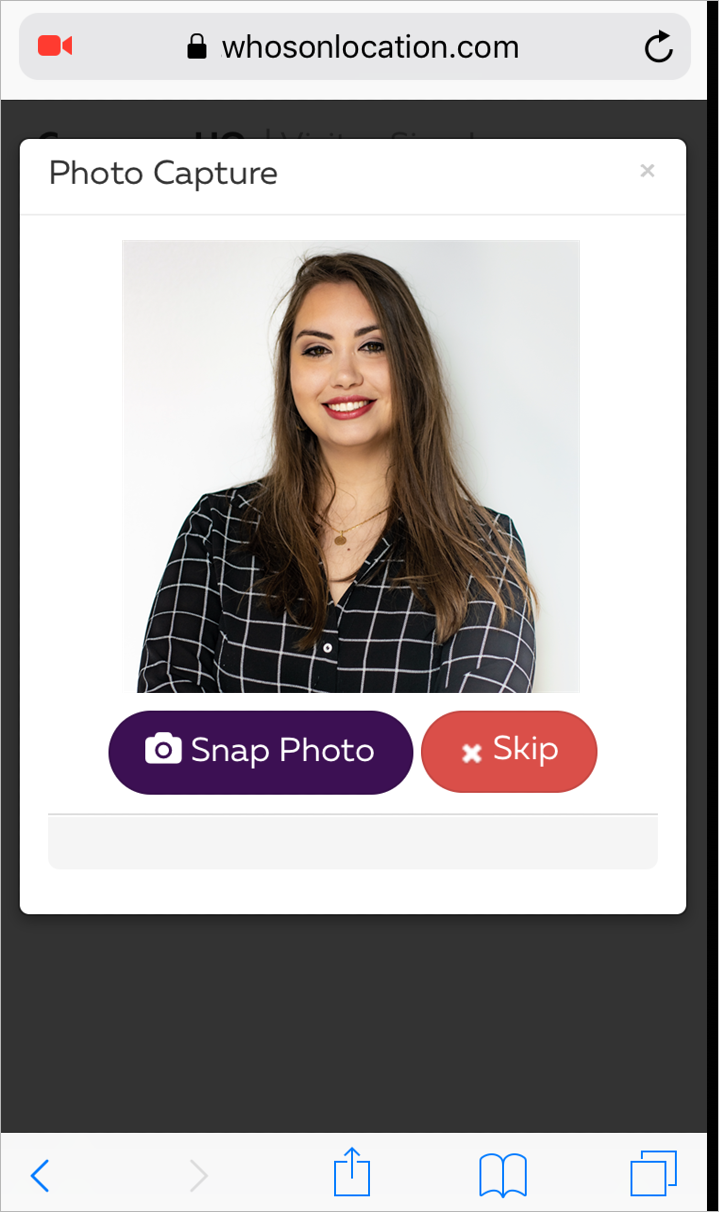 Purpose of visit
Select the purpose of their visit: None, Interview, Maintenance, Meeting, Social, then tap Next.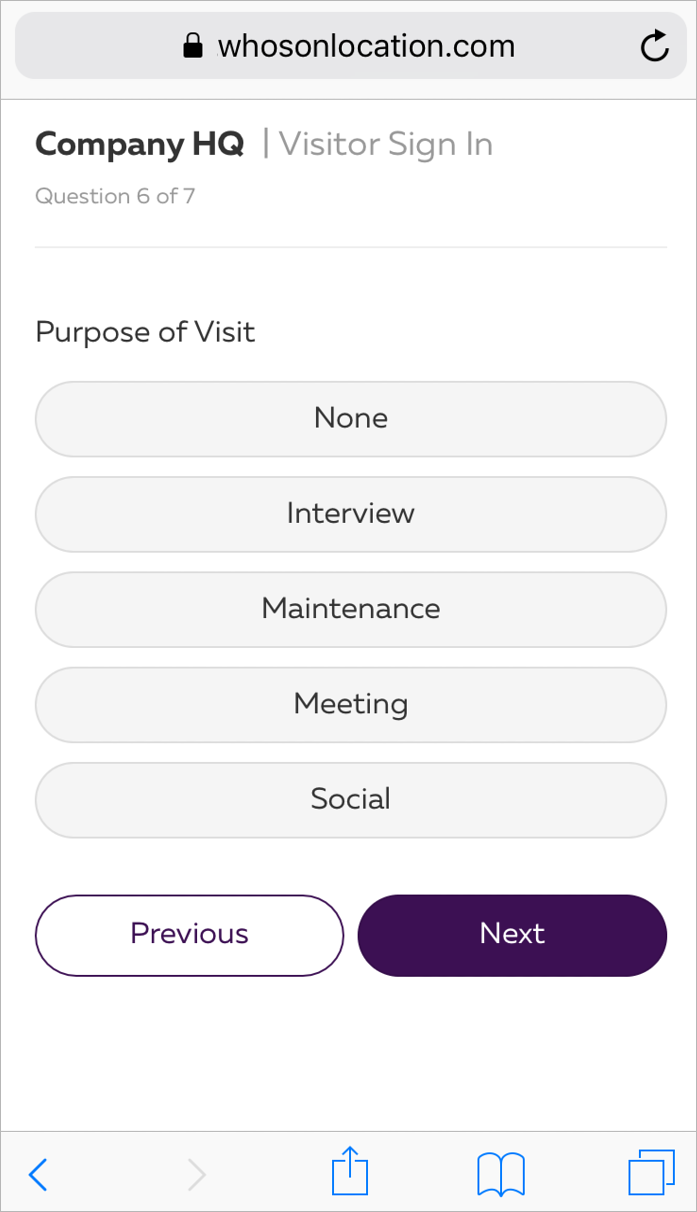 Signature required waiver
Asks the visitor to read the Visitor Safety information and NDA, sign the agreement, tap I Understand and Agree, then tap Continue.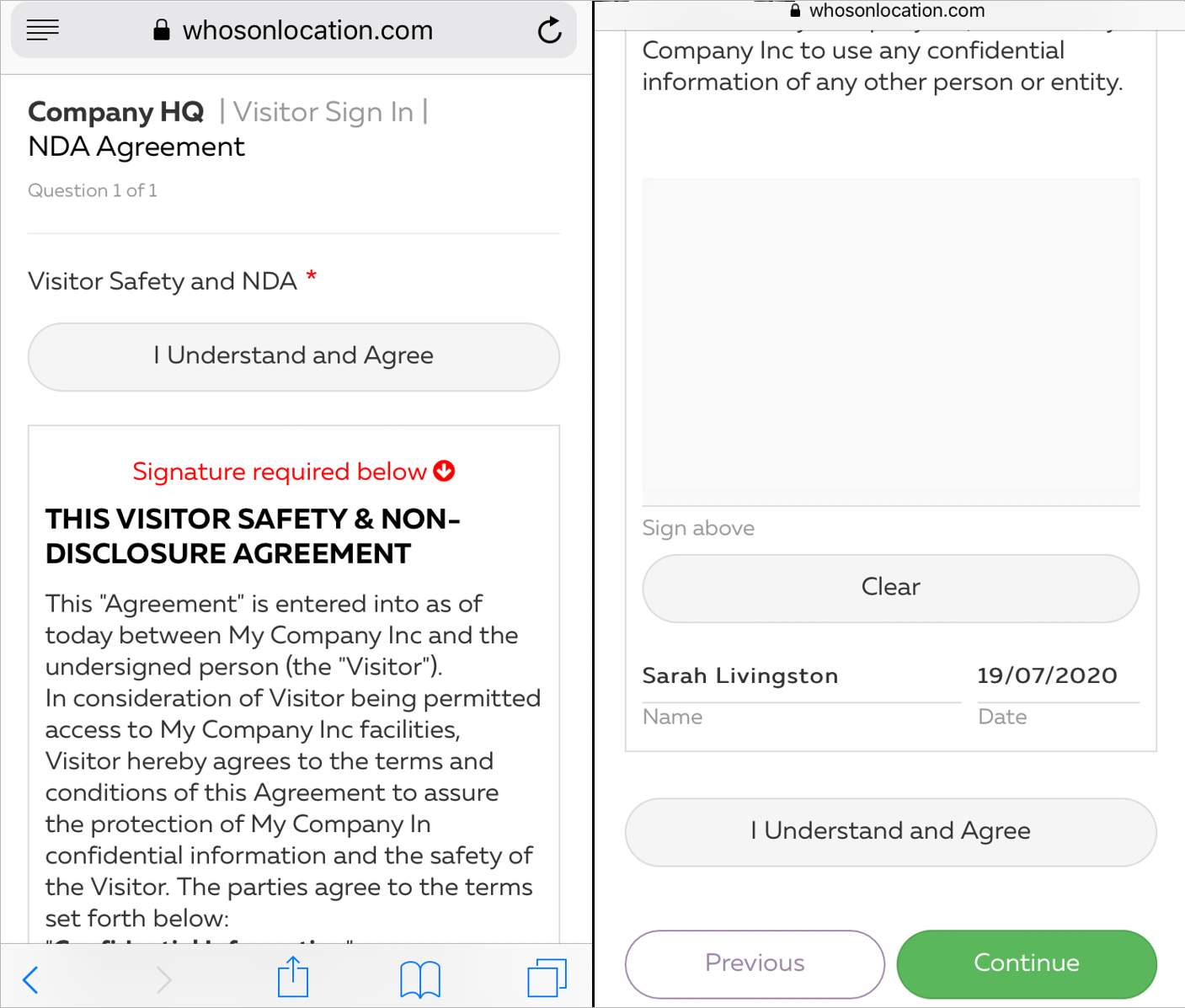 Sign out experience
To sign out, the user will need to re-open the browser on their smartphone and tap Sign out.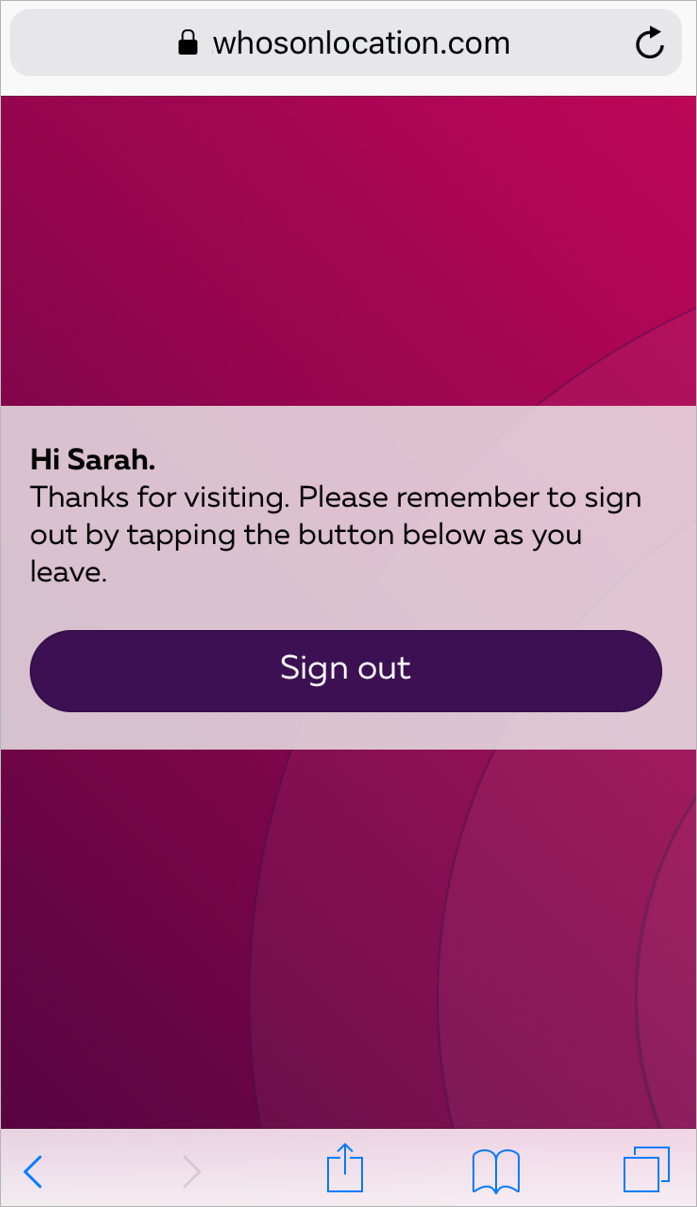 If they have closed the browser window, they can scan the QR code on the kiosk, tap Sign out, enter their name, and confirm.
They will be taken to a landing page thanking them for their visit and advising them to close the page.