Configure notifications to send when visitors or contractors sign in to your location. You need the Administrator user role to access these settings.
Using sign in notifications employees can receive a notification when their guests arrive. You can also set up notifications when a guest arrives and does not have a host. This gives increased security for your site by ensuring someone is notified every time someone signs in.
Go to Locations, then select the location from the drop-down list.
Select Sign In Notifications.


Host selected notifications
Select the type of notifications (email and/or mobile) you want your employees to receive when they are hosting.
Once a type of notification is active, you can choose to enable this automatically for all new employees added to the system.
If you activate a type of notification after employees have already been added, you will need to enable this manually or via run action for your existing staff.
Click here for details on updating employees to enable notifications.
Mobile notifications can be sent via text or push notification using WolMobile. If an employee is using the WolMobile app they will always receive a push notification instead of a text, saving you SMS credits.
When a location is created, email notifications are enabled automatically by default.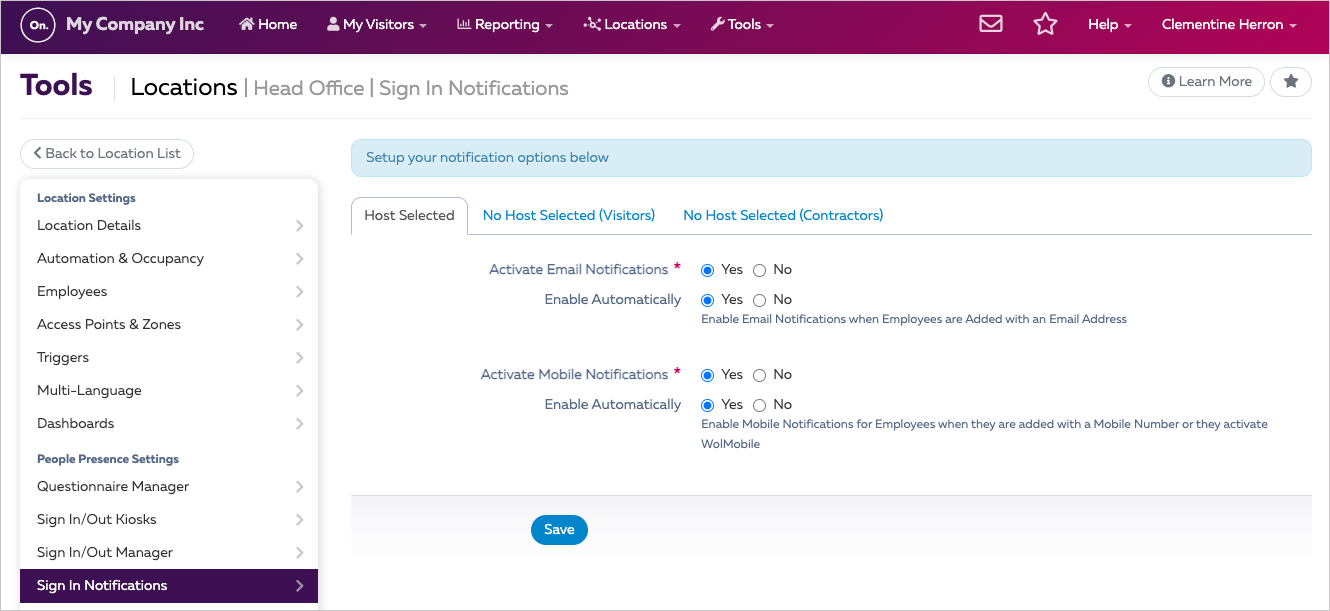 No host selected notifications
Select who will be notified when a guest signs in and doesn't select a host. This is because the host selection is disabled or not mandatory. You can set up different recipients for visitors and contractors signing in. If no recipient is set up, no notification will send. To set up recipients:
Select the tab for the person type signing in: Visitors or Contractors.
Select employees from the dropdown.
(Optional) Set a non-employee's email and/or mobile number.
Click Save.