Learn how to ask employees to provide certification details during sign in. You can incorporate this question into your existing sign in flow.
This article covers:
---
How it works
Using a custom question, you can ask employees to provide up-to-date details of a certification while signing in. Choose which information they should provide, options include entering the issue and expiry dates, a reference number, and uploading a document.
The question can be added to a global or location-level questionnaire and you can ask this question type it on:
Kiosks
Sign In/Out Manager
OnLocation Mobile
If the certification must be verified, an employee with permission can then check the certifications report to verify the information provided.
Certification details questions can be added to existing questionnaires. If you would like to ask this question at a different frequency from other questions, add this question to a separate questionnaire.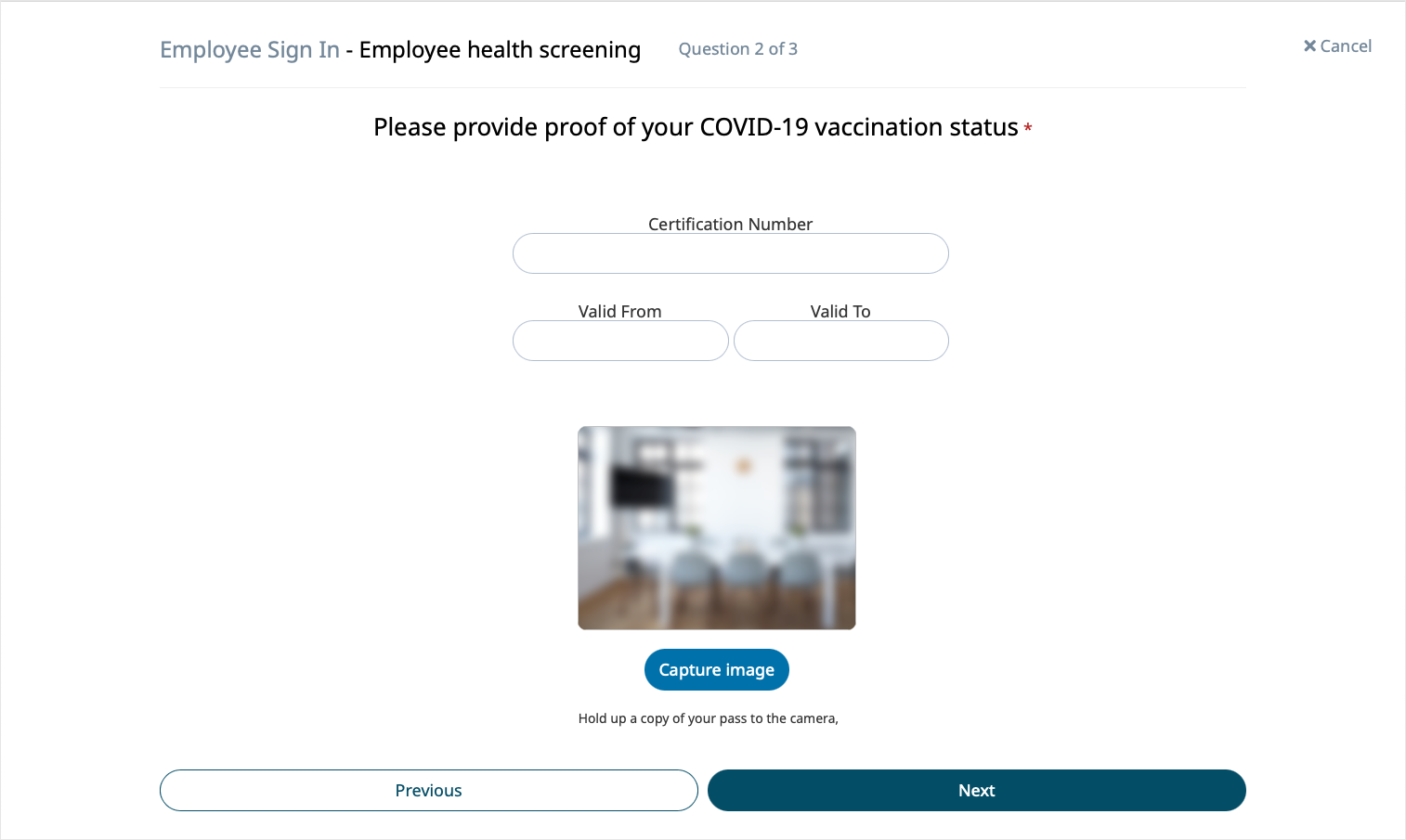 ---
Step 1: Create the certification
Add a new certification and use the Audience tab to choose who the certification applies to.
If this certification is linked to a global questionnaire, make sure all relevant locations are selected in the certification.
Learn how to add a certification.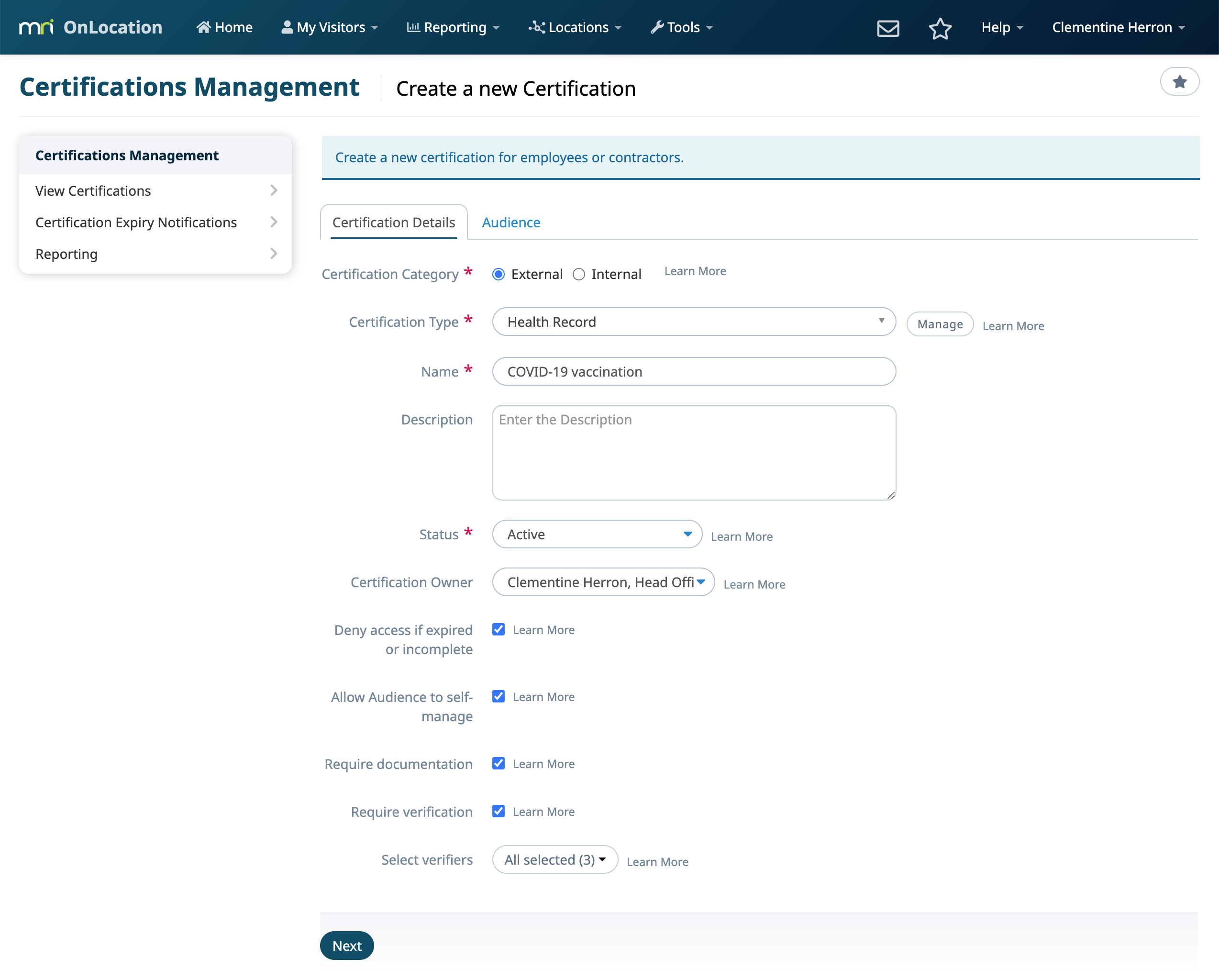 ---
Step 2: Create a custom questionnaire
First, add a location-level or global custom questionnaire. Make sure you choose the frequency the works with your certification. For example, you may not want to ask for driver's license details every visit.
Second, add the custom question in the questionnaire:
Click Add Question.
Enter the question/title.
Select the certifications details question type.
Select the certification this question is linked to.
Choose which details you'd like them to complete: certification number, valid from, valid to, document upload. You must select at least one of these options.
(Optional) Add any instructions you'd like to display.
(Optional) Select the checkbox next to

Host notification

to send the answer to the host in the arrival notification (visitor and contractors only).
(Optional) Choose how long you'd like to retain the file for.
(Optional) Select the checkbox next to

Compulsory question

when an answer is mandatory.
(Optional) Select the parent question to make the question conditional based on the answer given.
(Optional) Set a custom question timeout to change how long the kiosk can stay inactive before canceling the sign in from the kiosk default.
(Optional) Set a question pause time to ensure the person stays on the page before they can answer or move on.
Click

Save and Close.



---
Step 3: Activate the questionnaire
Go back to your list of active questionnaires. if you have multiple questionnaires that are presented at sign in, check the order in which they display.

OnLocation defaults to alphabetical order so if you want to present them in a specific sequence, number each of the questionnaires.

Click the questionnaire status, then click

Activate.



Select the Sign In checkbox next to the sign in methods you'd like to show this questionnaire, then click Next or Save.

Note the certifications detail question will only display on kiosks and in Sign In/Out Manager, it isn't supported on OnLocation Mobile.



If you're activating a global questionnaire, choose the locations or location groups that will use this questionnaire, then click Save.
If you don't have location defaults enabled for your sign in/out kiosk, you'll need to enable the questionnaire in the Question Rules tab in your settings.


Next step
: If you'd like to be notified about certain certifications or to deny access if a certification has expired,
set up a trigger
.