This report covers all information on who has been on-site and when. You must have the Reports Manager user role to access this report.
The People Presence report is very comprehensive with the ability to filter in many ways, export records, and customize your view.
You can access the People Presence report by going to Reporting > People Presence.
This article covers: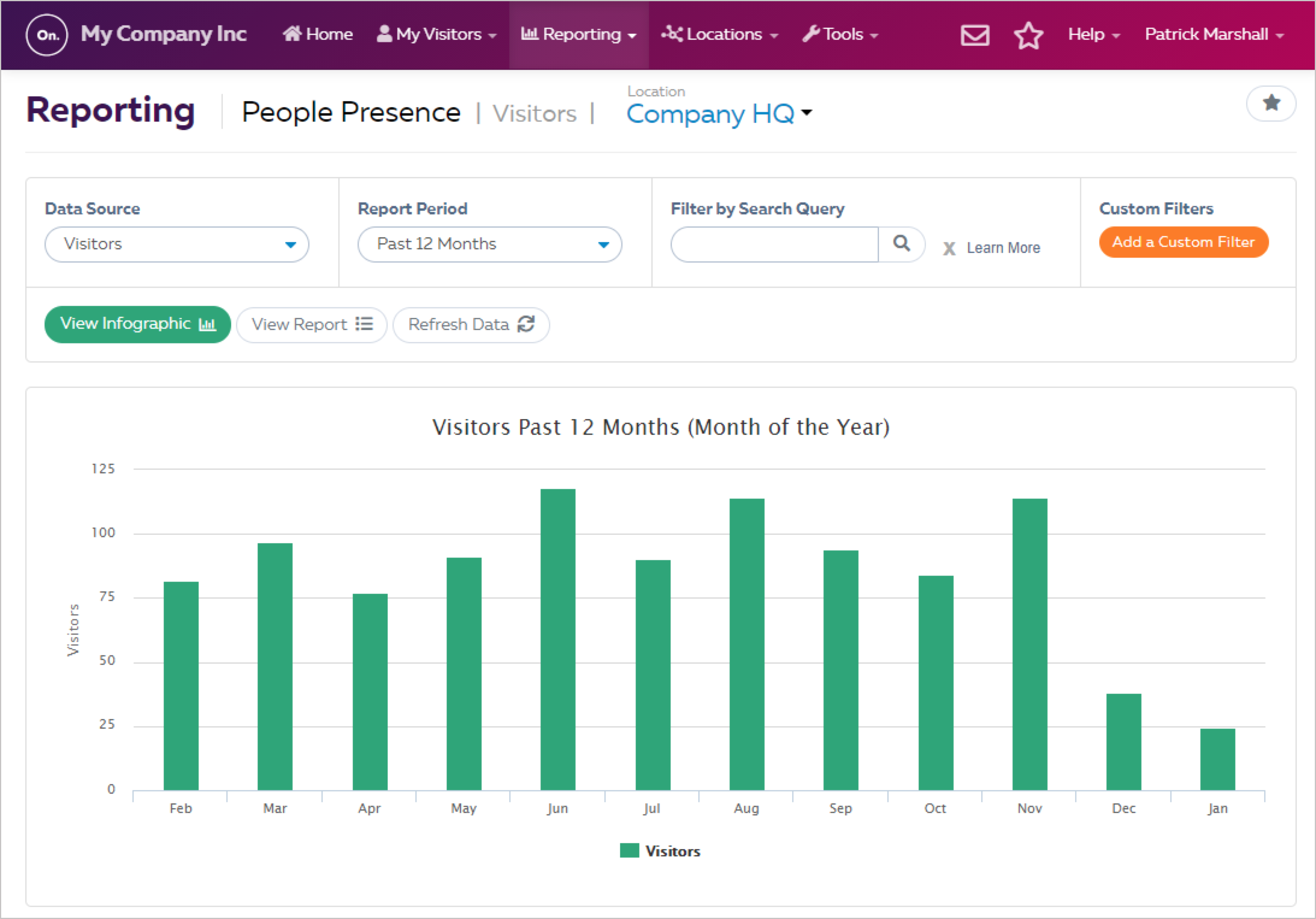 Report filters
The People Presence report can be customized through filters to show you the exact information you need about all people who have signed into WhosOnLocation at any time:
Location – Click on the location name, then choose which location you'd like to view or all locations. To view by location group or locations made inactive in the last 90 days, click the advanced icon.
Data Source – Choose between visitors, contractors, and employees.
Report Period – Select the period you want to view. There are many pre-set periods, but you can also create a custom period.
Filter by Search Query – Search for a name or organization.
Custom Filters – Click Add a Custom Filter to filter by any basic question that has been activated in Sign In/Out Questions, as well as other options such as sign-in mode and zone visited.


Report views
Select a view
There are two ways to view your people presence information:
View Infographic - Shows a bar graph of the people selected by the filters.
View Report - Shows a table of the people selected by the filters. The table has more detailed information, and you can change which information is displayed using the View Columns and #Records menus.


View visitor custom questionnaires
If you use visitor custom questionnaires, you can view the questions and answers in the report:
In the report view, click View Columns.
Click the arrow on the right to expand the custom questionnaire view options.
Select the questions you'd like to view.


Export report
To export the report, click Export Report on the View Report screen. There are two file types available:
Export as CSV file – Exports all available information on the people selected by the filters regardless of currently viewed columns. If you're exporting a large number of records, you'll receive an in-app message notifying you when the CSV export is ready.
Export as PDF file – Exports the first 8 columns of information being viewed in the current report based on selected filters and columns. There is a 1000 record limit for PDF exports.
Exporting custom questionnaires
If you use custom questionnaires when signing employees or guests in or out, you can choose to export the answers to custom questions in your CSV file export. There are two export options:
Custom question answers – choose to include the answers to custom questions in the report.
Group identical questions together – if an employee or guest has visited multiple locations using identical questionnaires, their answers will be grouped together under the same column header.


Erase or purge records
Record erase and purge can be accessed through the View Report screen. You can remove visitor, employee, or contractor records. It allows you to either erase the data from a record or delete it entirely from the reporting section.
Erasing a record will permanently remove the personal information of a visitor from a record in your report but will keep the record so that your statistics stay accurate. This is a required feature under the General Data Protection Regulation (GDPR).
Purging a record will delete the record entirely from your report but will keep a record of it in your Audit. This is used for test data only and does not adhere to GDPR standards because the visitor's personal information is kept.
To erase or purge records:
Select the data source.
Click Enable Record Erase/Purge, then click Continue.
Select the records you want to erase/purge using the checkboxes on the right of the screen.
Click Run an Action, the select either Erase Records or Purge Records.



Click Run Action.
A purged record will no longer appear in the reporting section and will not be counted against your total visitor sign-ins for your account. Account Owners can view purged records through the purged records audit.
An erased record will show that the record has been erased. You can see details of the erasure by activating the columns Erased, Erased By, and Erased Date.