Manually add a new employee in WhosOnLocation. You must be an Administrator to add an employee.
There are many ways to add employees to your WhosOnLocation account, you can bulk import a list of employees from CSV file, you can set up an Active Directory integration, or you can manually add a single employee. This article focuses on the last option.
How To Add an Employee
Sign into WhosOnLocation as an Administrator, then from the Home Screen:
Go to Tools > Locations
Click View next to your location
Select Employees from the left-hand menu
Click Add Employees
Click Add an Employee Manually
Enter their full name and as much information as possible.



Please Note: To allow access to login to WhosOnLocation and receive email notifications you must enter an email address, and to receive SMS notifications you must enter a Mobile Number.


Departments, Employee Role Types, and Zones are all set up at the location level.
Click Save & Close to enter the employee and return to the employee list OR Click Save & View Notification Options to set up visitor arrival notifications for the employee.
Visitor Arrival Notifications
In this section, you can manually add visitor arrival notifications for this employee when they are selected as a host.
You can add either Email or mobile notifications or both depending on your location settings.
To enable visitor arrival notifications, select Yes next to Send to Me under either section.
You can also add up to two other employees and one non-employee to receive a notification when this employee is selected as a host. This is very useful for assistants to keep informed of important visitors.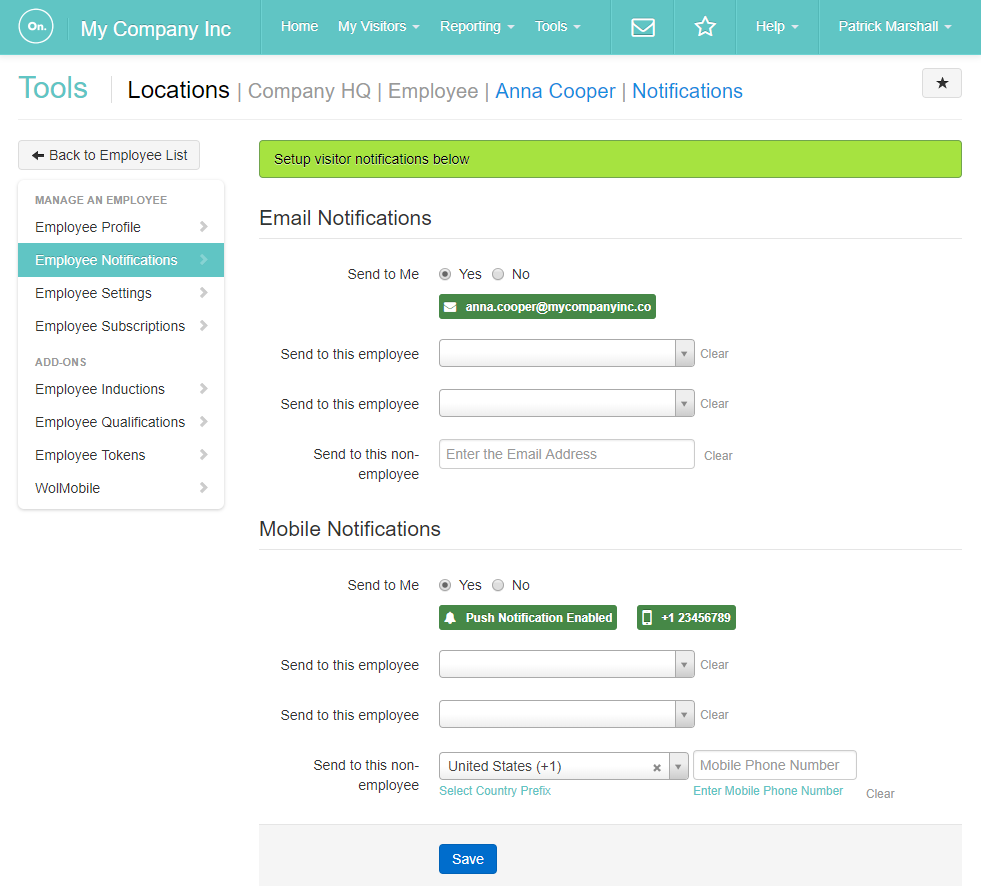 Employee Photo
You can add a photo to an employee profile once an employee has been saved in WhosOnLocation. Photos can be a good way of recognizing an employee when viewing their profile by adding a face to the name.
To add a photo to an employee's profile, from the Employee List:
Click View next to the employee
In the grey photo box, click to upload a photo


Click Select File in the pop-up screen


Select the photo from your computer and click Open
The photo will be automatically uploaded to the profile.
Click Save & Close to return to the employee list, or Save to stay in the employee profile.