Import a list of multiple employees into your WhosOnLocation account using a CSV file. You must be an Administrator to add employees.
If you have an existing list of employees or a large number of new employees, that you want to add to WhosOnLocation, you can use our CSV import tool to make this as easy as possible. If you have a single employee to add, you may want to add them manually.
Preparing your employee list
You can download the employee import template from the application by clicking the add employees button in the employee list. Please make sure to save this in the CSV UTF-8 format for best results.
Please Note: An example employee has been entered into the employee import template, you will need to delete him before entering your own information.
All headings must be included unchanged in the template when imported into WhosOnLocation, however you do not need to enter information for headings which do not apply.

The only information that is required for importing is the Location and Full Name. All other fields are optional.
Location – The employee's home location
Full Name – The employee's full name
Alternate First Name (also know as) – A nickname for the employee if applicable
Title – The employee's job title
Employee ID – An ID number for the employee, this can be used to sign in as an alternative to their name
Department – The employee's department. This must match a department which has been set up for the location in WhosOnLocation
Email Address – The employee's email address. This is used to receive notifications, messages from WhosOnLocation, and to log in to WhosOnLocation
Phone – The employee's landline phone number without any extensions
Mobile Number – The employee's mobile/cell phone number. This is used to receive SMS notifications from WhosOnLocation
Extension - The extension for the employee's landline if applicable
Role Type - The Employee Role Types for the employee. This must match a role type which has been set up for the location in WhosOnLocation
Qualification Name/Completed/Expiry – A qualification which has been set up in WhosOnLocation using the Qualification Manager to be added to the employee's profile
Induction Course – The name of an induction course which has been set up in WhosOnLocation under Induction Management that the employee has passed
Induction Course Completed – The date the induction course was passed. This format needs to be the same as your location i.e. DD-MM-YY or MM-DD-YY
Token Type/Number/Issued/Expires – Details for the employee's tokens used for signing in and out of WhosOnLocation kiosks. The Token Type needs to be set up in Identity Manager in WhosOnLocation
Once you have entered all of the necessary information for your employees, save the template as a CSV file, ready to import. If possible, save this in the CSV UTF-8 format for best results.
Importing your list
Now that you have prepared your CSV file for import, it's time to add your employees to your WhosOnLocation account.
1. Go to Tools > Locations
2. Click View next to the location you are adding employees into
3. Select Employees from the left-hand menu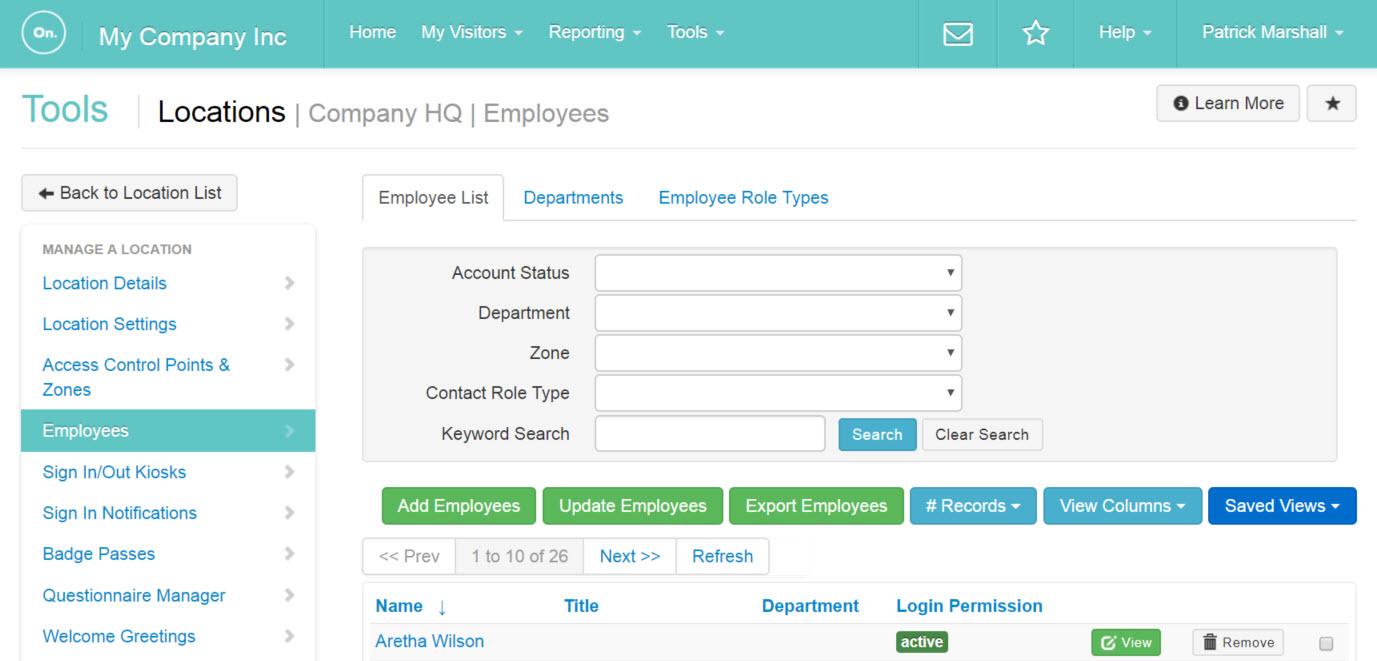 4. Click Add Employees
5. Click Import your Employee List from a CSV File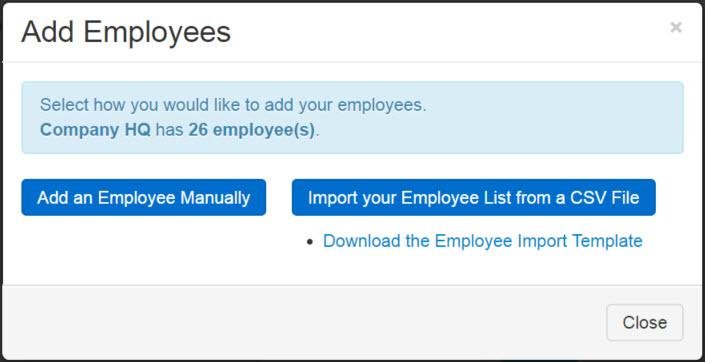 6. Click Select CSV File
7. Select the Employee Import Template and click Open
8. Click Import Employees
Your employees will be automatically added to this location with the details entered.
There are some common errors that occur when attempting to import a CSV file which are easily fixed. If you encounter an error which is not listed below, please take a screenshot and send it to helpdesk@whosonlocation.com for us to look into.
Common CSV import problems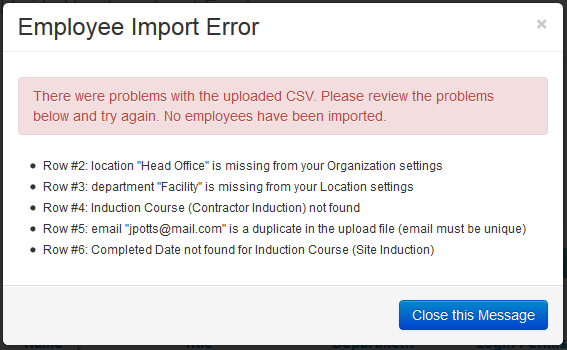 Duplicate email addresses – All email addresses in the CSV file must be unique to be imported. These must also be unique from all email addresses currently being used in any WhosOnLocation account.
Incomplete Sections – If using the Induction, Qualification, or Token sections, all columns must be filled in for that employee to import. E.g. If you enter a qualification name, you must also enter when it was completed and when it expires.
Not set up in WhosOnLocation – Some elements must match a corresponding element already set up in WhosOnLocation. The Location, Department, Qualification Name, Induction Course, and Token Type must be set up in WhosOnLocation before being added to the employee's profile during an import.
Not CSV file – The import file must have the file extension of .csv to be imported into WhosOnLocation. Any other file extension will not import.