How to create and manage Acknowledgement Notices. You must have the Administrator user role assigned to access this Add-on.
Acknowledgment Notices are used to pop-up a message when people are signing in and/or out to acknowledge. These are often hazard warnings, one-off bulletins, or longer-running necessary acknowledgments.
Creating a New Notice
Sign into WhosOnLocation as an Administrator, then:
1. Go to Tools > Locations
2. Click View next to your location
3. Select Acknowledgement Notices from the left-hand menu
4. Click Create a New Notice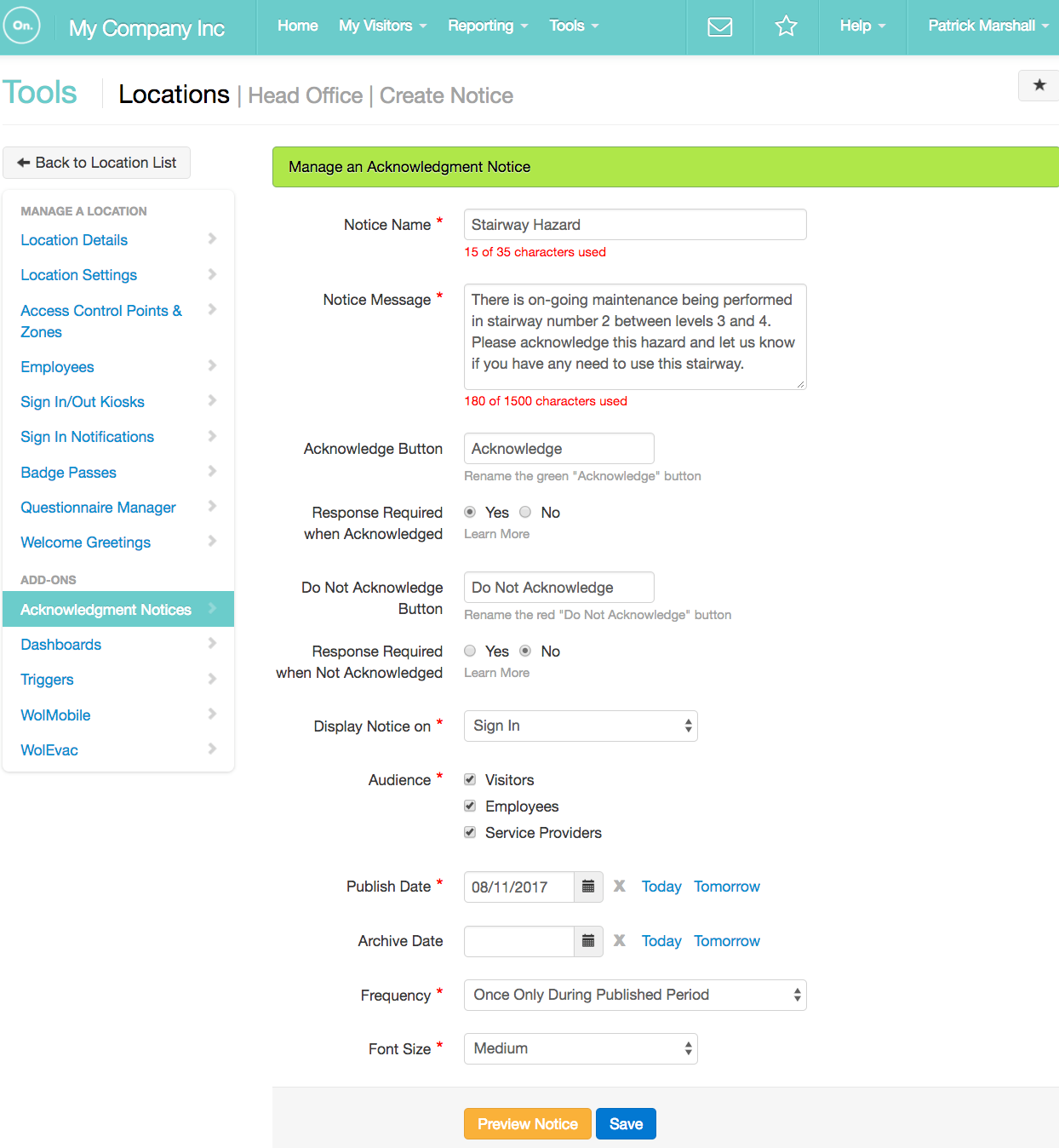 5. Enter the Notice Name – This appears as the header of the notice
6. Enter the Notice Message – This appears as the contents of the message
7. (Optional) Change the text of the Acknowledge and Do Not Acknowledge buttons – This can be up to 20 Characters
8. Choose if a Response is Required when Acknowledged – If this is enabled the acknowledger will be requested to provide more information about their response
9. Choose if a Response is Required when Not Acknowledged – If this is enabled the acknowledger will be requested to provide more information about their response
10. Select Display Notice on – Either Sign In or Sign Out
11. Select the Audience – You can select one, two, or three people types
12. Select the Publish Date – The date the notice will appear from
13. (Optional) Select the Archive Date – When the notice should be no longer appear
14. Select the Frequency for the notice to appear – Can be set to every time or only once
15. Select the Font Size – This can be Small, Medium, Large, or Extra Large. We would recommend previewing this if changed to ensure it displays correctly
16. (Optional) Click Preview Notice – This will display an on-screen preview of your Acknowledgement Notice as it would appear for the people signing in, including any request for a response enabled
17. Click Save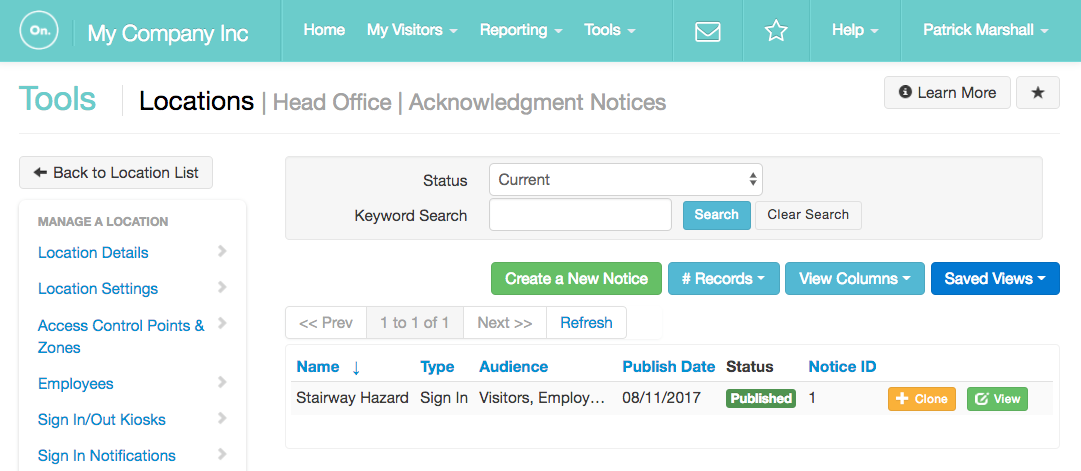 The notice will be automatically published on the publish date and archived when it has finished.
To see how people interact with your notice, have a look at the Helpdesk article Acknowledging Notices.
Archived Notices
When an Acknowledgement Notice reaches its archive date, it will be removed from the Current view and placed in the Archived view, so you can still see previous notices.
To view archived notices, change the Status filter to Archived and click Search.

You can click View to see the details of a notice and you can click Clone to create a new notice with the same details of an archived notice.
Please Note: You will need to change the publish and archive dates of the notice before saving.
You can also Delete an Acknowledgement Notice that hasn't been acknowledged yet which will completely remove it from the database. Once an Acknowledgement Notice has appeared once, it can no longer be deleted, only archived.