How to manually add a Service Provider Members. You must have the Service Provider Manager user role assigned to add organizations.
There are two different ways you can add a Service Provider Member, one at a time manually, or in bulk via CSV import. If you are only adding one or two members, it can be beneficial to do so manually. When adding a member manually you can also add extra details which would need to be added separately from a CSV import.
Please Note: To add a service provider member to WhosOnLocation, the only required information is their Name. We do recommend entering as much information as possible to keep detailed records.
How To Add a Service Provider Member
Go to Tools > Service Provider Manager.
Select Members from the left-hand menu.
Click Add Members.
Click Add a member Manually.


Enter the Profile Information. See below for more details.
Click Save & Manage Organizations to continue setting up this member.
If you want to set up multiple members' contact details only, click Save & Add Another. If you only want to enter the contact details of this member, click Save & Exit.
Profile Information
Full Name – The member's name. You must have a first and last name to add a member.
Job Title – The member's title in their organization.
Service Provider ID – Can be entered instead of a name during sign in/out on a Kiosk.
Primary Email Address – This is used for contact, sending notifications, invitations, and inductions to the member.
Other Email Address – Can be used to send an induction or for contact records.
Mobile Number – This is used for contact, sending notifications, invitations, and inductions to the member.
Phone Number – For your contact records.
Extension Number – In case an extension is needed to reach the member at their phone number.
ICE Number – The number of the member's emergency contact.
Permitted On-site From – The date the member can sign in from.
Permitted On-site To – The date the member can sign in until.
Please Note: These dates are optional, if they are blank, the member will always be considered valid.
Status of Account – The status of the member in WhosOnLocation. You can choose between Pending, Active, Inactive, On-Hold and Banned. The member must have an active status to sign into your locations.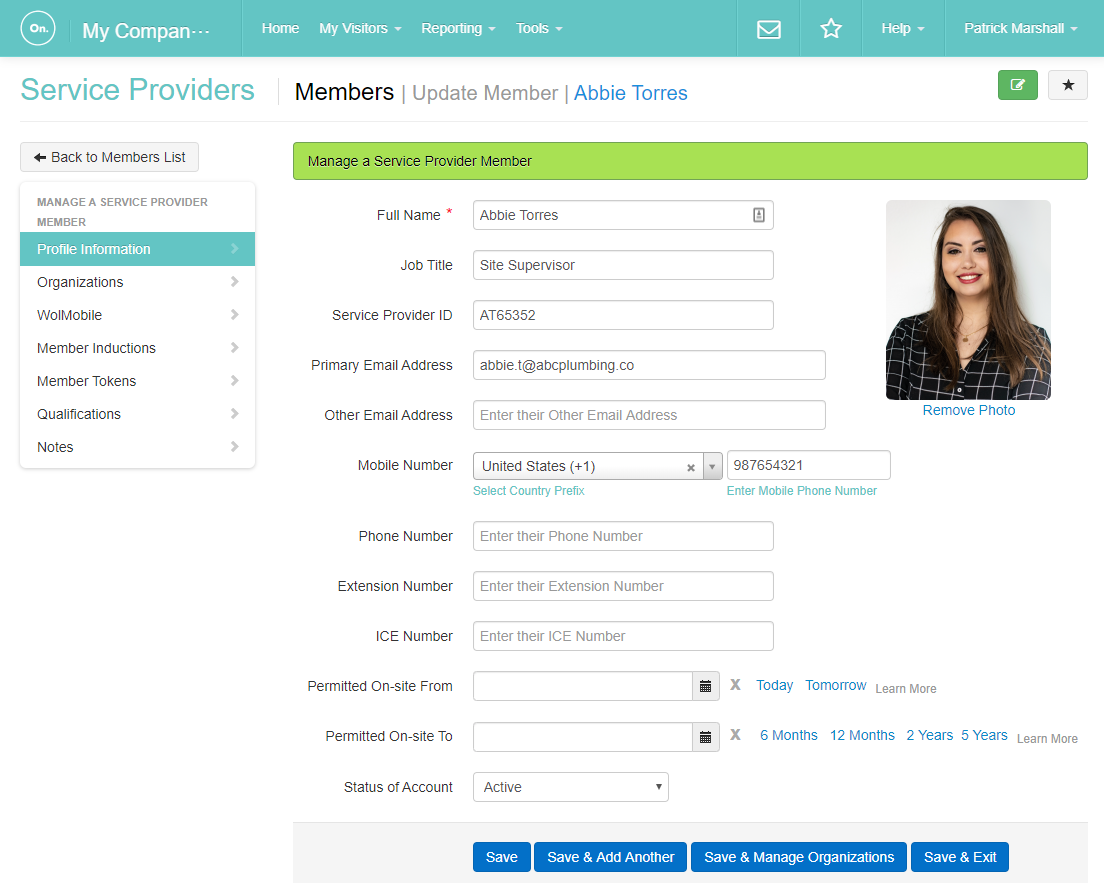 Organizations
Search for the Member's Organization and select from the dropdown menu.

Please Note: By default, the member will have the same access permissions as the organization and no Organization Roles assigned.
To change the member's location permissions from the default:
Click Location Permissions.


Select the location(s) the member should have access to.
Select the level of access, always or temporary.


(If temporary) select the date range they have access during.


Click Close.
Organization roles are optional but can be used for several purposes. Click here for more details on these roles.
To add organization roles for the member:
Click Organization Roles.


Select the member's roles.


Click Close.
You can assign a member to as many organizations as required and customize location permissions and roles for each organization. Repeat the above to add multiple organizations and when you've finished, click Save.
All other options from this point are only available with the relevant Add-on enabled except Notes.
WolMobile
You can send an individual member a WolMobile URL and code from this section, giving them access to the WolMobile app for signing in and out of WhosOnLocation.
A service provider member can only access the WolMobile app once they have been sent their WolMobile URL/code, so if you are setting your members up with this ability you should send the URL now.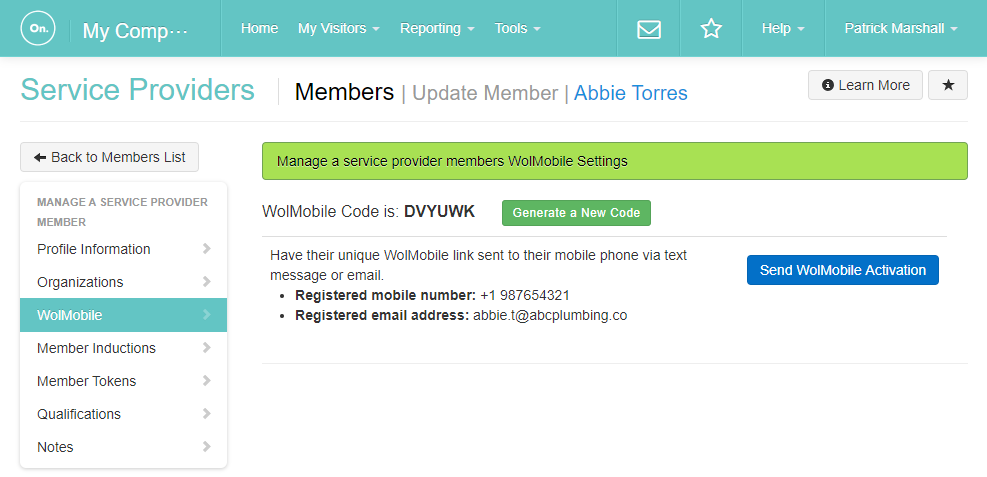 To send the WolMobile URL/code, click on the Send WolMobile URL button and select either Send via Text Message or Send via Email. The member will need to have the corresponding information set up in WhosOnLocation to receive the message.
Member Inductions
In this section, you can add inductions to the member's profile as long as you have the Induction Manager user role assigned and the inductions are set up in the Induction Management section of WhosOnLocation.
Click here for more information on inductions in WhosOnLocation.

If you do not have any inductions set up in WhosOnLocation, you cannot add them to the member's profile.
Member Tokens
Add any tokens to the members profile to allow for easy sign in/out through scanning. The tokens are the numbers associated with the barcodes which are scanned to sign in or out of a location. The token types are used for categorizing the different tokens a service provider can use, these are set up in Identity Manager.
To add a token to the Service Provider Member's profile:
Click Add Token.



Choose a token type.
Either enter the number manually or scan the associated barcode/QR code to enter the number.
(Optional) Add an issue and expiry date.
Click Save.
Qualifications
Add any qualifications that are relevant to the service provider. Qualifications are set up in Qualifications Manager and then added to each individual service provider's profile as required.
Qualifications can be used to deny entry to locations if they are expired and can be required before being allowing Service Providers to undertake certain jobs.
The only required field to add a qualification to a member's profile is the name, everything else including documents is optional. To add a qualification to a Service Provider Member's profile:
Click Add Qualification.



Choose the Qualification from the dropdown menu. You can use the Filter By Type option to narrow down the dropdown menu results.
Enter the Qualification Number.
Enter the validity dates of the qualification.
Click Save & Next.
Upload any documents associated with the qualification from your computer.


Click Save & Close.
Notes
Please Note: Notes are not an Add-on, they come enabled for every account.
Add any Notes about the Service Provider Member for your records.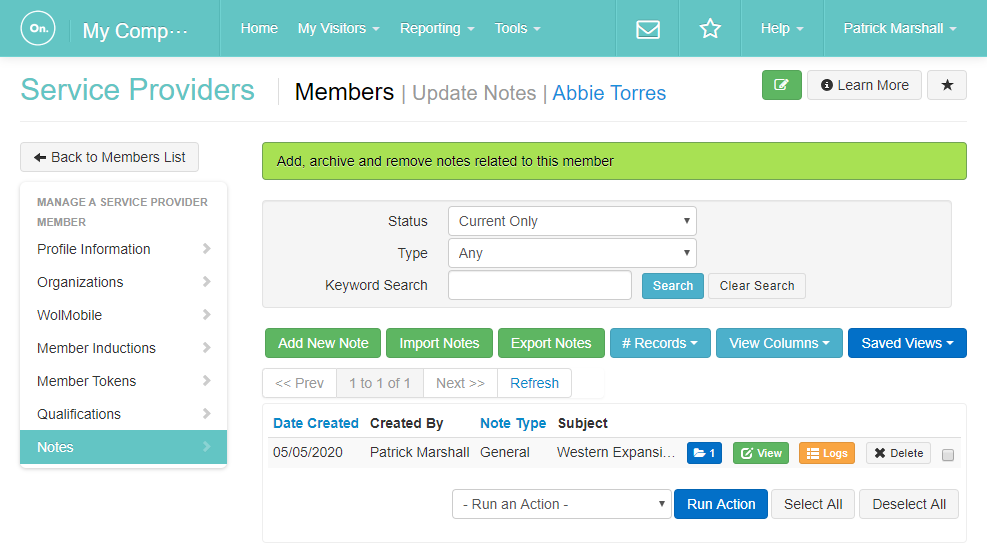 There are two methods to enter notes, manually one-by-one or in bulk via CSV import
To enter notes manually
Click Add New Note.


Select a note Type from the dropdown list.
Enter a Subject.
Enter the Note.
Click Save.
Please Note: You can also add a new note anywhere in the organization's profile by clicking on the new note icon.
To enter notes in bulk:
Click Import Notes.
Download the Import Note Template by selecting the link.



Save the file to your computer.

Enter the notes' details.





Please Note: When adding notes via CSV import, you will need to ensure that your Note Type is one of the options in the same dropdown list or the file will not import.

Save the file using the CSV UTF-8 file format for the best results.
Click Select CSV File.


Select the file from your computer and click Open.
Click Import Notes.


Other Actions
You can edit a note by clicking View next to it, adjusting the details, and clicking Save. This will be recorded in the note's logs.
You can remove a note by clicking Delete next to it, or using the checkbox to select it and the Run an Action Menu to delete multiple notes at once.
You can view the changes made to notes by clicking the Logs button.
You can export a CSV file of notes by clicking the Export Notes button.
The Service Provider Member will be saved in your member list. You can edit any of these details at any time by searching for the member using the search fields and clicking View next to their name.