How to update your default Policy Types List. You must be a Service Provider Administrator to be able to access Insurance Settings.
Having a fixed list of insurance policy types gives you more control of the information being entered in WhosOnLocation. It avoids double-ups and spelling mistakes, controls naming conventions, and it keeps information more organized. This list can be managed from the Insurance Settings.
Policy Types are used when adding policies to a Service Provider Organization's account.
Managing your Policy Types
1. Go to Tools > Service Provider Manager
2. Select Insurance Settings from the left-hand menu
You will land on the Policy Types tab. Here you can rename, remove, or add new policy types.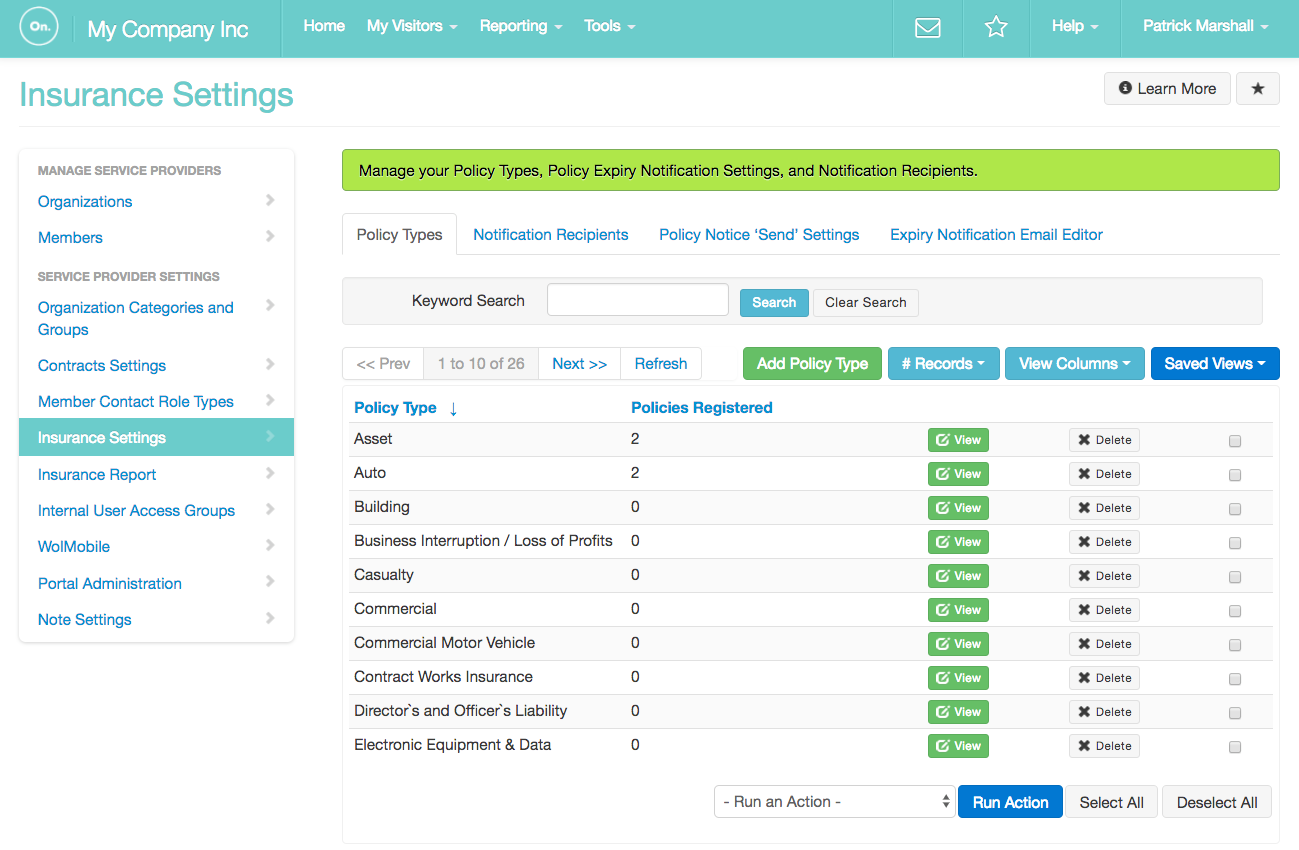 To rename a Policy Type, click the green View button next to the type, edit the name, and click Save.
To remove a Policy Type select the Delete button alongside the type and click Remove on the confirmation.
Please Note: You cannot delete a Policy Type if it has been assigned to one or more policies.
To add a new Policy Type click the green Add Policy Type button found above the list of Policy Types, enter your new Policy Type Name, and click Save.
Every account comes with 26 default policy types. These are fully customizable and should be adjusted to meet your needs where required. The default types are:
Auto
Asset
Building
Business Interruption / Loss of Profits
Casualty
Commercial
Commercial Motor Vehicle
Contract Works Insurance
Directors' and Officers' Liability
Electronic Equipment & Data
Employers Liability
Employment Disputes Insurance
Errors & Omissions Indemnity
General
Health
Liability
Material Damage
Machinery Breakdown
Marine Cargo (including transport by sea, air, road and rail)
Professional Indemnity
Public Liability
Statutory Liability
Sub-Contractors / Labour Only Payment Guarantee
Tools, Plant and Equipment
Workers Compensation Insurance
Other