Learn how to activate and deactivate the panic alarm in the Sign In/Out Manager screen. You need the Sign In/Out Manager user role to access this screen.
How it works
A panic alarm can be triggered from Sign In/Out Manager. To use this feature, an Administrator must enable this setting for your location.
Any user with the Sign In/Out Manager user role can trigger the panic alarm from this screen. All panic alarm notification recipients will immediately be notified that they require assistance.
A Sign In/Out Manager must deactivate a panic alarm regardless of whether it was activated at the kiosk or in Sign In/Out Manager.
Trigger a panic alarm
Go to Tools > Sign In/Out Manager.
Click the More actions menu in the top-right corner.
Select Panic Alarm.



A pop-up box will appear informing you of how many people will be notified when the panic alarm is activated. If you are using multi-language, this will appear in the selected language.
Click Activate Now.


The panic alarm icon will appear in the top toolbar. The pulsing icon indicates that your panic alarm is active.

Panic alarm notifications
Your Panic Alarm Responders will receive the panic alarm notification via email and SMS depending on how you configured your Panic Alarm Responder settings.
The email and SMS will contain information on the organization, location, and access point the panic alarm alert was activated at.
If you are using the multi-language add-on, the notifications are sent in English.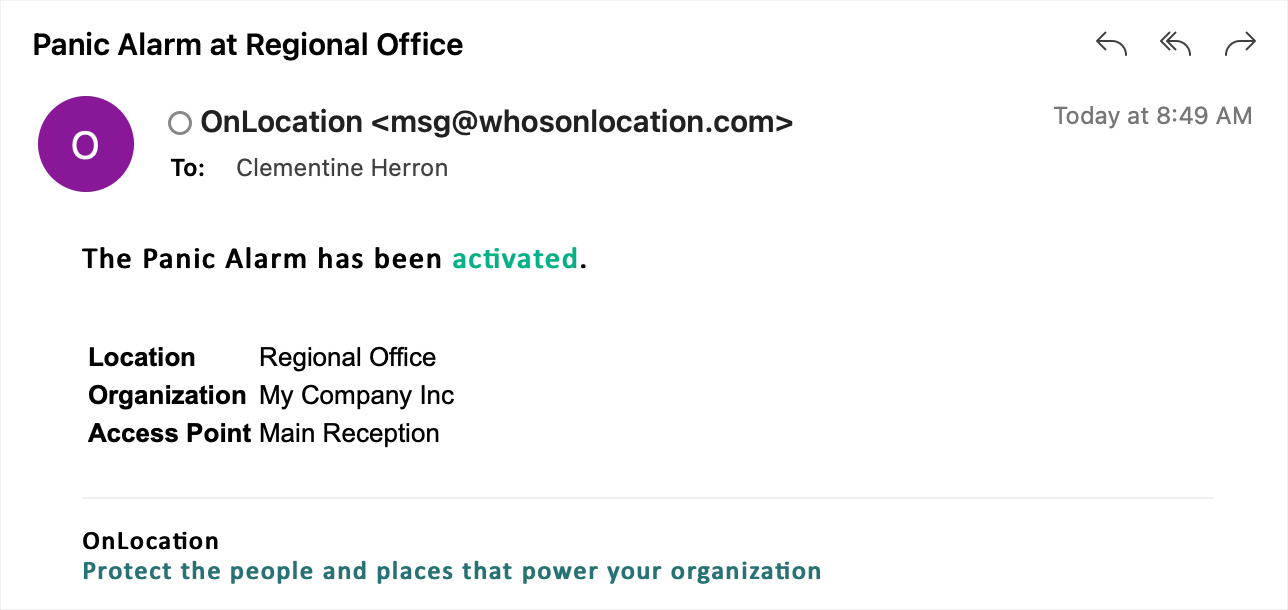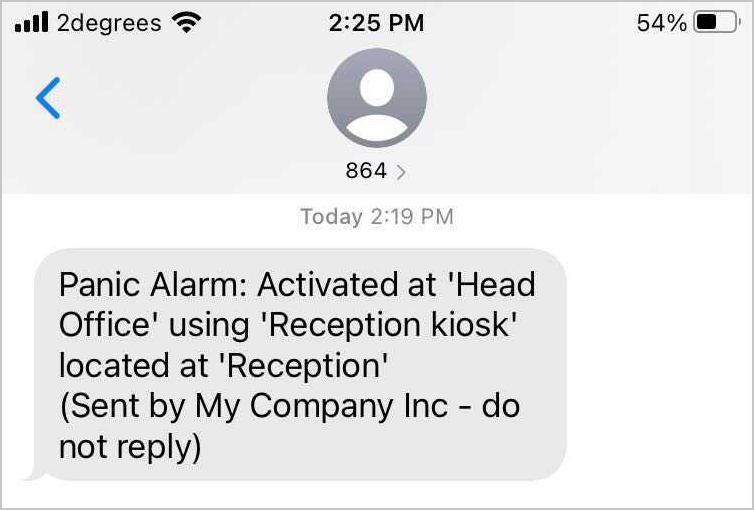 Deactivate a panic alarm
Once a panic alarm event is over, deactivate the panic alarm.
If enabled, the Panic Alarm Responders will get a notification informing them that the panic alarm event is over. This is enabled by the Administrator of your location and is most useful if you have a large organization where multiple responders may be coming from a distance. Another responder may resolve the event before they arrive.
It is important to deactivate the panic alarm promptly as the activation and deactivation date and time are included in your Panic Alarm Report.
To deactivate the alarm:
Select the pulsing panic alarm icon in the toolbar.
Click Deactivate Panic Alarm Event.


Click OK to confirm.
Your panic alarm event is now finished, and any notification recipients will be informed.