Send pre-registered visitors an OnPass email confirmation. Customize the information that is shown in the OnPass and enable it for specific locations.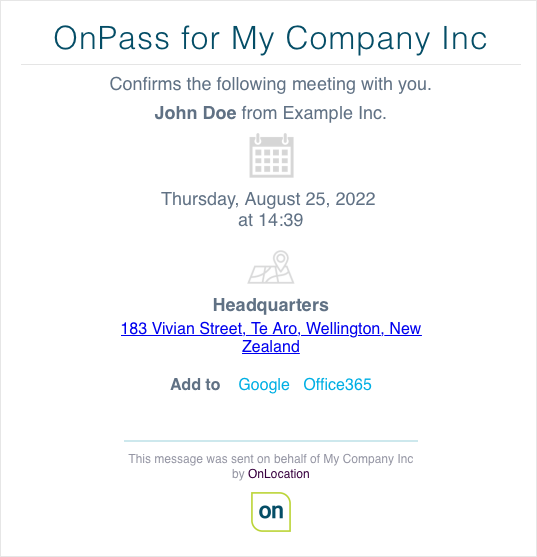 About OnPass
OnPass is an email meeting confirmation sent to pre-registered visitors. It can include key information like the date, time, host name, contact details, location, and your guests can easily add the invite to their calendars.
Once you've enabled the add-on, choose which information you would like to include in the email. This information can be customized for each location using OnPass.
OnPass are sent using your location's default language. To change the default language, your Account Owner must enable the multi-language add-on.
Set up OnPass
Here's how to set up OnPass:
Your Account Owner enables the OnPass add-on in your account settings.
They assign the OnPass Manager user role to the employee who will manage the OnPass settings.
The OnPass Manager activates OnPass for each location that requires it.
An Administrator for a location or the OnPass Manager sets up the OnPass email template for each location.
(Optional) Your organization can set up visitor pre-registration questionnaire invitations and/or the calendar invites integration to send OnPasses automatically.
Next step
: Once set up, employees can
send an OnPass
to their guests when completing visitor pre-registration.