You must be an Administrator to enable this option.
Photo capture is useful for many reasons including providing extra security by being able to match a face to a name, extra customization for badge passes by including the photo on the pass, and better visibility to hosts by sending an image of their guest through email when they sign in.
You must enable this option to take photos of visitors, service providers, and employees from Sign In/Out Manager and kiosks set up in this location.
Activate Photo Capture
Go to

 

Tools > Locations.
Select

 

View next to your location.

S

elect Questionnaire Manager from the left-hand menu.

Select the Basic Questions Visitors, Basic Questions Service Providers, or Basic Questions Employees tab, depending on who you want to enable this option for.

Select the Photo Capture tab.
Select Activate.

(Optional) Select Answer Share if you want the visitor or service provider's photo to be included in the Arrival Notification to their host.

Select your Photo Capture Frequency.
This sets how often the photo will be taken for returning persons, a photo will be kept on file for future use for as long as the Photo Retention Policy states
Select your Photo Retention Policy.
This sets how long the person's photo remains in our database for future reference. This cannot be set to less time than the Photo Capture Frequency
(Optional) Select Privacy Statement if you want to include a disclaimer to display below the photo capture.
You can edit the disclaimer in the text box to align with your company policy.

Click

Save

.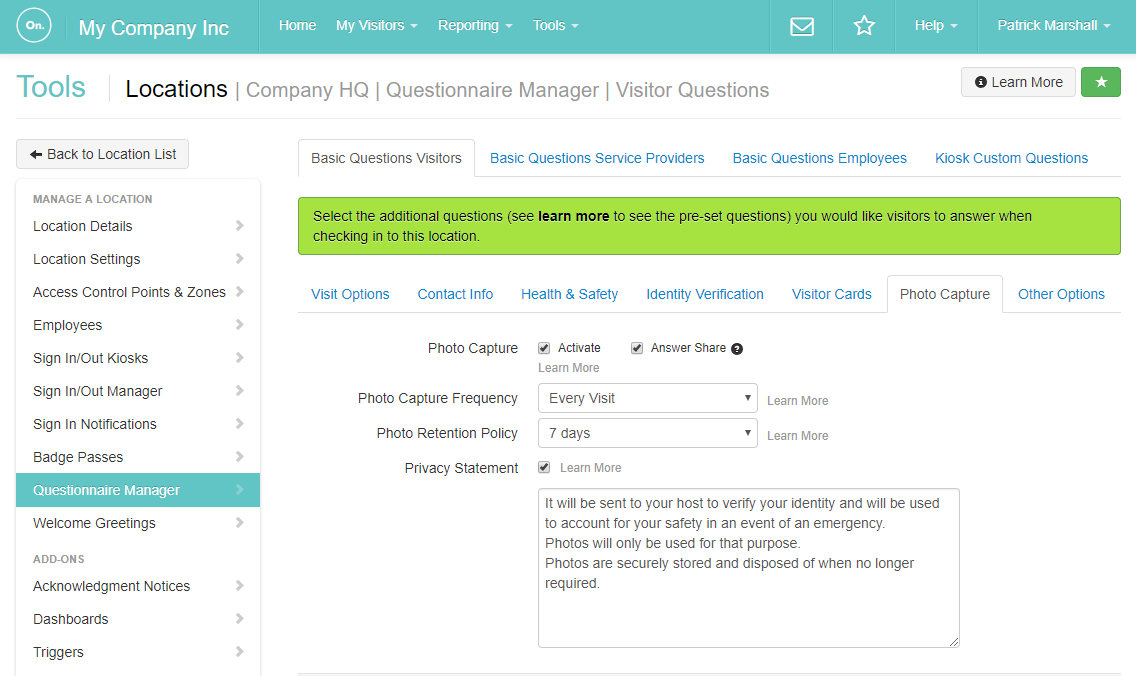 Photo Capture will now be live and automatically required as often as set in the frequency for the Sign In/Out Manager.
To set up Photo Capture for your kiosk, please have a look at our Helpdesk article Enable Photo Capture on a Kiosk.