Add multi-language translations and select the text to be translated. You need the Administrator user role to access these settings.
When using the multi-language add-on, most text in your kiosk and Sign In/Out Manager will be translated automatically. However, some fields are customizable or can be added by your Administrator. If you add or customize a field, it will need to be translated to all chosen languages to ensure continuity and accuracy.
Add translations
When using multi-language, you can add/edit translations using the Edit Translations button available in all sections using custom text. To add/edit available translations:
Click Edit Translations. A translation widget will pop up on-screen.
Select the Language to translate.


Enter the translations.


Multiple related fields may be included in the same translation widget. The section below specifies what fields are included in each widget.

Click Save Changes.


What to translate
All areas where you can enter custom text can be translated.
Not all features will be used on your kiosk and/or Sign In/Out Manager. If a feature is not used, it does not need translating.
Location zones
If Area/Zone Selection is enabled the names of your zones and zone groups will be displayed as options to select and translate.
Click Edit Translation next to each zone or zone group you want to translate.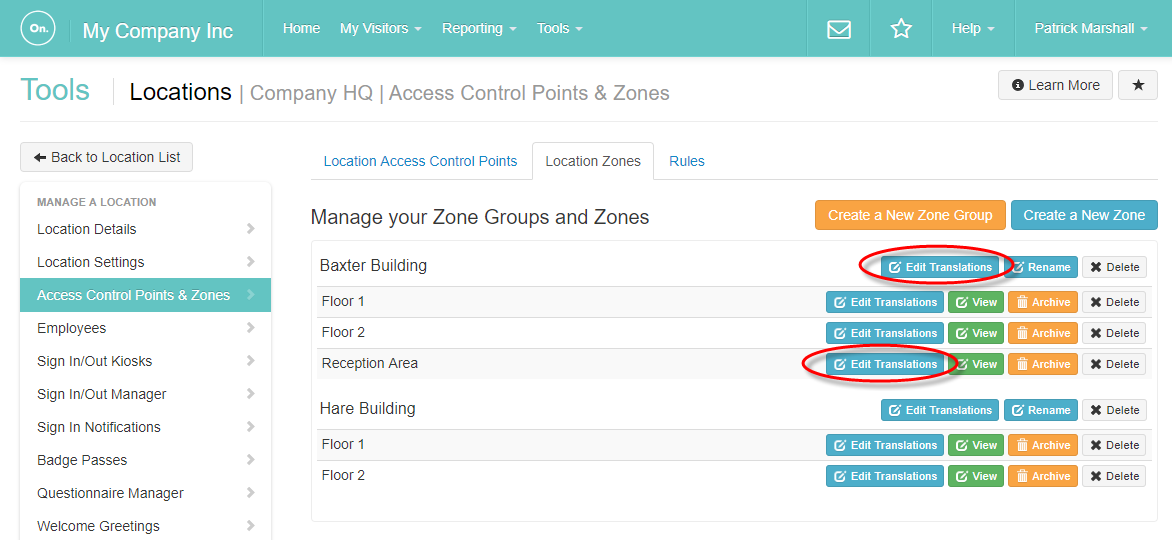 Welcome greetings
If enabled, welcome greetings are displayed at the end of the kiosk sign in process before a badge pass is printed.
To edit your welcome greetings, click Edit Translations. All greetings are displayed in the pop-up which includes tools to format the look of the translation correctly.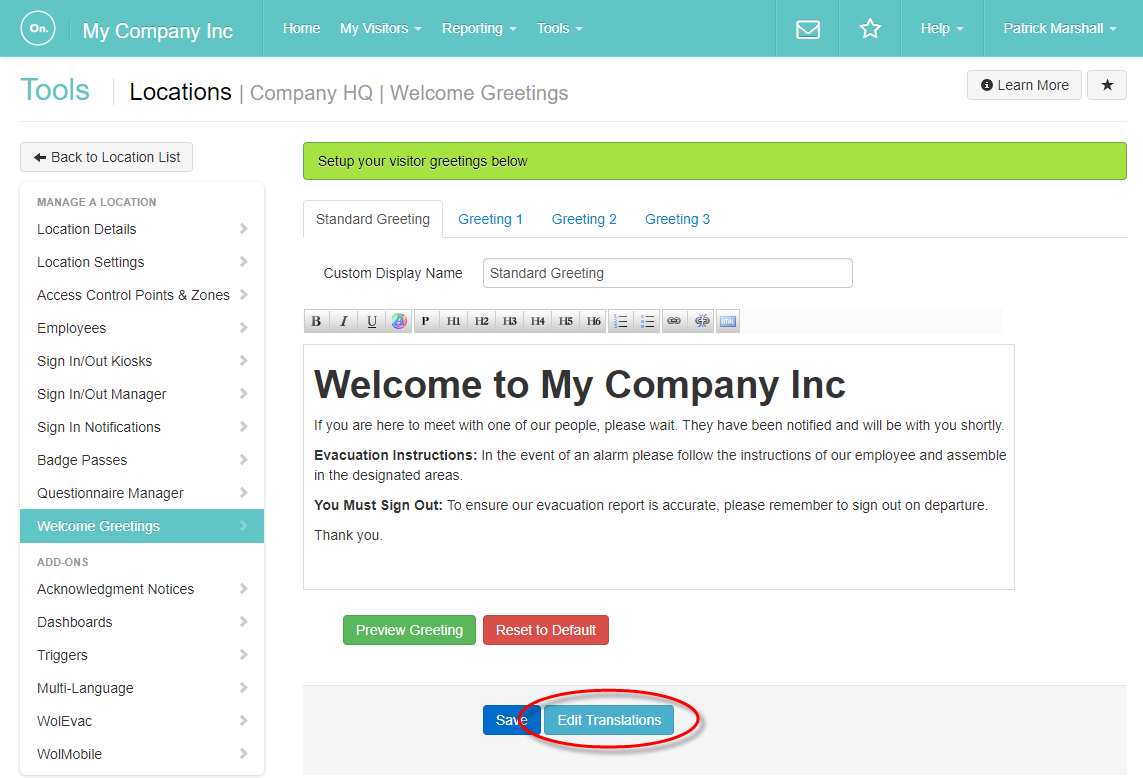 Questionnaire Manager
There are two types of questions in Questionnaire Manager; basic questions and kiosk custom questions, the translations for each are managed differently.
Basic questions
Most basic questions are translated automatically, those which have customizable text or options need to be translated manually.
There is a different Edit Translation button and widget for visitor and service provider tabs. To edit the basic question options for the person type you are viewing, click Edit Translations.
The basic questions that need to be translated manually are:
Visitor Identity Verification the message displayed asking visitors to have their identification verified.
The Purpose of Visit option can be asked for visitors and service providers with customizable options.
The Photo Capture Privacy Statement can be displayed for all person types, informing them of your photo capture privacy policy.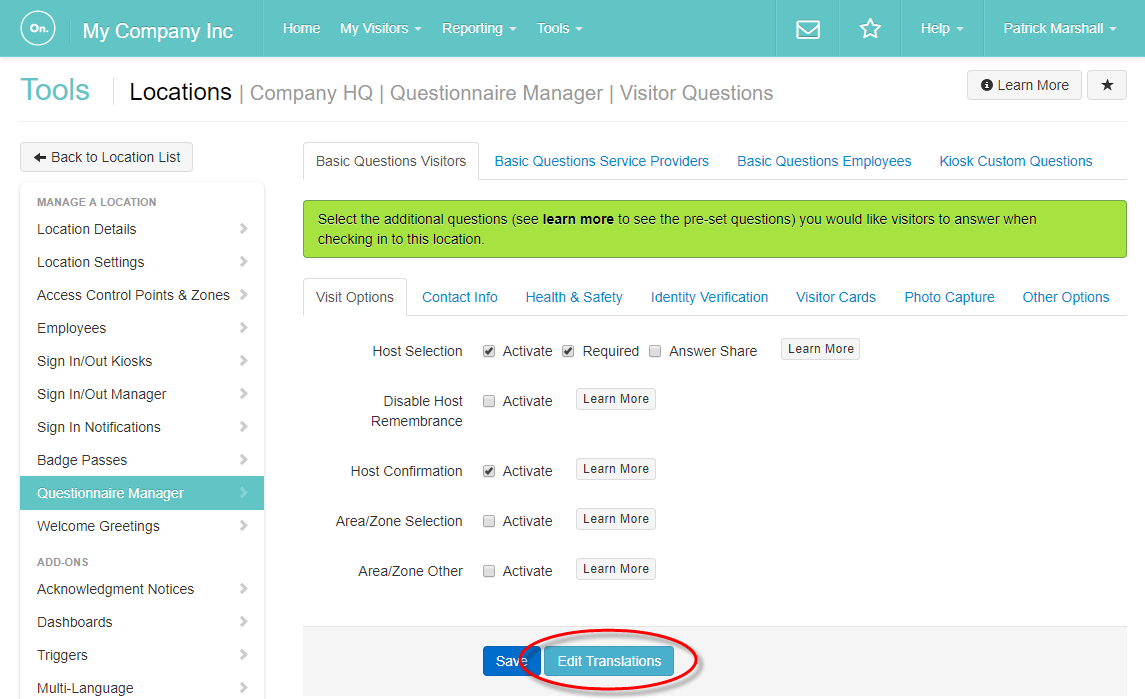 Kiosk custom questions
Each question in every custom questionnaire needs to be translated individually. This is because there are many variables in each question. The translation widget appears differently for each question type.
To add/edit a translation for an existing custom question:
Go to Questionnaire Manager > Kiosk Custom Questions.
Click Manage next to the custom questionnaire.
Click Edit Translations next to a question.

To add translations to a new question; create and save the question, then add the translations.
Sign in/out kiosks
There are two places in the kiosk setup that can have customizable text, they will need to be translated if you use them:
Deliveries – The Delivery Types and Delivery Agent Instructions can be translated.
Layout – The display names of the person types, information/instruction on the kiosk home screen, and organization name if no logo is enabled, can be translated.
To edit these, click Edit Translation from any page in the kiosk setup.
Sign In/Out Manager
If Deliveries is enabled for your Sign In/Out Manager, you can translate the available Delivery Types.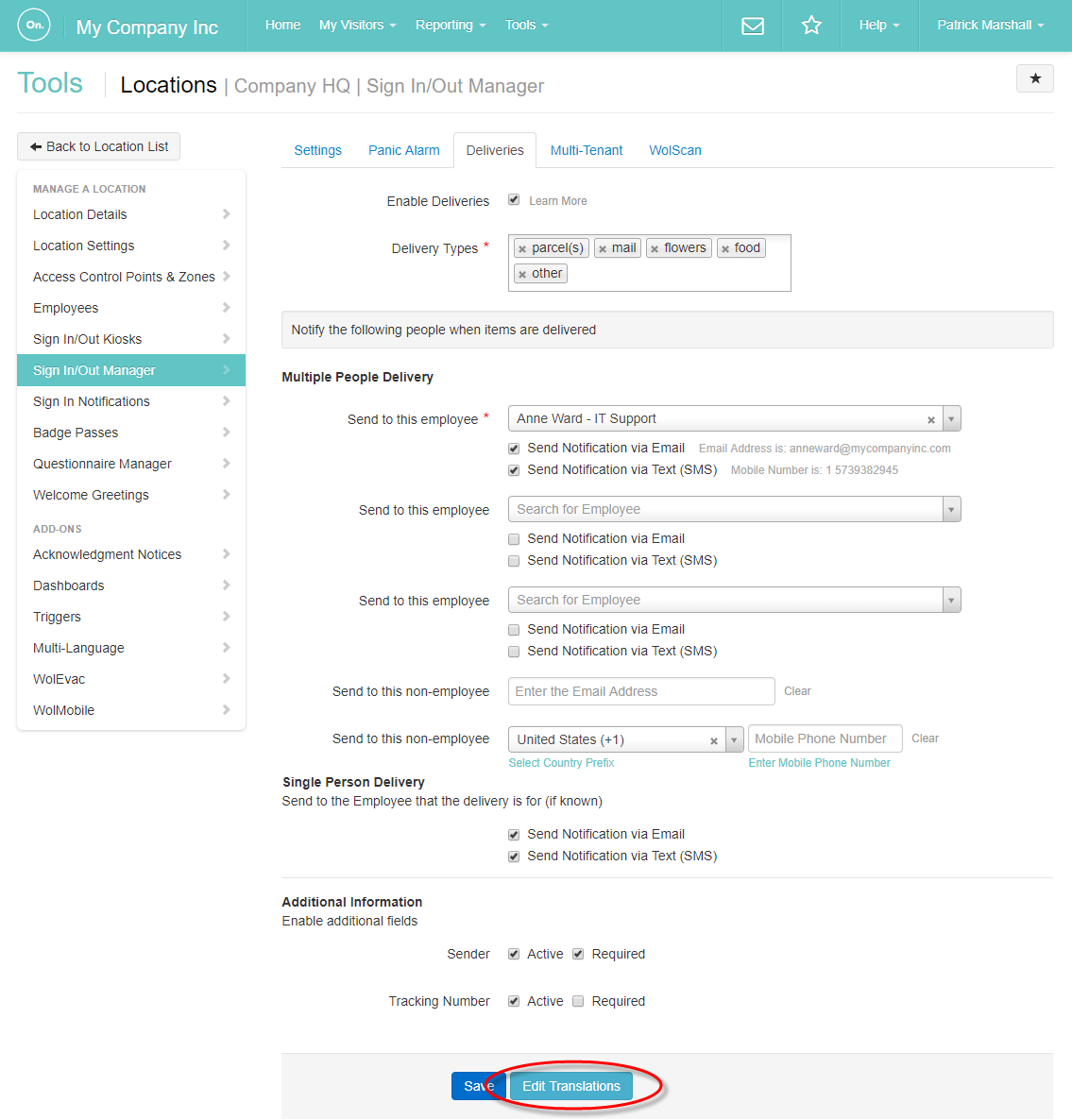 To edit these, click Edit Translation from the Deliveries tab in the location's Sign In/Out Manager settings.
Translation FAQ
Are the visitor arrival notifications translated?
Yes, system generated arrival notifications for both visitors and contractors are translated into the default language for the location.
What is automatically translated?
All basic questions available in the Questionnaire Manager
The Sign In and Sign Out buttons
The Next, Previous, Cancel, and Acknowledge buttons
The sign in/out confirmation message
The entire Sign In/Out Manager interface, including visitor sign in process and more actions
Is anything not translated for the kiosk?
Yes, we do not translate the kiosk setup process, menu, or the menu options.