Employees, contractors, visitors, and delivery agents can sign in or out of your location by scanning the QR code on the poster. A QR code poster is set up as an individual sign in/out kiosk with settings specific to the poster.
If you've got a sign in/out kiosk already set up at your location, you might like to add a QR code poster to cover any other entry/exit points or zones. Employees, contractors, visitors, and delivery people can all sign in and out by scanning the QR code on the poster. There is no additional cost for using a QR code poster.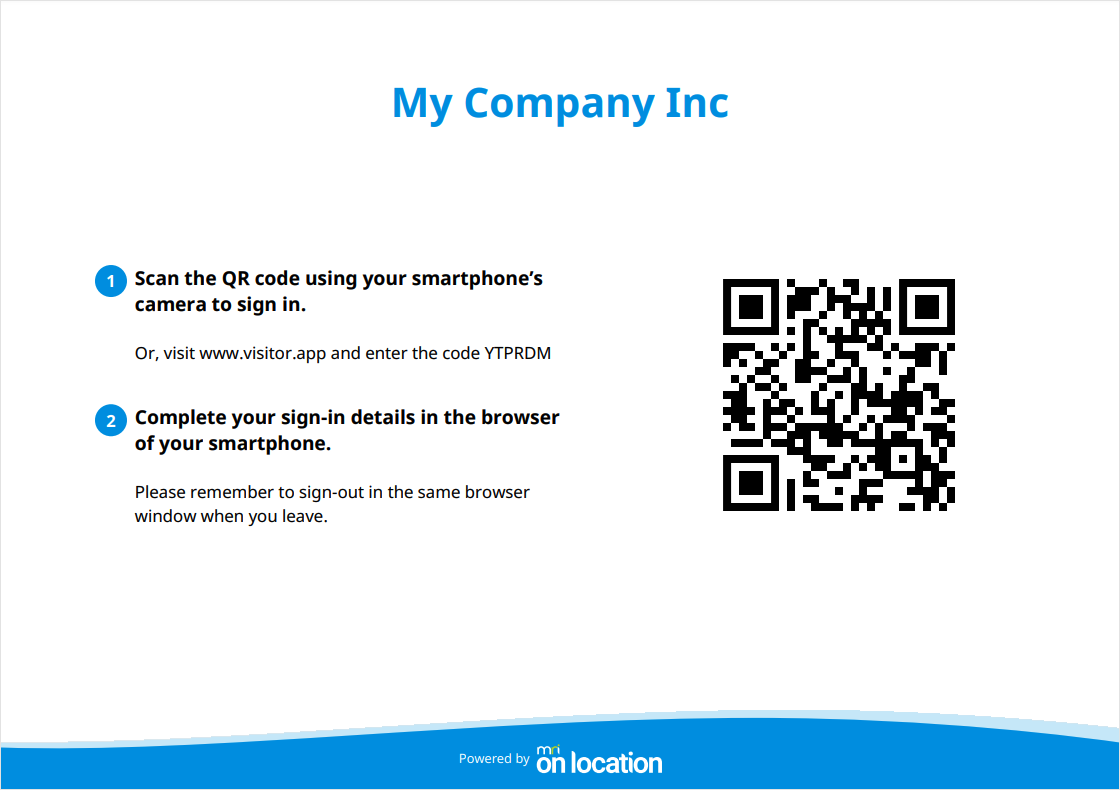 How QR code posters work
A QR code poster is set up as a separate kiosk. It will record sign in/out activity independently from any other kiosk at your location. If you have a touchless kiosk already set up, the QR code on the poster will be different from the QR shown on your other kiosk.
The QR code poster works the same as any other sign in/out kiosk. You can choose who can use the kiosk, configure arrival notifications, set up badge pass printing, add custom questions, and more.
When people arrive on-site or in a zone, they:
Scan the poster's QR code with their smartphone
Click Sign In on their web browser
Enter the required details and answer any custom questions.
When they leave the site or zone, they'll click Sign Out on the same browser window. If they have closed this window, they can scan the QR code again to open it.
Poster security
To help keep the sign in process secure, we recommend regenerating the QR code and creating a new poster every month. You can do this in the Layout tab of the kiosk. You can also monitor when and who generated the last QR code. The poster QR code does not change automatically like with a touchless kiosk.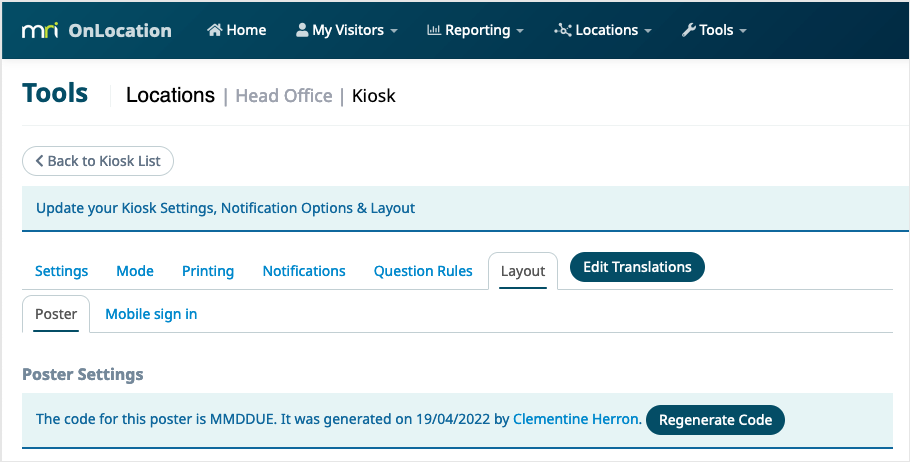 When an employee or guest scans the poster QR code, they must:
Start signing in on their phone within five minutes
Complete the sign in process within one hour
Once completed, the sign out page on their phone's browser is active for 24 hours.
If you need to sign in multiple people, you'll need to do this one person at a time. Scan the code, complete the sign in process, then repeat for each person.
Monitor who has signed in
As the QR code poster is set up as a kiosk, you can monitor who is using it by viewing the People Presence report.
The name you added in the kioks settings is shown in the Signed In By and Signed Out By columns. You may need to click the View Columns button, then select these fields to view them in your report.
Set up a poster
To set up the poster and mobile sign in, an Administrator will need to add a new kiosk and select QR code poster as the device. You can then customize the kiosk settings so it works with your location's requirements.
You can use the same poster for different entry points but we'd recommend setting up separate posters for each. If you have separate posters, you'll have a clearer record in your People Presence report of where they signed in.
There is no limit to how many posters you can set up but you may like to limit the number so it's simple to regenerate the QR code and replace the posters regularly.