Learn about the different attributes of a contractor organization that you can set up in MRI OnLocation. You must have the Contractor Manager user role to access this feature.
About contractor organizations
A contractor organization is any company that employs people who come to your location as part of their work and aren't employed by your organization. Contractors can be anyone from cleaners to builders to suppliers to temp workers and anyone that performs services for your organization and needs to sign in to your locations.
There is a lot of different information you can store in OnLocation about a contractor organization. A lot of this data can be used to manage these contractors and their access to your location, keeping safety and security at the forefront of your organization.
If you need to record information that is not included in the default profile fields, add custom fields in Contractor Manager before adding or updating your organizations.
---
View an organization profile
Go to Tools > Contractor Manager.
Click Organizations in the menu on the left.
Search for the organization, then click View next to their name. 


Update the organization's profile.
Profile information
These are the details of the organization; they include contact and business information. The only required default fields when adding a contractor organization are Organization Name, Trading As, and Status of Account. If you have added mandatory custom fields, you'll also need to complete them before saving the changes. 
For an organization to have access to your locations, the status of their account needs to be active. When first adding an account, the status defaults to pending. You can then change this to active, inactive, or on-hold.
Inactive, pending, and on-hold statuses prevent access to your locations. You can use these to manage your organizations in any way you want. 
The Organization Owner is the person who manages the relationship with this contractor organization. This is used completely internally only. It is to record the person in your company that is the point of contact for that organization. Only Contractor Managers can be Organization Owners.
If you have added custom fields for contractor organizations, you may have extra fields to complete or tabs to click through.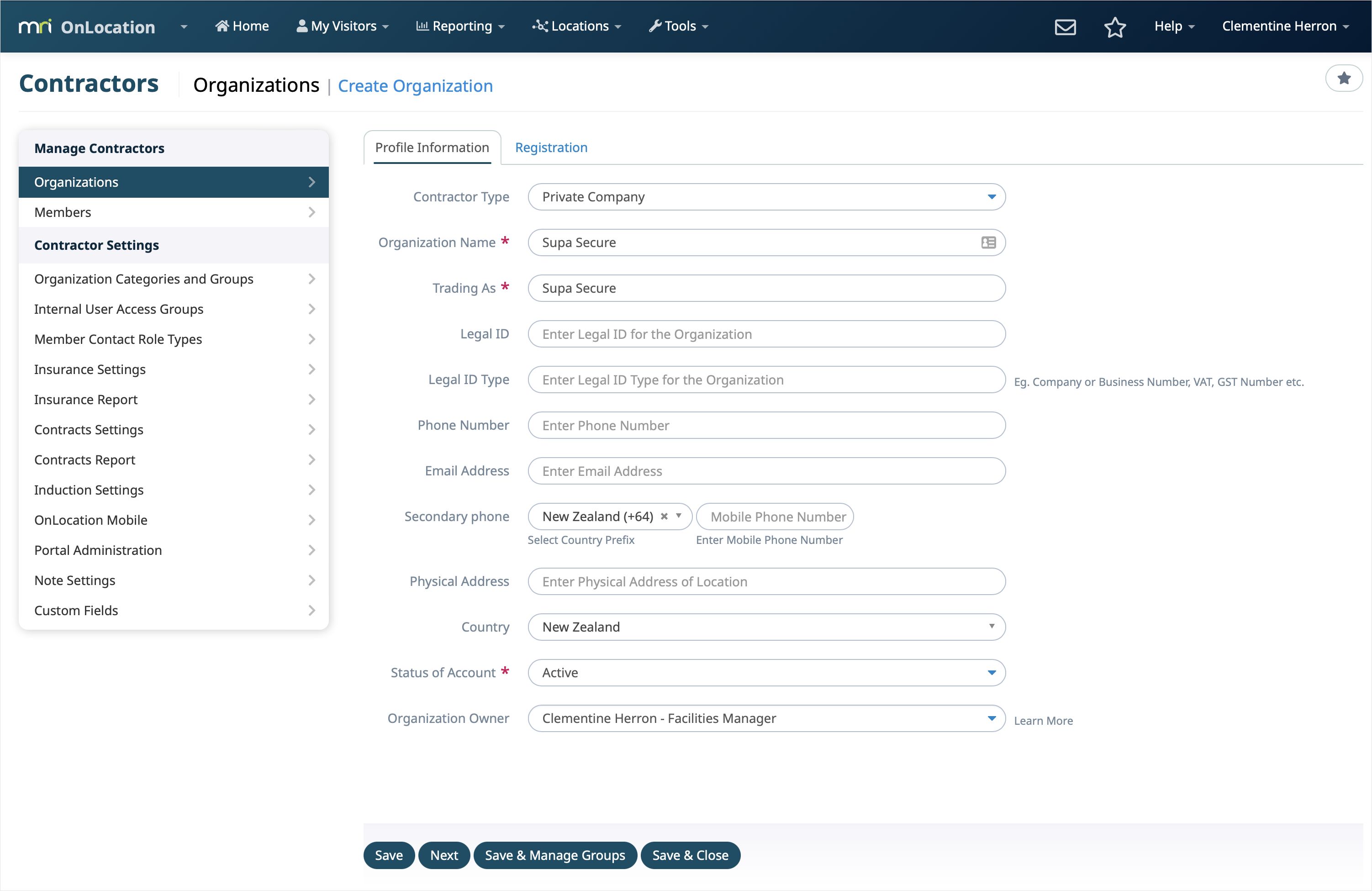 Categories and groups
Categorize your organizations to make reporting, inductions, and access easier. You can group organizations by the type of work they are doing, the areas they need to access, or any other grouping. You can organize your categories and groups in any way that you want. This is completely customizable.
The options for Categories & Groups are set up in the Contractor Manager under Organization Categories and Groups in the left-hand menu.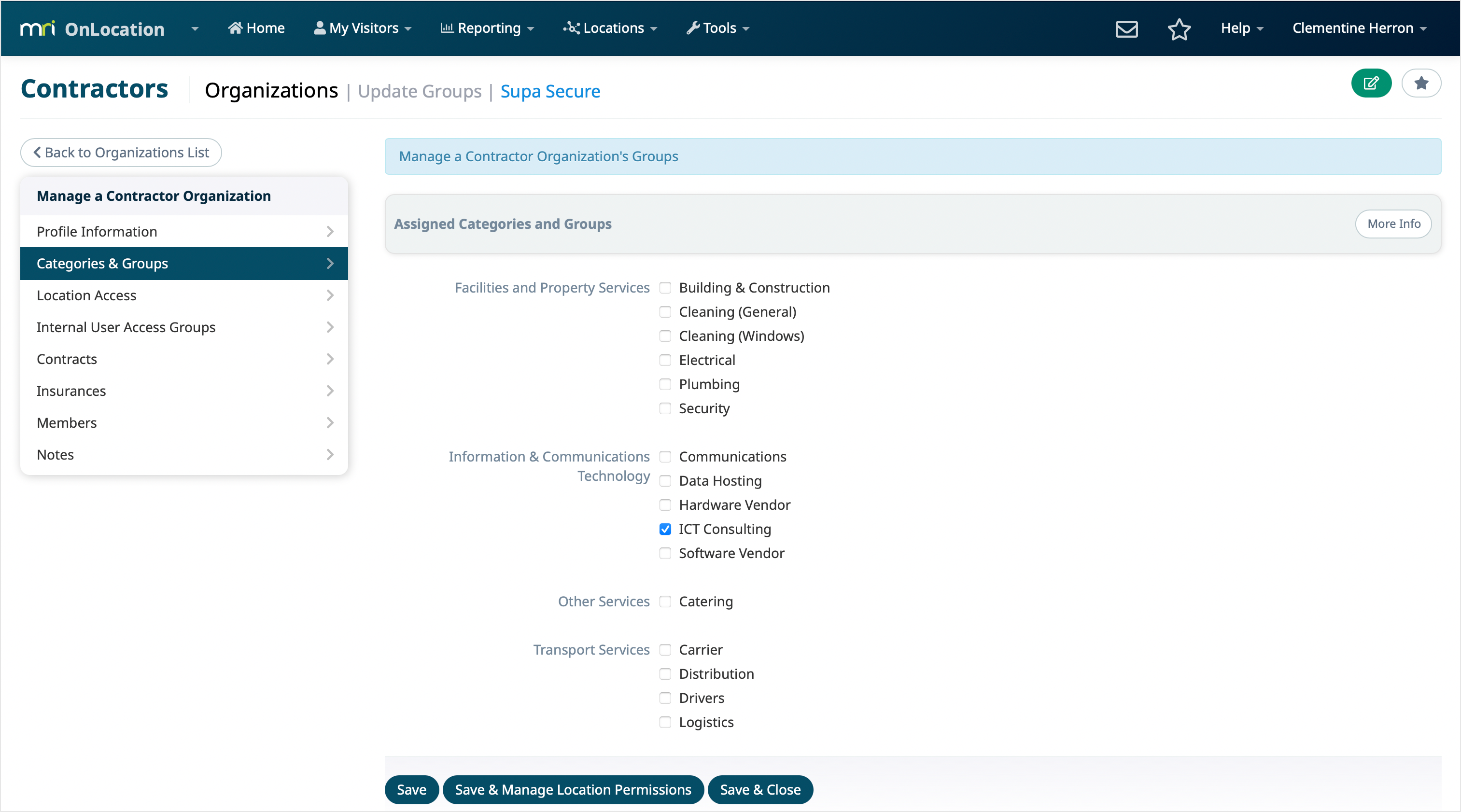 Location access
The locations that members of this organization can access by default. A member can only access the locations the organization has permission for. They cannot be granted access to more locations than the organization.
Three permission statuses can be applied to an organization:
Not Permitted – Doesn't have access to the location.
Permitted – Has permanent access to the location.
Temporary – Has access to the location for a set period.
If using temporary, you will need to enter the date range the organization has access to the location. Temporary access can only be granted manually, not from CSV import or run action.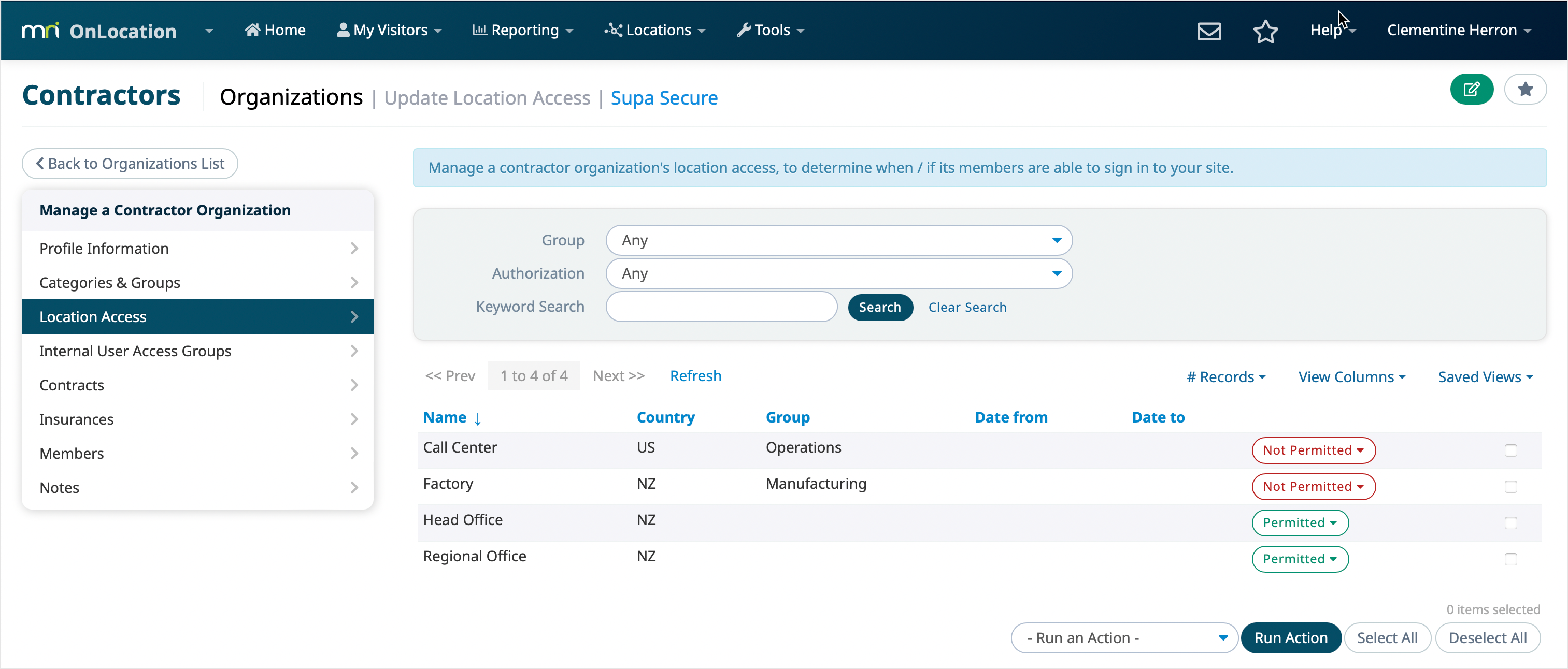 Internal user access groups
These are groups for organizations to be sorted into for the use of managing them from inside your organization. You can assign the Contractor Coordinator role to a user giving them access to specific Internal User Access Groups only. This means they can only manage the contractors that fall into this group.
A contractor can belong to as many Internal User Access Groups as required. The options for Internal User Access Groups are set up in the Contractor Manager from the left-hand menu.
To add or remove an organization's Internal User Access Groups, use the Yes/No switch next to the required group. The group will automatically be added to the corresponding section.

Contracts
This is an area to record an organization's contracts with your company. You can enter details of how much a contract is worth, when it expires, and upload documents, among other things.
Before adding a contract, you must ensure the contract type has been set up in your account's contracts settings.

Insurances
This is an area to record an organization's insurance policies. You can enter details of how much a policy is worth, when it expires, and upload documents.
You can add an insurance policy manually or import a CSV file of insurances for that contractor.
Before adding an insurance policy, you must ensure the policy type has been set up in your account's insurance settings.

Members
These are the contractor members that belong to this organization. You can manage the members from this section or from the overall contractor member list, the difference being that this section only contains the members of this organization.
You can only add members manually from this section and you must add them to the system with their details before you can add any additional settings like certifications or inductions.

Notes
In this section, you can view and create notes about the organization which may be relevant to your records.
Each note has a type, subject, and note contents to help differentiate what each note is for at a glance. And every note has logs of when it was created and edited and by who.
You can add notes manually one-by-one, or add multiple notes for an organization via CSV import using the template provided in the Notes section.