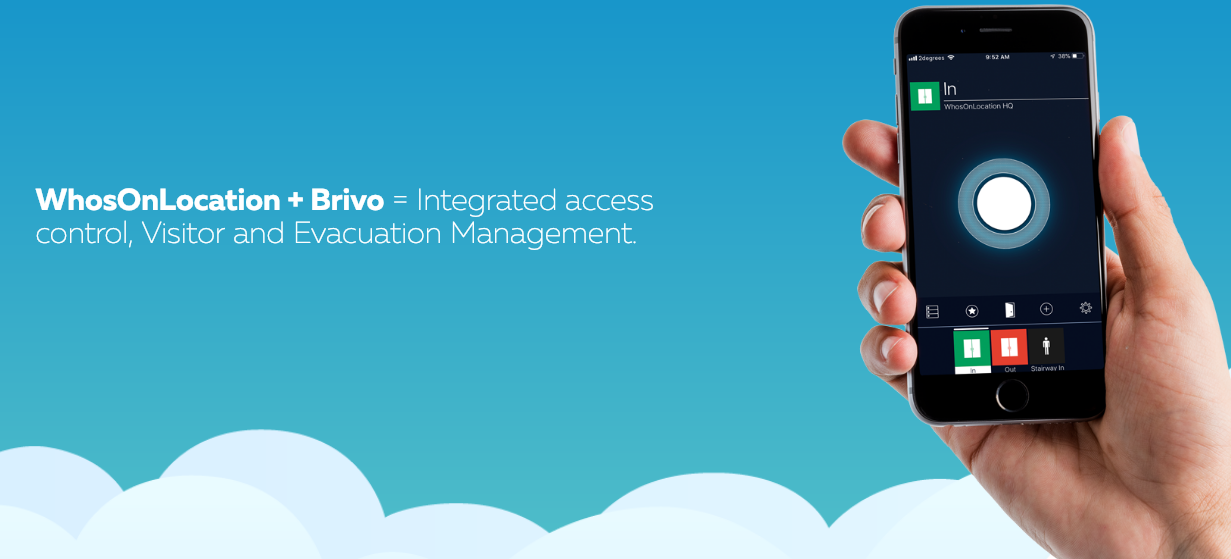 WhosOnLocation is a cloud-based application that enables organizations of any size to track and manage the presence of employees, visitors, and contractors arriving and departing from any of their offices, buildings, and other operational sites.
The primary benefit for a WhosOnLocation customer is having a tool that allows them to easily identify who is on-site, who is off-site, and, in the event of an emergency, to verify the safety of people; all in a single application. This replaces the disparate systems used to manage visitor, employee, and contractor presence and greatly enhances site security and the safety of people.
For WhosOnLocation to better manage the presence of employees without the employee being required to sign-in and sign-out on a Kiosk, WhosOnLocation can receive transaction data triggered when the employee opens a door connected to their Brivo account.
When an employee opens a door to their building, the Brivo Integration will send that event with a date and time stamp along with the employee's credentials to their WhosOnLocation account. WhosOnLocation will add that employee to the evacuation tools available with every WhosOnLocation account.
Please Note: The Brivo integration currently only syncs employees in Brivo with WhosOnLocation. Improvements to include Service Providers are currently being developed.
The Brivo Integration can also be used to trigger specific messages and actions. Using WhosOnLocation's trigger function, a visitor could sign in on a visitor Kiosk and have a temporary guest PIN number sent to their mobile phone. Using the PIN the visitor would have temporary access to public areas of the customer's offices.
In another trigger action scenario; the action of 'signing in' as a visitor could also result in a door being unlocked allowing the visitor to enter the premises only after they have signed in.
In the following articles, we take you through the process and steps for 'enabling' the Brivo Integration. This means turning it 'on'. We then take you through the steps to Sync your WhosOnLocation and Brivo accounts.